Canby Oregon,  is a little farming community that is tucked in the flat valley south of Oregon City, off the main freeways, that has been a little bit protected from the frantic growth of most of Portland.  As you drive into Canby Oregon, you see farm after farm along the way, many with You Pick signs along the roads, advertising the farms that still thrive here.  But it is also a little city, with all the amenities a city can offer.   It is growing now, with new neighborhoods springing up wherever the urban growth boundary allows, putting the houses close together, preserving the farmland that surrounds it.  Canby Oregon is a friendly town, a great place to raise a family, away from the hustle and bustle of the city, but close enough to commute or be part of the Portland Metro area.   Canby's prices are a little lower than most of the metro area, maybe because of it's distance from major commuting routes, but people are discovering it and driving prices up!
Canby Oregon professes to have some of the best soils in the state, and is in a banana belt Mediterranean type climate with warm
dry summers, long winters and a long growing season.  I think most of the Willamette Valley has the same.  It is a wonderful area to grow all kinds of things, and the many still existing family farms prove this point!  They grow all kinds of fruits and vegetables, plus there are many nursuries and bulb farms.  I find myself meandering over to Canby when I want to be able to be out in the country, experience the farms, the U pick, and the different activities that the farms offer.  It is a lifestyle that is hard to find in the Portland  Metro area anymore.
One of the unique things that I love about Canby Oregon is the Canby Ferry!  It has been running for decades, since 1914, and allows you to go from Canby, across the Willamette, to Wilsonville! You hear of Boones Ferry, and other Ferry Roads- they all had ferries that crossed the Willamette years ago, the Canby ferry is one of the few ferries that survived.  It can carry 6 cars, or 49 passengers! It runs on a cable that goes under the water, and electric lines that go above.   It is a fun little adventure to take kids on. You can stop and swim in the river, eat a picnic, and ride the Ferry.  I used to do that when my kids were young!
I also love the little downtown area. It has a big open park, historic buildings, lots of flowers, and feels a little bit like you are going back into a simpler age.   But it changes as soon as you get out of the few blocks that are preserved.  99E is the normal commercial highway that all towns seem to have!
Canby is adding bike routes and parks.  Here is a link to the bike maps
Molalla Forest Road is a trail closed to cars, but open to biking and walking.  It is 3.5 miles long, and used to be a logging road that brought lumber to the Willamette River.  It runs through neighborhoods, commercial areas, and finally ends at the River.
Pudding River is a 62 mile long tributary of the Molalla River. It is a really pretty little meandering river that you can access on at little parks, the one I used to go to is just as you are coming into Canby, on Arndt Rd, there is a bridge that goes over the river.   You can see a grassy area to the side that gives access to the river.
This is a really unique place to go for a day in the summer. It is where the Willamette, Pudding and Mololla Rivers come together, where you can fish, hike, picnic, see all kinds of wildlife, and and ride the Canby Ferry! Just getting there is a beautiful drive through farmland and forest.  This area is is special because the flood plains of these rivers provide important habitat for waterfowl, wading birds, deer, small mammals, reptiles and amphibians. One of the largest blue heron rookeries in the Willamette Valley is located here. Molalla River State Park has grassy field areas for picnics and games and a pet exercise area where you can let your dog run off leash!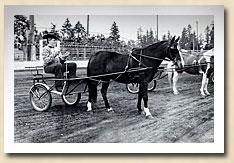 Fishing is a popular activity, and a boat ramp so you can launch your boat, and the Canby Ferry, located a quarter mile downstream. It's one of three ferries still in operation on the Willamette River. Fruit, vegetable and flower stands abound seasonally in some of the finest farmland in Oregon.
Clackamas County Fairgrounds is in Canby. It began over 100 years ago in 1906, and has many different events, including the County Fair, Rodeo, Canby wine food and brew.
History of Canby Oregon
Canby was originally a meeting place for various Indian tribes, who met to pick wild strawberries.  It had been an open prairie for as long as anyone had known, so was very special. Most of the land around it was dense fir forest.  The first white settler that came to Canby arrived in 1832, on a cattle drive from California.  He had an Indian wife, and soon was farming the land. Soon others arrived, planting apple orchards and growing other food that would be shipped to California for the Gold Rush!  In 1868, the first general store opened, with the owner, Lee, serving as postmaster, school clerk, sheriff, druggist, blacksmith, carpenter and more.  Canby was on it's way to becoming a real town. Because there weren't many roads, and the ones they had were dirt which turned to mud during the rains, the Willamette River
became the main transportation for Canby.  Steamboats came up to pick up the produce and take it to Oregon City and beyond.   The RR began laying tracks in 1870, and streets were platted out for the town.  They based the width of the street on how wide an area a team of oxen needed to turn around!  Canby was incorporated in 1893, and became the 2nd oldest city in Clackamas County.   Farmer here grew everything, including grain, hay, potatoes, dairy products, turkeys, flax, prunes, rhubarb, asparagus, berries, nuts, livestock, lumber, bulbs, flowers,  and nursery stock.   For many years there were 3 covered bridges that crossed the Molalla River, and in 1914 the Canby Ferry was born to cross the Willamette River.
What I love about Canby
When I first moved to Portland 26 years ago, I fell in love with the Willamette Valley, the beautiful farmland, the family farms, the U pick vegetables and fruits! It was amazing.  My children were young then, and we went to Canby frequently, to enjoy the farms, go on the Canby Ferry, swim in the rivers Willamette River, wade in the Molalla River, have a picnic, just enjoy nature and being out in the country!  To me and my kids, it was one of my favorite things to do!  I still love going to Canby!  Canby is still a small farming town, that loves and protects it's heritage, history and farmland!    It is a very special part of the Portland Metro area!
You can learn more about Canby History by going to the cCty of Canby website or the Canby Historical Society

More SE Portland Suburbs