I am separating it into sections, broken down into the same areas that I broke the neighborhood guide into. I will describe what I think are the most fun things to do with kids in that area, some I have seen and done, others are new to me and I am excited to do. This is a project in the works…and I will add to it as I can. You can find things to do with kids by perusing the different towns.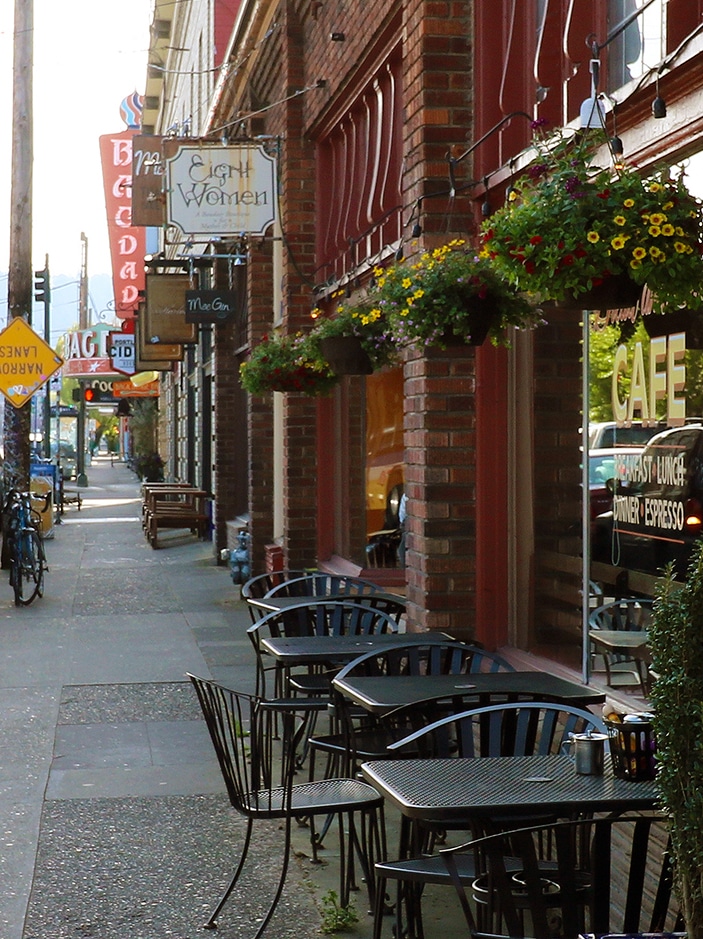 Places Around The Portland Metro Area For Kids
.
West suburbs of Portland for Kids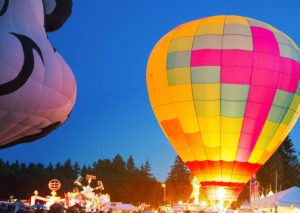 Cook Park is one of my favorite parks in the list of Portland Neighborhoods for kids. Cook Park is huge, with trails, wetlands, the Tualatin River, ball fields, and a huge playground. In one of the fields, there is a huge hot air balloon festival, with food, games, crafts, beer garden, carnival and live music plus the release of lots of different colored hot air balloons. They do a twilight glow balloon release if the weather is clear. We used to live above Cook Park on Bull Mountain, and could watch the hot air balloons as they rose from the valley floor, and floated effortlessly through the sky, all different colors and sizes, lighting up the sky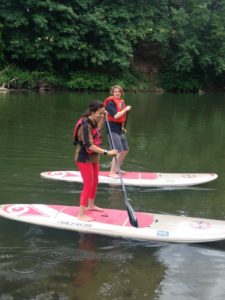 with their colors. The Hot Air Balloon Festival at Cook Park happens every summer, usually the end of June. They even give tethered rides on the hot air balloons, which is a pretty cool way to experience it. Cook Park is on the Tualatin River, which is a slow moving warm river that is easy to float on, kayak or canoe on, or even swim in! They rent double kayaks or canoes for $35 for 4 hours, or solo kayaks for $25. If you belong to the Tualatin River Keepers it is $10 less! We've taken our kayaks out on the river, and it is amazing as you float through the forest and farmland. So peaceful! We have also floated on rafts and air mattresses. As soon as you leave the park, you feel almost like you are on the Amazon River because of the quiet and wild scenery, no houses or people for miles! It is one of the favorite things I have done! You can also paddleboard, which might be a good place to learn, since the river is so calm and slow moving at the end of summer.

The Fanno Creek Trail is an amazing Trail that goes right through Tigard, from Tualatin, Tigard, Beaverton and on to Portland. It goes through wetlands following the Fanno Creek. There are lots of parks, playgrounds, exits to neighborhoods, restaurants, cafes, shops etc, connecting you to so much, that can be reached all on the trail. There is so much wildlife, herons, egrets, ducks, geese, beavers, frogs and all kinds of wildlife, plus dog parks, bridges over the creek, and even a disc golf course. Interactive link to trails, parks and other things along the trail. You can read more about the Fanno Creek Trail, see other maps, and read more about Tigard in our guide.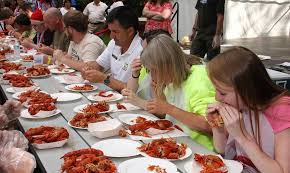 Tualatin has the Crawfish Festival every summer, which is really different and unique among the Portland Neighborhoods for kids!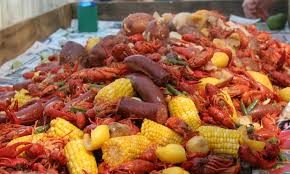 You can catch crawdads in the Tualatin River just by tying a piece of hotdog to a string and lowering it into the water. One time we caught a whole bucket full, boiled them and ate them like lobster, in garlic butter. They are yummy but very rich! The Crawfish Festival is a celebration of the Crawdad. It is usually the end of August and lasts all weekend. There are different booths selling all different kinds of cooked crawfish, lots of different recipes and flavors. They also have other food, live entertainment and short and long races. When we go we usually start at Cook Park, ride our bikes along the trail, through the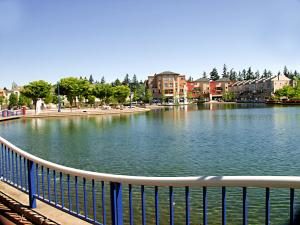 wetlands and over the Tualatin River bridge to Tualatin, and the park with the festival is right there.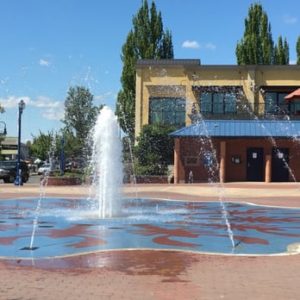 If you keep riding past the park, up the hill, you can ride on to the Tualatin Commons, which is a lake in downtown Tualatin, that has restaurants around it, a fountain kids can run through, and used to rent paddle boats. Not sure if they still do. But they have several special events there, like Pumpkin Regatta, Starry Nights and Holiday Lights, Art Splash and the Concerts on the Commons and movies at night on the commons. They also have some really good restaurants, and you can sit outside overlooking the lake on a nice day. Hayden's Lakefront Grill
Lakeside Bistro, Roxy's Island Grill, Fiorano Ristorante, Rosie's Kitchen,
Izumi Japanese Steakhouse, Lee's Kitchen and even a food cart. The lake is 3 acres, and they have outdoor concerts on Friday and Saturday nights in July and August, a pumpkin float, and movies.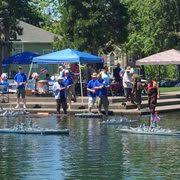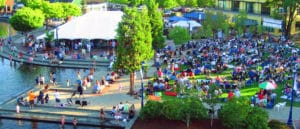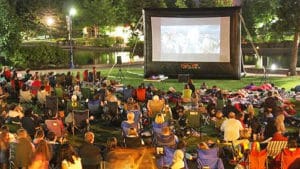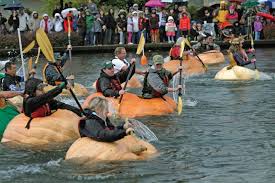 Lake Oswego is right on the Willamette River, with a lake that drains into it. The lake is private, but you can access the river at a little known park, in
the middle of Lake Oswego, called George Rogers Park. It is amazing- we go there with the kids several times each summer to swim, float, kayak or paddle board. There is a nice sand beach, the park has a little inlet from the main ver that is quiet and peaceful and protected from the waves, with a creek coming into it from the forest. There are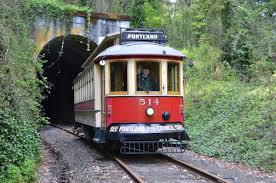 also baseball and soccor fields, tennis courts, playground, picnic tables, walking trails and cool rocks to pick up! Lake Oswego also has the Willamette Shore Trolley, which is a fun trolley ride that goes from downtown Portland all the way to Lake Oswego, along the Willamette River. And when you get to Lake Oswego, you can hike on the Tryon Creek Trails, that come right down into downtown, or have a treat at St Honore, a yummy french bakery with amazing chocolate eclairs and other french pasteries. You can also have dinner at one of the restaurants on the water, and then take the Trolley back to Portland. You can read lots more about Lake Oswego in our full
Portland Neighborhood Guide
Beaverton has lots of nature parks and trails in the Portland Neighborhood for kids. The Tualatin Hills Nature Park is 224 acres through beautiful forest with tons of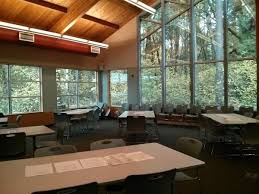 wildlife, and 4.5 miles of trails. It has a Nature Center that offers exhibits, nature programs, education, classes and activities for kids and adults, including some really interesting ones, like Kids Nature Night Out, call of the wild, Exploring Healing QiGong, Family Nature Club, Busy Beavers, Sounds of the night… and lots more. Those
were all within just 1 week in April! There is another nature park trail on Cooper Mountain, which my daughter and grand daughter frequent. It is also 230 acres, with conifer, oak woodlands and prarie, and a 3.5 mile trail that goes up from the valley, to the top of Cooper Mountain, with amazing views of the Chehalem Mountains…where wineries abound. There is the
Cooper Mountain Nature House which has lots of nature programs too. Here are some of the titles: Nuts about Squirrels, Wonder Walks,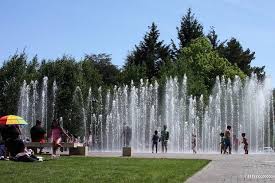 Nature Kids Preschool Explorers, Park after dark-sounds of the Night. I love the Beaverton Library and Farmers Market. The library is huge, with lots of activities for kids, there is an amazing run through fountain outside that is huge, with kids running in and out all summer
Cooper Mountain Nature House
West Linn goes out from Lake Oswego along the Willamette River. Mary S Young park is a huge 128 acre park along the Willamette River, that is peaceful, quiet, in the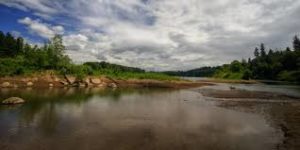 forest, and yet when you walk through the forest on the trail, you come out to brightness at the Willamette River! The park goes all the way from Willamette Dr down to the Willamette River, has miles and miles of trails in it, and you can swim or kayak once you are down at the river. It is really pretty! We used to go down to the river quite a bit when the kids were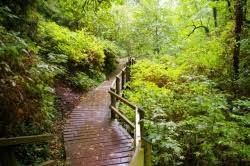 little, and paddle, wade and splash in the water, float on rafts or kayaks, and just enjoy the sun and peace. There is an area here that is protected from the main part of the river by an Island, so the waves of the motor boats don't reach the beach. You can either walk along the trail to the island or just swim out! Willamette Park and Bernert Landing Boat Ramp are a combined 22.5 acres located where the Tualatin River meets the Willamette River. This is a good place to put in your boat in the summer, we used to use it when the kids were small and we had a motor boat. It is less crowded than some of the other boat ramps on the Willamette.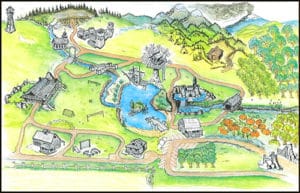 The famous Roloff Farms, from the show Little People, Big World, is in Hillsboro. It is a really funny place for Portland Neighborhood for kids to get pumpkins and get a tour of the amazing property. My granddaughter went there on a field trip, and had so much fun! There are so many things to do there that are unique! They usually have it ope during the fall, and have so much to do, it is amazing! Here are some of the things: Wagon Tour that goes around the farm, train, hay pyramid, corn maze, giant sling shots, obstacle course, exotic animals, petting zoo, pony rides, putt putt golf, rail roller, face painting and more. They also have a tricycle race, obstacle course, teepees, and a castle that Matt, the dad, built for his daughter. Plus a whole western style village. It is pretty unique and amazing! And it is a working farm so has farm animals and lots of pumpkins in the fall.
West Portland Countryside for Kids
I love history, nature and farms, so that is what I mostly feature in my kids guide, although many of the festivals each town has are unique, educational and just plain fun! Here is the best of what I feel the west countryside has to offer to have a unique outing with your kids or grand kids.
Banks-Vernonia State Trailhead boasts twenty one miles of paved trail, featuring 13 bridges, great for
running, walking, biking, and
event longboarding! It has a gentle grade, with an 8 foot wide bike trails, and a parallel 4 foot wide equestrian trail. It goes through the foothills, across creeks, through the forest and across fields, from Washington County to Columbia County. This was the first "rails-to-trails" state park built in Oregon, and was built on an abandoned railroad bed. Here are the points that you can get on to the trail and it shows the miles between the different points. You can go to the Banks neighborhood guide to find maps and other information on this trail.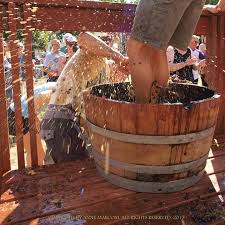 Carlton has some festivals that are fun. The Carlton Crush Harvest Festival is a celebration of the grape harvest, usually in September. is a full-day celebration featuring a Team Grape Stomp competition, a Kids Watermelon Eating Contest, a Kids Grape Stomp Competition, lots of live music, and an Artists Market, with many unique craft merchants. There is lots of Festival food from a variety of providers, and (of course!) sample a large selection of fine wines and craft beer from wineries and breweries throughout the area. And it's free! Carlton is in the middle of wine country and the wine crush festival is something all ages can enjoy.
Carlton Crush Festival
Gaston is a tiny little town up in the hills, but it has something that is very special. You can swing through the trees, cable ride across, and climb up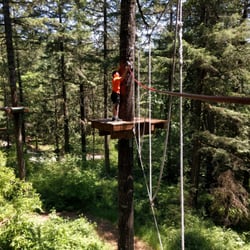 and through the canopy of a forest tree to tree adventure park.
Hagg Lake, the drive up there being spectacularly beautiful in the spring and summer, because of the patchwork fields that you see as you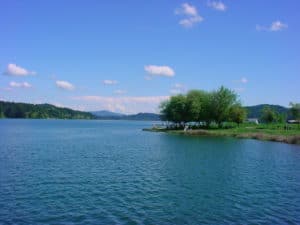 climb the mountain. We used to have a boat, and 5 kids, so we went up there quite a bit. It is really pretty, but doesn't have a lot of access to the lake. There are lots of shallow areas with mud, but once you get out into the lake, it is awesome! It is actually a huge man-made lake that is really a reservoir. Most people go there to fish, but we pulled the kids in inner tubes and even did a bit of water skiing! It is located just 25 miles southwest of Portland near Forest Grove, rests in the foothills of Oregon's Coast Range and offers a wide variety of recreational activities. Maintained and operated by Washington County, the park features numerous picnic areas, two boat ramps, a fully-stocked lake for fishing, more than 15 miles of hiking and biking trails and observation decks for wildlife and bird watching.
McMinnville is one more among the Portland Countryside for kids has a very interesting historic festival. The Farm Fest and Plowing Competition is held at the Yamhill Valley Heritage Center,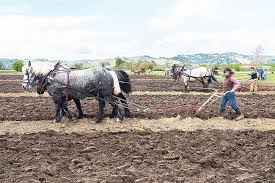 usually in April,will include the largest draft animal plowing competition in the Pacific Northwest! Experience old time farming as 20+ teams of draft horses and mules compete in a plowing competition. Blacksmith, sawmill horse drawn exhibits, farm demos, food, music, Pioneer Kids activities & more! Admission Fee; kids 6 and under free. It also has horse-drawn and antique equipment exhibits, Agriculture in Art Shows, a tour of the historical museum and also the 1880s Hutchcroft School, plus old time music.There are lots of Hands on activities from 130 years ago! It usually happens in early April.
There is also the Yamhill County Fair is held in September and is the oldest county fair in the country, running since 1854! They have a 4-H kids club, where kids can show off their animals, and lots of different animal shows, a dog show, horse show, rodeo, and lots to see, do and eat that helps kids learn a little bit about living in the country!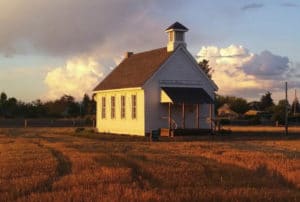 McMinnville also has a Heritage Center that they maintain so that kids can go and find out what it was like to live in Pioneer Days. The exhibits change frequently, but they have educational programs throughout the school year at different places nearby. Here is what their site says about the programs: Pioneer Days is designed with a focus on Oregon history, including traveling the Oregon Trail and life on the Oregon farm for children. It is offered during the fall and spring and is designed for 4thgraders (9-10 year olds). We conduct a program that allows students to enjoy many of the activities children of 130 years ago experienced. Students attend Hutchcroft School—a one room schoolhouse from the Yamhill Area that was moved to the Heritage Center—experience a 1880's class and participate in varied hands-on activities. Examples range from making candles, working with wood using old time tools, washing clothes, sewing, leather work, and music. They also watch a blacksmith ply his trade. We have a full-sized replica of a covered wagon for students to get in while wearing pioneer clothes.
The Heritage Center has lots of different events and expositions year round. Click on link to see what is coming up.
Champoeg Park– Champoeg is one of the amazing Portland Neighborhoods for kids. It's not quite in Newberg, but close to Newberg. We used to go there when my kids were young, to walking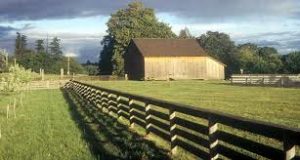 the trails, tramp through the meadows, even swim in the Willamette River. They gave demonstrations on what school was like back then, what a pioneer house was like, and have an 1860s garden. There is also the Butteville Store that has been open since 1863! I have always loved this park.
Rogers Landing is a boat launch on the Willamette River. My own experience there is wonderful.The river here is quiet and lazy, not too many boats, lots of nice coves and little beaches to pull over and have a picnic at. The Yamhill river flows into it just a little to the west, with a beach you can relax and swim at! Rivers draw nature, and there are all kinds of birds and other creatures that you can watch as you float down the river. Usually I wouldn't want to kayak or float on a raft down the river, but here is it calmer and quieter, a perfect place for swimming, canoeing or kayaking, and for little ones to enjoy. It has a boat ramp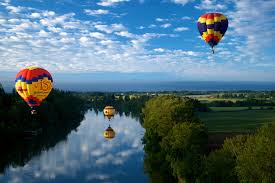 too, which we used to put our motor boat in when we had one. It was the Yamhill and uncrowded, Plus easy to use! Lots better than some of the crowded ramps closer to Portland and one of exiting Portland Neighborhoods for kids.
Another special thing to do in Newberg is the Vista Balloon Adventures which offers one-hour flights over Oregon wine country in a hot air balloon,the entire trip taking about three hours and including breakfast. They have 7 different balloons, take 2 to 10 people at a time, skim the Willamette River, and on a clear day can see 10 volcanoes! You can fly from April through October. This is the beginning of the wine country, so you will also see beautiful agricultural land and vineyards. Price is kind of high, but it is a unique experience.