Estacada Oregon is a little country mountain town 45 minutes east of Portland.
Estacada Oregon is known as the Gateway to the Clackamas River, is more country than town, has lots of forest and rolling farmland with small valleys. It is a rustic area, not gentrified like much of Portland, and is less expensive if you are looking for either a little bit of land, or a more reasonable priced home! The Clackamas River runs right through it, and creeks are everywhere! And it is called the Christmas Tree Capital of the world, which, if you drive around, you will see acres and acres of Christmas tree farms! The town has lots of little cafes, restaurants, a brew pub, and the other normal things a town would have. There is a farmers market with arts and crafts, several different festivals during the year, which I cover below under Festivals, and a real community feel! But what makes it special is the location.

And that is the reason I love Estacada- because it is right on the Clackamas River! We have camped on the Clackamas River near Estacada, in Metzler Park, and it was spectacular for a family with young children. It was peaceful, serene and alot of fun! We had decided at the last minute to go camping, which is impossible usually to get a site, but Metzler had several sites open! We would love to go back. In early summer late spring, there are rapids for whitewater rafting, but as the summer dry season comes on, the waters are good for paddleboards, kayaks and just floating down the river! The Clackamas is clean and sparkling, the forest around it is light filled and beautiful, with ferns and huckleberry bushes all around! Mc Iver State park is huge, straddles the Clackamas, has disc golf, hiking, even a lake. There is more about it under parks below.
Another unique thing about Estacada is that it is still pretty much undiscovered. I do sell real estate out there, so have showed houses, listed house etc. But it wasn't until I went camping out there that I really discovered how special the area is. I love water, so the river is what I enjoy the most, but Mt Hood Wilderness is just a short drive from here, with miles and miles of trails through beautiful thick forest, and there are even 2 different hot springs just a few miles away. One of my most amazing memories is coming down form Mt Hood, stopping along the Clackamas River, and sitting in a hot spring right in the Clackamas River! It was unbelievable. It isn't marked, but you can tell lots of people stop her. We found it in one of the guide books I love to read!
Budget Travel Magazine calls Estacada "One of the Best Places you've Never Heard of", and Travel Oregon said it seems like a regular stereotypical Oregon Oasis, but it is anything but ordinary! I agree!
Learn about other Portland towns that are on the east side out in the country!
History of Estacada Oregon
In 1904, Estacada Oregon was used as a camp for workers who were building a hydroelectric dam on the Clackamas River, to give electricity to the city of Portland for street lights and other things. At that time the river had no passable roads to it, to the Oregon Power RR Co built tracks to the vicinity so crews could be taken there to build the dam. This opened up the area a little bit, soon there was a new hotel, called the Estacada Hotel, and slowly paved roads extended farther and farther into the woods to allow logging. In the early 1900s a trolley line connected Estacada with downtown Portland, which helped it to grow as a tourist destination to picnic and play along the Clackamas River The town slowly grew. As the logging industry exploded, mills were built, and Estacada became a mill town, with logs so big they could only fit 3 on a truck!
By the 1950s and 1960s, Estacada was a full blown lumber town, with logging trucks going in and out and the saw mill running day an night, until logging was stopped in the 90s.
Festivals and fun things to do in Estacada Oregon
Outdoor Vintage Market happens twice each summer, and is a big outdoor market that happens in the downtown area on the one acre grounds of the Wade Creek Antique House. They have antiques, vintage, primitive, industrial, re-purposed, and handmade treasures for your home and garden and vendors who bring in food! The Farmers Market is every Saturday at the Wade Creek House Antiques and has arts and crafts displayed also.
Upper Clackamas Whitewater Festival happens in May and its mission is to goal is to provide people with a place to learn, to challenge, to bond and simply spend a GREAT weekend with your fellow boaters, sponsoring kayak and rafting events. It is a huge river party featuring races, games, clinics and evening entertainment.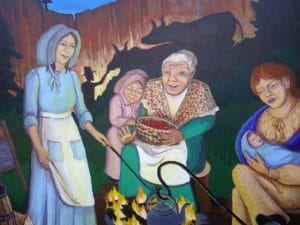 Estacada Summer Celebration is A free festival of music & art. Friday Night is live music. Saturday is art fair & cultural music in the heart of beautiful, downtown Estacada when it is transformed into a magical place of fun. It takes place every year on the fourth weekend in July. It began in 2000 as a small celebration of the Artback artists' painting of their annual "mural-in-a-weekend" project. The murals are amazing! So varied, full of history, absolutely beautiful! Celebrating the new murals is still the main purpose of this festival, but it has grown every year. Look at some of the murals that have been done to show the history and culture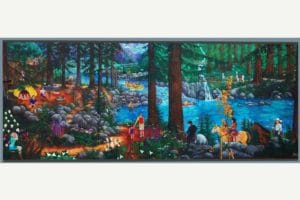 of the area!
Has logging competitions, sawing, pole climbing, ax throwing along with fun, games and food. A very unique community event!
Parks and Farmers Market
Cascading Rivers Scenic Bikeway which is a 69 mile route betwen Estacada and Detroit Lake, with all different skill levels
McIver State Park is a huge park on the Clackamas River, with camping both primitive and regular sites, hiking and horse trails, boating, fish hatchery and a 27 hole disc golf course!
Bagby Hotsprings is 1.5 mile easy hike through a beautiful old forest Doug Fir and cedarforest to natureal hotsprings that are captured and containted in hand hewn log bathtubs filled with steaming 136 degree Fahrenheit water.
Estacada Farmers Market is every Saturday from May through September. 10-2