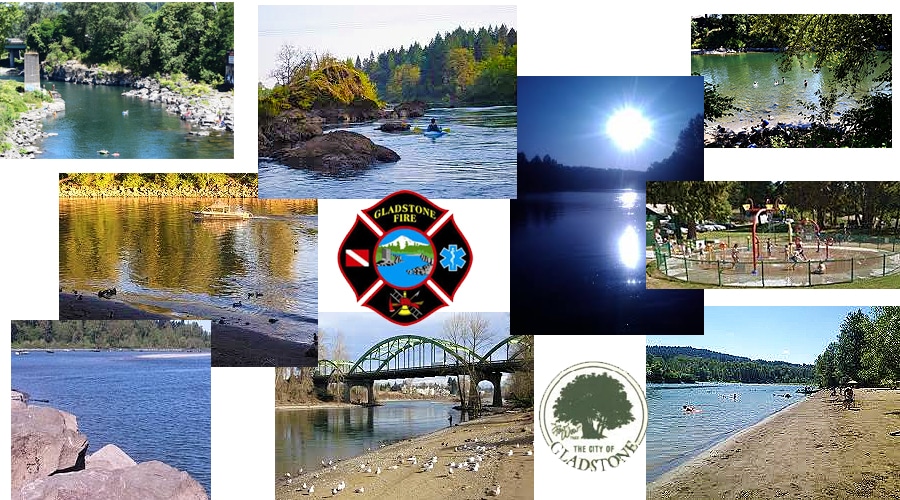 I used to take my grandchildren there when they were little to wade in the river and feed the ducks! It is oriented to both rivers, and as you know, if you have read much of my guide, that is really special to me! The rivers are full of wildlife, and natu Gladstone Oregon is located on the Willamette River about 12 miles south of Portland, between Milwaukie and Oregon City. It is right at the junction of the Clackamas River and the Willamette River, both of which are big rivers. Clackamette Park is right there where the two rivers meet, and that is the heart of Gladstonere, they sparkle in the sun, and lighten up the dark winter days! Living by both of these rivers would be a dream!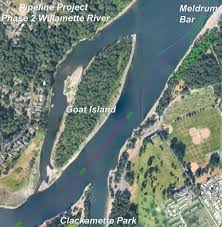 Gladstone Oregon is one of the oldest towns in the Willamette Valley. You can read more about its history below, under history. People came into Oregon along the Oregon Trail, either on the Barlow trail or floating down the river, with Oregon City being a gateway that many pioneers settled in. Oregon City is the next town to the south of Gladstone. As Oregon City filled up, people naturally flowed out into Gladstone to settle, which was especially desirable with 2 rivers and myriads of creeks for drinking, fishing, livestock,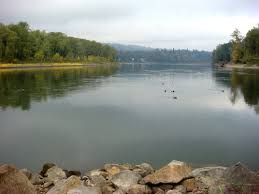 and growing! Gladstone stretches from the Willamette River, up the hill towards Clackamas, with the Clackamas River as a sort of boundary. It was originally farmland where the early settlers could grow wheat, fruit, and other crops as well as farm animals. Most of the land is covered with houses now, houses that were built from the early days of the late 1800s early 1900s, in spurts as the years progressed, with areas of mid-century, other areas of 1970s and 80s, and now lots are being split up to build new houses that are based on the land use laws of Oregon, limiting the lots to being very small. The houses that were built before the 1990s have big lots, either open fields or some lightly wooded. That is what I like about this area. You can still get a little bit of land with your house!
There are all varieties and ages of homes here. When I first started selling real estate years ago, I remember seeing little farmhouses from the early 1900s on huge lots, kind of ramshackle, needing work, selling for really low prices. That has changed! This area has grown and become very hot, just like all the other parts of Portland. But you can still find houses at a more reasonable price than many other areas, especially if you head up the hill away from the river and towards Clackamas. There is still the ability to find a fixer and restore or remodel it, and get it at a fair price that allows you to do it and come out ok. There aren't many places in Portland that you can still do this in!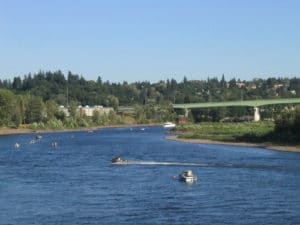 Gladstone Oregon location today is still desirable. If you love fishing, swimming, or walking along the water, it is perfect. But it is also just minutes to Portland if you take 99E east. You can also go to Milwaukie, the next town, and jump on the Max Light Rail to get into town. Or you can get on I 205, which is at the west side of Gladstone, just after you cross the river.
Gladstone is very close to Oregon City, which has everything you need, including a really cute, historic downtown area. You are also close to Clackamas, with the town center and all the shops up there. It is a small town, but has it's own school systems. And it's own parks and festivals!
Gladstone Chautauqua Festival is a summer festival with parade, a 5-10K walk run. They also a chili cook off, a Classic Car show, movies and games in the park, lots of food and drinks, and a street dance!
History of Gladstone Oregon
Gladstone Oregon was inhabited by the Clackamas Indian Tribe before the white settlers came. Most of the tribe died out in the early 1800s when disease came to them from the early trappers and explorers. The earliest homesteads in the Gladstone area were from the Donation Land Claim Act granted by President Lincoln in 1841, and because of this, Gladstone was one of the first places in the Willamette Valley to be settled by the Europeans.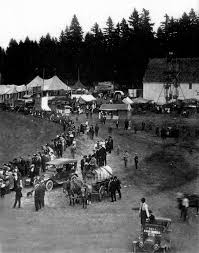 There were many small settlements in the area, but none survived because of the flooding of the Willamette River, and fires that destroyed homes and other buildings. One settlement was called Linn City and was settled in 1843, with a flour mill and lumber mill right along the banks of the Willamette. Homes, mills and warehouses were added, and the community grew quickly, until 1861 when a fire ravaged through the buildings. Then in 1862, there was the Great Flood, which wiped out the rest of the buildings.
Another settlement, Canemah, which was located near Willamette Falls, also prospered until the same great flood swept the town over the falls and down the Willamette River.
The City of Gladstone was officially founded by Harvey Edward Cross, who came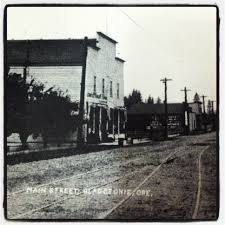 in 1893, and platted his land for a town, preparing lots for sale east of what is now Portland Avenue. He named the streets running north and south after American colleges and those crossing them east to west for English universities. It was formally incorporated on January 10, 1911.
In 1894 the Chattauqua movement came to Gladstone Oregon, that would bring summer lectures, performances and concerts to Gladstone in the summer. Chautauqua Park grew to be the third largest in the USA. The park was 78 acres, and in 1896, William Jennings Bryan gave a lecture on Christianity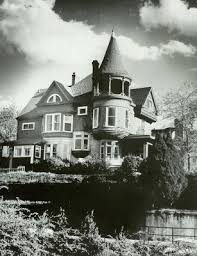 and peace that brought in 6000 people! As first radio became popular, and then TV, the Chattauqua movement began to dwindle.

The Pow-Wow Tree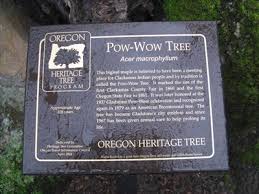 The"Pow-Wow" tree is a big leaf maple that marks the location where the different Indian tribes, mainly Clackamas and Multnomahs, traditionally met to make trading agreements, settle community affairs, and conduct wedding ceremonies. The tree still stands on Clackamas Boulevard, as a symbol of Gladstone Oregon's rich historical heritage. It was dedicated and became the symbol for Gladstone in 1979.
Parks and Trails in Gladstone Oregon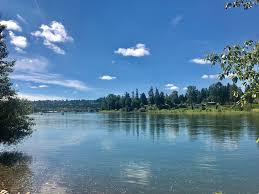 Clackamette Park is located where the Willamette and Clackamas come together, so it is a huge lot of water! There is a big park there where you can picnic, wade in the river, fish, or just walk on the trails
Meldrum Bar Park is right on the Willamette River and has 85 acres that is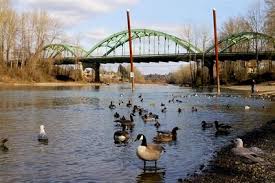 used by fishermen, boaters, and ball players! It has a boat ramp, floating dock, restrooms and a 12 acre sports field complex, plus a mile of bike paths. It has grassy lawns and wetlands!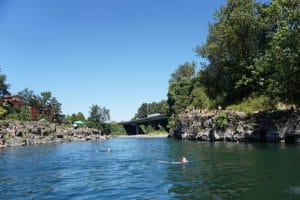 Gladstone Community Gardens is in the Meldrum Bar park, and has 5 acres, with 134 separate garden lots to be used as community gardens. It costs $30 to join, and the organization is dedicated to helping people learn how to garden!
High Rocks Park is a steep rocky outcropping on the Clackamas River that has cliffs people love to jump off of. The water is cold, though, and it seems like every year someone dies.