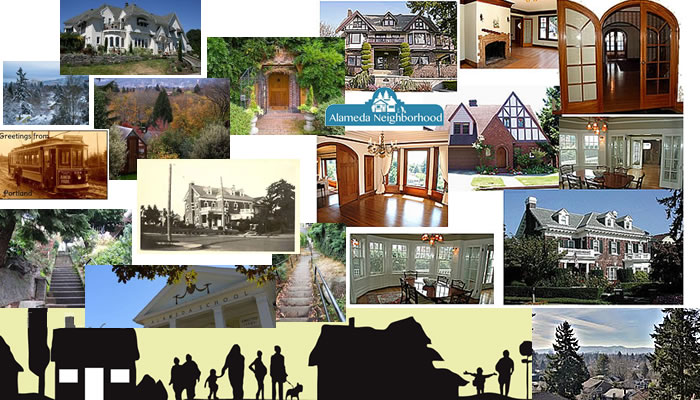 The Alameda ridge runs along a ridge that sits up above the city offering breathtaking views of the Willamette river, the downtown skyline. NE 39th winds up from NE Broadway St, up through the hills, passing spectacular showpiece homes that sit on the ridge overlooking the city. It's one of my favorite drives in the city. When you get to the top, which is NE 42nd and Prescott, you come to a group of cute little shops, cafes and restaurants. This has recently become the trendy Beaumont neighborhood. You can find everything you need, but it is also full of award winning restaurants, cafes and cute little shops. Beaumont is one of the things that makes this neighborhood so popular and unique. People love community, and being able to walk to their cafe or favorite restaurant. This neighborhood makes that possible.
As you walk or drive through the neighborhood, you can see a mixture of housing styles: gorgeous English Tudor with leaded glass and spires, Queen Anne with four levels and beautiful curb appeal, Classic Craftsmen with big front porches, even bungalows, Cape Cods and other styles. Some of the houses remind me of houses and styles I saw in Europe, and probably whoever designed them got their ideas from things they had seen overseas! On some of the streets, it almost feels like you are stepping into another world, another time! Most of the homes here were built in the 20's and 30's-and they abound in leaded glass windows, hardwood floors, tree lined streets, and beautiful curb appeal! It is fun just to drive through the neighborhood!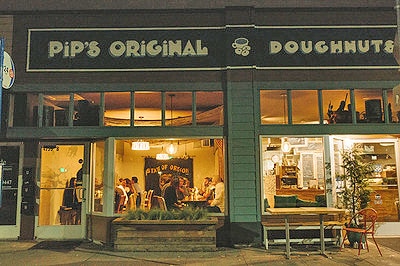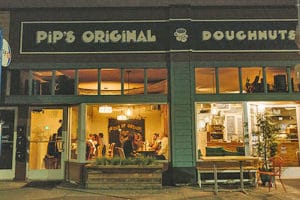 Where is Alameda neighborhood located? Alameda goes from NE 21st St to NE 32nd Ave, and from NE Knott to NE Prescott- and is bordered by these neighborhoods: Irvington, Sabin, Concordia, Beaumont-Wilshire and Grant Park. It's just 10 minutes to downtown- and has remained almost purely residential- so the atmosphere is quiet and peaceful!
Here are some of the things that, I think, makes Alameda neighborhood so popular and unique. The Alameda ridge is probably number one. The ridge goes up pretty steeply from the south and west, with houses that are sitting on the top of the ridge an amazing view of the city of Portland. The original houses that were built up here, are some of the most beautiful homes of the time, with leaded glass, wide moldings, beautiful built-ins, in-laid hardwood, and other historic features that everyone loves.
Alameda also has lots of tree lined streets. As they built the houses, they planted lots of trees, which have grown. The streets that come up from the south are winding and intertwined, creating a feeling that you are winding through rolling hills of trees and greenery, almost like you are in the hills of an English town because of the architecture.
The third reason people love this area, is it's proximity to the Fremont shops, which have grown and blossomed over the years to become a main hub, not only for the neighborhood, but for anyone who wants to explore, find an amazing place to eat, or a trendy little shop. There are outside cafes that remind me of when I lived in Europe, people are all out walking and biking! You almost feel like you are on vacation at a little resort town!
They have recently put in a wonderful Italian restaurant, a Pilates studio and a couple other businesses on the corner of 24th and Fremont. There are some cute little shops, the Alameda Cafe with yummy comfort food, a Whole Foods and cafes all the way around the perimeter- so you are never too far from restaurants. If you go up the hill on Fremont to the Beaumont area, you will find one of my favorites, Pips Donuts and Chai- they have the cutest little donuts-its a fun place to go with kids! My grandchildren love it! There is also the Alameda Brewhouse which has award winning handcrafted ales, bear battered fish and chips, and soups from scratch. I write more about the restaurants in my Beaumont Wilshire neighborhood.
Current houses for sale in Alameda
Sometimes you are interested in seeing houses for sale in just one or two neighborhoods, but there isn't anywhere that I can find that you can do that. So we created our own Search for Homes by neighborhood.

You can also click on the "Search for homes by neighborhood", on the menu bar, and it will take you to a sign up page where you can save your neighborhoods and other searches. It is a free service, no strings attached!
Click here to get listings by neighborhood and price.
Parks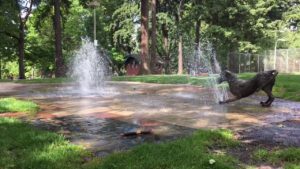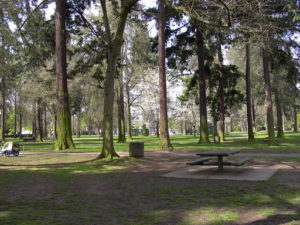 Grant Park is just below Alameda on 33rd and is close to Alameda Neighborhood. It is especially known for the tribute to the Ramona Books that Beverly Cleary wrote. There are awesome bronze statues of Ramona, Henry Huggins and his dog Ribsy, with fountains underneath that kids can play in. The park is connected to Grant High,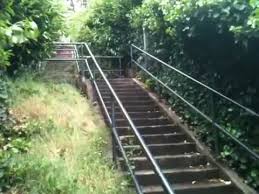 Wilshire Park is on the upper end of the neighborhood on 33rd. It is 14 acres, and has walking paths, horsehoes, playground, ball fields and off leash dog park.
Alameda Ridge Stairs – There is also a cool walking tour that takes you along Alameda Ridge and through the hidden stairs throughout the neighborhood. You walk through beautiful neighborhoods and see amazing views enjoy city views- there are 6 or 7 staircases of 70 to 90 stairs each!
Homes for sale in Alameda Neighborhood
History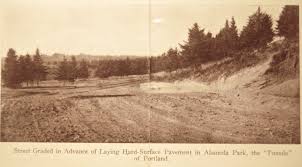 The Alameda Ridge was formed thousands of years ago, after the last ice age, when an ice dam gave way that had held back 2 lakes, Glacial Lake and Missoula lake. The flood waters spread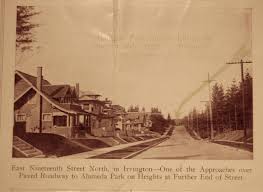 across Idaho, eastern Washington and then down the Columbia River, through the gorge, and down the Willamette Valley, they think as far as Eugene! The flood waters could have been as high as 400 feet, and they carved out ravines around the rocky buttes. Alameda Ridge was mostly rock, so it extended out from Rocky Butte, forming a rock ridge. Thus forms the Alameda Ridge, which is what makes this area so amazing!
The land grant that later became Alameda, was granted way back in 1859, and became known as Gravelly Hill because it contained a gravel pit right at 33rd and Fremont. The Alameda neighborhood subdivision was laid out in 1909. Many of the homes were built in that era and some of them are on the National Register of Historic Homes. There is a whole site that discusses Alameda History and other interesting things
Other Important Links
The MAX and buses make public transportation really good!
Schools In Portland- people are permitted to send their children to whatever school they want within the Portland School District, as long as there is room. If the school is important to you, it is probably a good idea to check and see which school your neighborhood is assigned to- because it seems logical that the best schools will have a waiting list- and if you live there, you will be at the top! Find your school attendance area or a school site and view the boundary area using School Locator Page for: Portland Public Schools..
Read how to use the interactive map by clicking on the (Information) icon (circle with an i in the center).
School Report Cards for schools and districts in Oregon. Select (Portland SD 1J) In the District Selection Heading to view individual schools within the Portland Public School District.
You can find all kinds of information about crime, maps, etc, Portlandmaps.com even exactly what happened where, if you just put in an address in Portland. There are lots of other things you can learn there- like census information, maps, school info, parks, environmental issues, permits on houses, nuisance complaints and taxes.