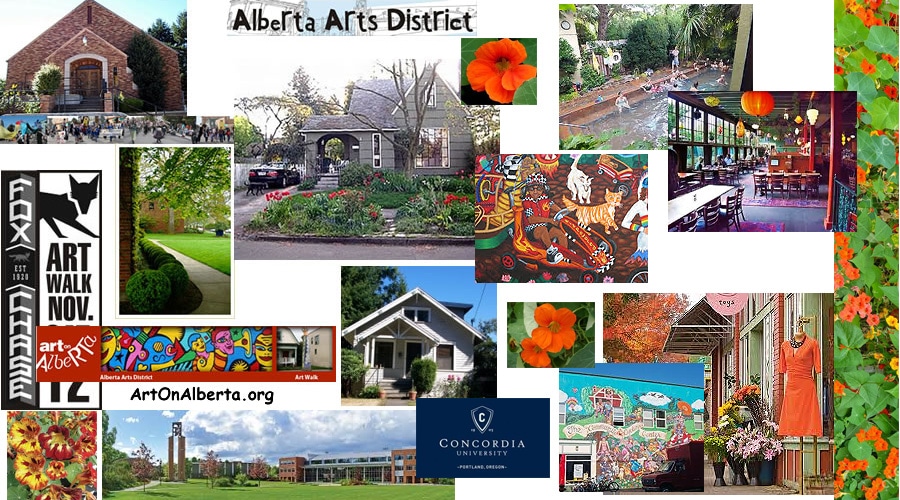 Alberta Arts is the newest part of Concordia neighborhood, just forming in the early 2000's. It is vibrant, full of life, food, art galleries, and fun, and people love it! Alberta is just a small part of the Concordia neighborhood, stretching from Alberta to Killingsworth, and from MLK to 33rd. But it is chocked full of award winning restaurants serving all ethnicities of food, funky artsy shops and art galleries, and the McMenamins Kennedy School is right on it's east border. Concordia is much bigger, stretching north all the way to Lombard, and south to Prescott in some places, and from NE 22nd to NE 42d…so it is quite a bit bigger. Concordia neighborhood has several different personalities, depending on which part of the neighborhood you are in. North of Ainsworth, there are lots of English and Tudor homes, and you can find Concordia University. Between Ainsworth and Killingsworth, there are lots of really cute historic homes, all different sizes, many on tree lined streets. Then comes Alberta Arts! Concordia is bordered by the Alameda, Sabin, Vernon, Woodlawn, Sunderland, Cully, and Beaumont-Wilshire neighborhoods. Alberta Arts sprung up in the early 2000's through a planned birth! In 2004, when I first started selling real estate in this area, people kept asking me about Alberta Arts! There was technically no Alberta Arts, but as I got familiar with the area, I realized there was a newborn explosion, called Alberta Arts! It grew so quickly and became so popular, that when the downturn came in 2006, it barely affected the prices in Alberta at all! Alberta is technically mostly in Concordia neighborhood, partly in Vernon and partly in King! This section of my neighborhood guide is about Concordia, but I have included Alberta in it.
Concordia neighborhood has really changed these past few years. It has a backbone of historic homes, some had been gorgeous and huge, but they fell into disrepair as all cities did during the 70s through the 90s. But in the past 10 or 15 years, the neighborhood has done a complete 180, the houses have gone up in value faster than almost any other neighborhood, and they are being restored and rebuilt at a very fast pace!
My favorite part about Concordia is the big old trees that line many of the streets. The yards are very well kept and the homes have charm and character. English Tudors with leaded glass, inlaid hardwoods, arched fireplaces with built-ins- many of them have custom details you can't find in newer homes…plus big yards. There are also Bungalows, Old PDX, Craftsman and other interesting styles. There is also a lot of new construction going in because it has been such a hot neighborhood and there is such a shortage of houses on the market. They have torn down some smaller homes and built some beautiful Craftsman style modern homes going for around $700,000. Many of the Portland neighborhoods are going through Concordia neighborhood, and there is a constant struggle between retaining the history and building new houses.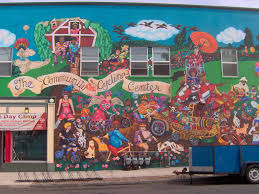 Alberta Arts– In 2004, when I first started selling real estate in this area, people kept asking me about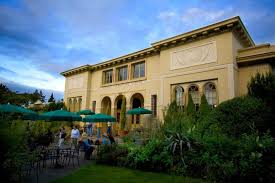 Alberta Arts! There was technically no Alberta Arts, but as I got familiar with the area, I realized there was a newborn explosion, called Alberta Arts! It grew so quickly and became so popular, that when the downturn came in 2006, it barely affected it's prices at all! It is partly in Concordia, partly in Vernon and partly in King! Alberta started out as a grungy artist's enclave but over the past decade has changed into vibrant street full of popular cafes, bars, trendy shops, award winning restaurants, and, as it's name states, Art and Galleries!
Alberta Street has a mixture of renovated storefronts and older businesses that have been there for years . Alberta really starts just past MLK, and goes out to 33rd, and is technically between Alberta and Killingsworth. The Art galleries and shops started on Alberta but have spilled over onto Killingsworth, so it is changing the whole feel! The few blocks included within these boundaries are full of historic homes- some already restored,

others being restored and some still needing restoration! On the last Thursday of every month there is a street fair that takes place in galleries and shops during the winter months, and outdoors during warmer weather, with tables set up by local artisans along the sidewalk.
This neighborhood borders on 33rd where you can find the Old Kennedy School- which is a McMenamins hotel-restaurant that has been made from the old Kennedy School- It's fun place to go- with great food with seating outside with a fireplace and beautiful gardens, discounted movies in the old gymnasium with old couches and food and drink and it is a hotel with a soaking pool and everything. I love the detention room bar! Kennedy School
Parks at Concordia neighborhood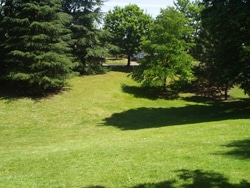 Fernhill park is huge, 26 acres in the middle of an urban area, with big grassy areas, a playground, pretty trees, baseball field, dog off-leash area, horseshoe pit, paths – paved, picnic tables, playground, soccer field, softball field, tennis court, track, and volleyball court. The Portland Parks & Recreation Department hosts concerts here throughout the summer. The hills give it an amphitheater type of feel. Check their website for details!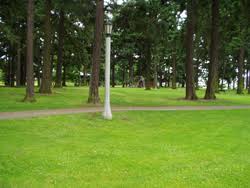 Alberta park is 16 acres, that takes up 4 city blocks! It is grassy and wooded, with a loop trail that circles around the outside of Alberta Park. It has a basketball court, picnic tables, playground, soccer field, softball field, and tennis court. Part of the tree-covered area is also an off-leash dog run, but there is no fence so the dogs can run all over.
Eats and Sips
Kennedy School – McMenamins hotel and restaurant
There are also a lot of the same favorites that SE Division has like:
Some unique just to Albert Arts:
Other Important Links
Schools In Portland- people are permitted to send their children to whatever school they want within the Portland School District, as long as there is room. If the school is important to you, it is probably a good idea to check and see which school your neighborhood is assigned to- because it seems logical that the best schools will have a waiting list- and if you live there, you will be at the top! Find your school attendance area or a school site and view the boundary area using School Locator Page for: Portland Public Schools..
Read how to use the interactive map by clicking on the (Information) icon (circle with an i in the center).
School Report Cards for schools and districts in Oregon. Select (Portland SD 1J) In the District Selection Heading to view individual schools within the Portland Public School District.
You can find all kinds of All kinds of information about crime, maps, etc, Portlandmaps.com even exactly what happened where, if you just put in an address in Portland. There are lots of other things you can learn there- like census information, maps, school info, parks, environmental issues, permits on houses, nuisance complaints and taxes.
History of Concordia neighborhood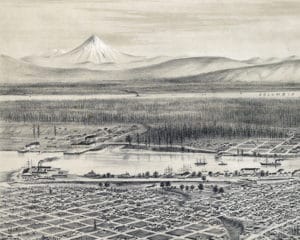 The Alberta Arts District was first settled in 1872, when Edwin Russell and William Page platted the town of Albina, and the name Alberta probably came from William Page's Canadian wife, referring to the Canadian province or Princess Albert. In 1891, Albina was incorporated into the city of Portland, along with Alberta Street. In 1903, streetcar service began along Alberta St, which encouraged businesses to open. Pedestrian traffic increased, more businesses were opened, until it became a thriving commercial district. As today, many of the little stores and shops had apartments up over them, which helped the street grow. Houses were built on the streets around Alberta, mostly during the 2 housing booms- one from 1905, the other from 1922 to 1928. Lots of German and Russian immigrants settled in theses homes and used the street car to commute into Portland.
This community was pretty self contained, and almost became it's own city! Food stores, barber shops,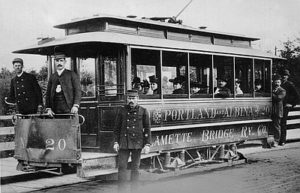 restaurants, a theater, a library and even St Andrews Parish on NE 7th were built. As time went on, though, the street car stopped running (in 1947), people used cars instead of pedestrian and bikes, and Alberta went into a depression. Big grocery stores, and other larger scale stores took the business away from the small family owned business that lined Alberta St. I 5 went in, people began moving to the suburbs, and many displaced families moved out to the more affordable homes on Alberta. Gangs, vandalism and violence erupted and ruined the neighborhood for many years.
Since this time, Alberta Street had been a cultural center for the African American community, but since the Urban Renewal, many of them have been pushed out. So Alberta is in a new metamorphisis.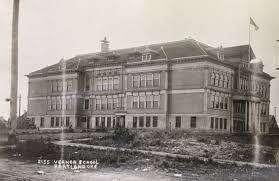 Concordia is named after the Concordia University, which actually started out as part of the Evangelical Norwegian Synod. It opened in 1907, occupied six acres of land, and originally was a simple two-story wood frame building. When it first opened, it was used as a high school for young men. In the 1950s, Concordia gradually evolved into a junior college, and became a full-fledged four-year college in 1977.
The area of Alberta has undergone many changes in the last 20 years. In the late 90s, the Alberta Street community began the planning process to make the street walkable, bikeable, and increase the public transportation to the area. Construction began in 2002 and was completed in late summer 2003, putting in street improvements and local art along Alberta between NE Martin Luther King Jr. and NE 33rd Avenue. This seemed to spur on the idea of creating the Alberta Arts District.