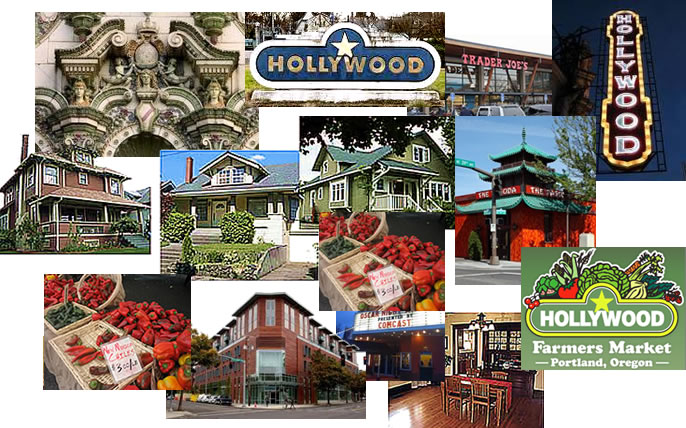 Hollywood neighborhood Portland, is centered around a really cool historic and trendy commercial district with lots of restaurants, shops, cafes, businesses, gyms, theaters and all kinds of different things. There are houses here too- many of them are quite large, in everyone's favorite of architectural styles; like Craftsman, Old PDX and Bungalows. They come with hardwood floors, leaded glass, gorgeous woodwork and built-ins, lots of unique detail that has been preserved, fireplaces,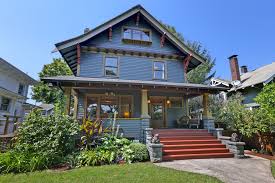 some with hand made tiles depicting historic scenes, big front porches, French doors, and other features unique to the classic old Portland quality homes. Sandy Blvd and I-84 run right through Hollywood neighborhood, plus bus lines go up and down the major streets and the MAX is close by- which kind of ruined the peaceful serene residential feel, but made it very convenient to getting places! They have a business guide to Hollywood so you can see what restaurants, cafes, shops and other businesses are here. Hollywood neighborhood is surrounded by some of the prettiest places in Portland, including Grant Park, Laurelhurst, and Rose City, and Hollywood serves these and other neighborhoods.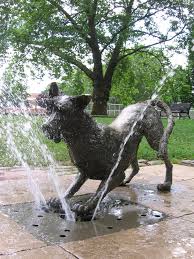 An interesting note is that Beverly Cleary's Klickitat Street book series was staged in this neighborhood! Pretty cool! There is a Beverly Cleary Walking Tour you can go on if you want to learn more about how she fits into Portland. Another interesting historical fact is that the Hollywood neighborhood got it's name from the Hollywood Theater, which opened in 1926. It was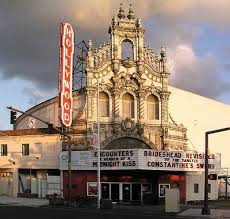 more like a downtown city theater- so added a lot to this neighborhood! It is a beautiful building of poured concrete- and is still showing films today!
Hollywood neighborhood runs from NE 37 th to the west, NE Thompson to the north, NE 47 th to the east and I 84 to the south. It borders on Laurelhurst to the south, Rose City to the east, Grant Park to the north and west. It is easy access to downtown and the airport! The Max light rail runs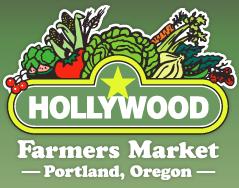 through Hollywood along Halsey, so makes commuting into the city or going in for an evening of entertainment, very easy!
There is a huge farmers market in Hollywood neighborhood on Hancock and 44th every Sunday, and one at Lloyd on Tuesdays. There are Farmers Markets all over Portland, you can find one just about every day of the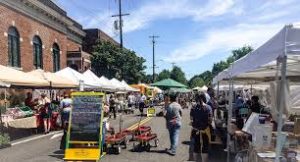 week during the late spring through early fall. Thee is also a Whole Foods right on Sandy and 42nd that have fresh produce and organic food. They have an amazing hot bar, salad bar and soup bar. I grab lunch there all the time! There is a parking garage under the store, but I am always able to find parking right out in front!
Hollywood neighborhood is one of the premier shopping areas in Portland, not as funky as Hawthorne, not as classy as Beaumont, but wonderful, with trendy shops and restaurants, as well as all the amenities a little neighborhood or village might need.
Parks in Hollywood neighborhood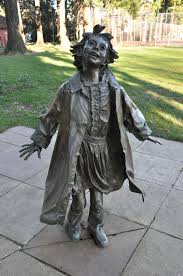 Beverly Cleary Sculpture Garden at Grant Park was the setting for many scenes in children's books by Beverly Cleary. In 1991, a group of teachers, librarians, and business people formed the Friends of Henry & Ramona, and began to raise funds for the Beverly Cleary Sculpture Garden for Children. Portland artist Lee Hunt created life-sized bronze statues of three of Cleary's best-loved characters – Ramona Quimby, Henry Huggins, and Henry's dog Ribsy. Fountains were installed under Ramona's and Ribsy's feet for kids to splash in during warm weather. Scattered around the concrete fountain slab are granite plaques engraved with the titles of the Cleary books that take place in Portland – and a map of the neighborhood showing where events in the books "really happened."
Hollywood Theater
Hollywood Theater was built in the 1920's- at the end of the silent-film era—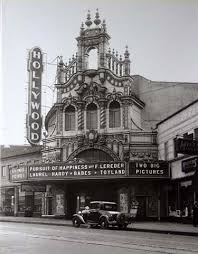 sound was not successfully introduced until 1927—the Hollywood seated 1,500 viewers in a "palace of luxury, comfort and entertainment unsurpassed by any theatre on the Coast," according to an opening-day advertisement. While early theaters had been adapted from retail storefronts by unfurling a screen and setting up rows of chairs, the movie "palaces" that emerged in the 1920s were designed for the purpose, and they frequently used architecture to grab attention.
The Hollywood was designed by the architectural firm of Bennes & Herzog of Portland. The style has been described as "Byzantine," but is better characterized as Spanish Colonial Revival. It was constructed of poured concrete, but the entrance was topped by an elaborate tower of polychrome (colored) terra cotta with arched niches flanked by turned pillars. The two-story street side of the theater was capped by roof tiles that carried out the Spanish Colonial theme. Most theaters of this size were located in downtown areas, but the Hollywood was sited in a neighborhood shopping district that was well served by both streetcar and automobile.
It is now a non-profit international film house and film education center-helping kids learn how to film, giving grants, playing different film shows.
Other Important Links
Hollywood businesses have a link to see which businesses are in this neighborhood
NE Community Center – this is their statement: The NECC is waaay more than a fitness center. It's a neighborhood fun and learning center for all ages. People have been coming to this historic community institution for generations.
Hollywood Farmers Market is located on NE Hancock between 44th and 45th Avenues in and is open from 8 AM to 1 PM on Saturdays from May through October.
The MAX and buses make public transportation really good!
Schools In Portland- people are permitted to send their children to whatever school they want within the Portland School District, as long as there is room. If the school is important to you, it is probably a good idea to check and see which school your neighborhood is assigned to- because it seems logical that the best schools will have a waiting list- and if you live there, you will be at the top! Find your school attendance area or a school site and view the boundary area using School Locator Page for: Portland Public Schools..
Read how to use the interactive map by clicking on the (Information) icon (circle with an i in the center).
School Report Cards for schools and districts in Oregon. Select (Portland SD 1J) In the District Selection Heading to view individual schools within the Portland Public School District.
You can find all kinds of All kinds of information about crime, maps, etc, Portlandmaps.com even exactly what happened where, if you just put in an address in Portland. There are lots of other things you can learn there- like census information, maps, school info, parks, environmental issues, permits on houses, nuisance complaints and taxes.
History of Hollywood neighborhood
Joseph Backenstos got the original land from the Donation Land Claim that Lincoln gave out to people who came to Oregon back in the 1850s to encourage western settlement. The claims were huge, usually about 600 acres. In 1866 the claim was given to his wife, which is pretty cool that women could actually own land claims back then.
Hollywood District was originally part of the Rose City Park subdivision that was platted in 1907. It was originally called Hollyrood, after the Scottish Hollyrood.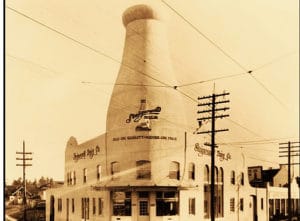 Steigerwalk Dairy was located here in Hollywood, and specialized in milk for babies! They had a huge plant on 37th and Sandy that was sopped by a huge milk bottle. They had the first and largest automatic conveyor bottling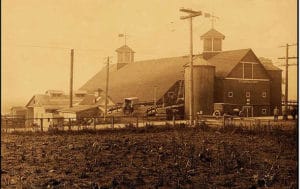 plant in the Northwest. With the new plant, Steigerwald's could wash the glass milk bottles, then fill, and cap them at a rate of 2,500 per hour. In 1920, Steigerwald products were distributed at NE 43rd and Sandy Blvd. Hollywood theater opened in 1926 with the silent movie, More Pay, Less Work! It was a real hit, and still is.