Parks in Irvington Neighborhood
Irving Park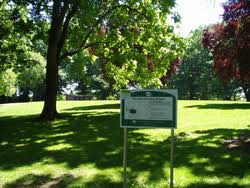 is 16 acres, was acquired in 1920, and has This is a popular old park in the Irvington Neighborhood, with big trees, plenty of green grass, ball fields, a water feature and playground for the children, and off-leash dog park section, basketball and tennis courts, and of course, picnic tables. It is on the corner of NE 7th and Fremont. There is a spash park in summer for the kids to run through, huge beautiful historic trees, and you are right on Fremont, so you can jog over and get a coffee or treat, or even get lunch and bring it back to the park.
Watch Video Below to learn about Irvington
History of Irvington Neighborhood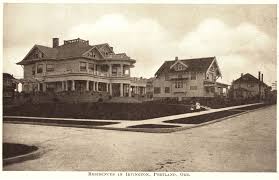 William and Elizabeth Irving had the original Land Claim in 1851 for the Irvington neighborhood. The streets were laid out in 1887, and residential lots began selling in 1891, and as soon as the streetcar came in, the neighborhood blossomed. It was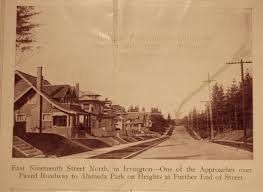 named after a steam boat captain from Scotland, William Irving, who came to Portland in 1849. In 1872, after his death, his widow and son began selling off some of the original land. Some of it became the city of Albina, which was annexed to Portland in the 1890s. In 1890, limited street car service began that connected to Irvington, which made it much more desirable. Irvington was advertised and developed to attract middle to upper class residents, and any kind of commercial undertaking was prohibited. Many of the homes that were built were huge and gorgeous, and included Queen Anne, Arts and Crafts, and Colonial Revival styles. In 1911 the Broadway Bridge was built, which made Irvington very accessible to downtown.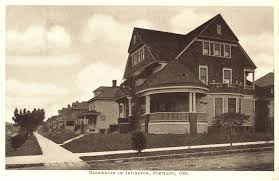 In 2010, a 583-acre section of the neighborhood north of Broadway and south of Fremont became included in the National Register of Historic places. Each year, the Irvington Home Tour is held on the third Sunday of May and is the longest continuously running neighborhood home tour in Portland! All the homes that are designated Historic open up to visitors who buy tickets and are given a map of the tour. Volunteers are there to answer questions, and tell you about the different historic features of the homes.
You can learn more about the history of this area in the Oregon Encyclopedia website. It has lots of photos and other interesting info about early Portland.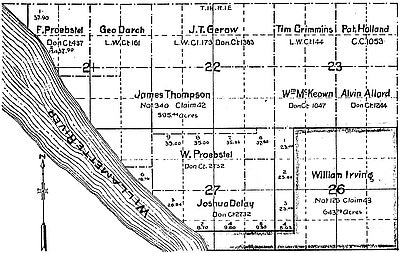 Here is the original Donation Land Grant that Irvington came out of. You can see the Willlamette River is one of the borders, which is one of the things that makes this neighborhood so special. It is really close to Portland downtown. All you have to do is go across the river on Broadway, and there you are. William Irving's land is the largest, part of which he turned into Irving Park.
The Donation Land Act was an act by the government to encourage people to move west and settle the land, so the United States would be fully settled, and the Indians, French or anyone else that might challenge them, would not have a leg to stand on. Each man could get 160 acres of land if he settled on it and cultivated it. His wife could also get 160 acres, forming 320 acres per couple.
Eats and Sips
They have a pretty cool statement on the Farmers Market facebook page, and it says something about their neighborhood:
At Irvington Farmers Market, we want to strengthen community, create a thriving hub of positive social change, promote support of locally sourced food and locally made products, and help agricultural and neighborhood businesses thrive.
Irvington neighborhood market incorporates friends and neighbors of the past, so that we may breathe new life into the present market and greater communities. through community markets such as this, we can all contribute to creating a sustainable and long-lasting future.
Whether radical or responsible, we are passionate about what a farmer's market should be and what it should provide to its community and its participants; but we also want to explore what it could be and might become.
It's time for a fresh perspective and fearless new direction for how people get amazing food and hand-crafted goods directly from grower and/or maker.
Sundays from 9:30 – 2:30 at NE 16th & Broadway.
Other Important Links
The MAX and buses make public transportation really good!
Schools In Portland- people are permitted to send their children to whatever school they want within the Portland School District, as long as there is room. If the school is important to you, it is probably a good idea to check and see which school your neighborhood is assigned to- because it seems logical that the best schools will have a waiting list- and if you live there, you will be at the top! Find your school attendance area or a school site and view the boundary area using School Locator Page for: Portland Public Schools..
Read how to use the interactive map by clicking on the (Information) icon (circle with an i in the center).
School Report Cards for schools and districts in Oregon. Select (Portland SD 1J) In the District Selection Heading to view individual schools within the Portland Public School District.
You can find all kinds of All kinds of information about crime, maps, etc, Portlandmaps.com even exactly what happened where, if you just put in an address in Portland. There are lots of other things you can learn there- like census information, maps, school info, parks, environmental issues, permits on houses, nuisance complaints and taxes.
Irvington Farmers Market
Irvington Community – Pages about the neighborhood and community calendar.