King Neighborhood – Huge neighborhood with variations
King neighborhood runs from NE Ainsworth south to NE Fremont and from Rodney, east to NE 14th, with a few zigs and zags on the border. It's southern border hits Irvington– it's northern is the Woodlawn, it's eastern border is Vernon, and it's western is Humbolt. It is almost in N Portland- Williams is the boundary between NE and N. It also has some of the Alberta Arts District in it. Alberta Arts runs from MLK to about NE 32nd and then from Alberta north to Killingsworth. The main artsy area is along NE Alberta. See our Alberta Arts section for more info.
King neighborhood is a huge one with a lot of variation in condition of homes and surrounding area. It is multi-cultural, socially conscious, and has become super popular in the last few years. It is still a bit in transition- but has a lot going for it with it's cool historic homes. King neighborhood is close in to Downtown and to Alberta but it is still a little bit more reasonably priced than some of the other neighborhoods…but may not be for long. Right now, you can still find a moderately priced home or a fixer, so it is a great place to buy. Like many of the surrounding neighborhoods, King has historically had one of the highest proportions of non-white residents in the city. It is bike friendly, pedestrian friendly, and has a really high walk score!
King neighborhood was first settled in 1872 when Albina was platted. It was incorporated into the city of Portland in 1891, and has been a center for African American culture for many years. The Urban Renewal that Portland put in motion in the early 2000s has disrupted this in many ways, but the people who live in this neighborhood want to keep the heart and soul of their neighborhood alive! You can read more about the history of this area in my Concordia section.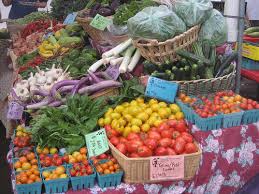 The Farmers market opened in 2009 to resounding success in the King Neighborhood of Northeast Portland.
Established with tremendous support from the Northeast Coalition of Neighborhoods (NECN), the market is located one block south of Alberta Street in the vibrant Alberta Arts District. Adjacent to both King Elementary and King School Park, this market has become a family-centric destination for the neighborhood. Shoppers find breakfast and lunch, listen to local musicians, enjoy a wide variety of kids activities, and explore 35 vendor stalls filled with local bounty from our region's farmers, ranchers, fishermen, foragers and food artisans. The market is located at NE 7th and Wygant between NE Alberta and NE Prescott Streets — in the parking lot adjacent to King Elementary School.
Eats and Sips
Ned Ludd – Inventive New American dishes cooked in wood-fired oven & served in small, elegantly rustic room.
Sengatera Ethiopian Restaurant – Festive selection for Ethiopian eats seasoned with indigenous spices, plus live music on weekends.
Other Important Links
The MAX and buses make public transportation really good!
Schools In Portland- people are permitted to send their children to whatever school they want within the Portland School District, as long as there is room. If the school is important to you, it is probably a good idea to check and see which school your neighborhood is assigned to- because it seems logical that the best schools will have a waiting list- and if you live there, you will be at the top! Find your school attendance area or a school site and view the boundary area using School Locator Page for: Portland Public Schools..
Read how to use the interactive map by clicking on the (Information) icon (circle with an i in the center).
School Report Cards for schools and districts in Oregon. Select (Portland SD 1J) In the District Selection Heading to view individual schools within the Portland Public School District.
You can find all kinds of All kinds of information about crime, maps, etc, Portlandmaps.com even exactly what happened where, if you just put in an address in Portland. There are lots of other things you can learn there- like census information, maps, school info, parks, environmental issues, permits on houses, nuisance complaints and taxes.