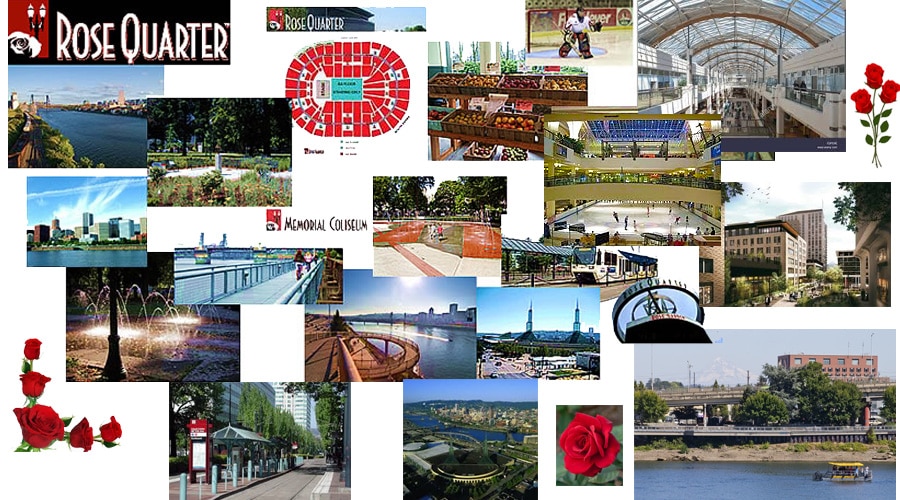 The Lloyd District Neighborhood is a bustling, diverse neighborhood with restaurants, pubs, cafes, shops, entertainment- a seemingly endless array of things to see and do. In fact, it has become one of the main activity and entertainment hubs of Portland, with concerts and sporting events at the Rose Quarter, and a wide variety of shops and services. The Lloyd District Neighborhood was really built around Lloyd Center, which is a huge shopping mall with an ice skating rink! Most of this area is newer, so it lacks the Old world feel of the other inner-city neighborhoods. And the personality of Portland is not really found here- it is mostly a big business district- containing lots of fast food, chain stores etc.
The public transportation in Lloyd District Neighborhood is really good- and it's free! There are several big condos and apartments here, so it is like a little city. It is very convenient for going into the city or the airport- you can just go across one of the bridges and be in downtown- or out on I-84 or the MAX and be at the airport. There are cool neighborhoods all around it, like Sullivan's Gulch and Irvington, which have huge trees, gorgeous historic homes and narrow picturesque streets…the best of Old Historic Portland!
This area runs from Broadway to the north, to Lloyd Blvd to the south, and from the river to NE 16th Ave. It has most of the main big business buildings that are found on the east side of town. It is a vibrant, colorful place with city offices, mall, small and large businesses, restaurants, all kinds of shops- chain food stores, which are left out of most of the little neighborhoods of Portland- and the MAX. They are also putting the Portland Streetcar through the neighborhood. So, public transportation here is awesome!
The small commercial area to the North of the mall has become a very desirable location for merchants. To the West of the mall, medical facilities were built, hotels and office buildings were developed, and the Memorial Coliseum opened. The Coliseum has now grown into the Rose Quarter, which includes the Rose Garden Arena, home of the Trailblazers, and the Oregon Convention Center, which has cool twin glass like spires that you can see as you drive down I-5.
The Lloyd District Neighborhood is a bustling, diverse neighborhood with restaurants, pubs, cafes, shops, entertainment- a seemingly endless array of things to see and do. In fact, it has become one of the main activity and entertainment hubs of Portland, with concerts and sporting events at the Rose Quarter, and a wide variety of shops and services at Lloyd Center.
Parks in Lloyd District Neighborhood
Eastside Esplanade – The Esplanade is 1200 feet long, and is the longest floating walkway of its kind in the United States! It is awesome, you almost feel like you are riding your bike or walking on water. There is an adjoining 120-ft public boat dock where you can park your boat and someday they hope to have a river taxi! The Steel Bridge River Walk, attached about 30 feet above the Willamette River, gives pedestrians and bicyclists a new route to go across the river and is a gorgeous overlook from which to view the downtown cityscape. Because of the esplanade, you can start out riding your bike along the Willamette River all the way in John's Landing- ride into Portland, through the fountain (it feels good in the summer!) across the bridge, along the esplanade and back across the Hawthorne Bridge. It is an awesome ride if you like the river, which I do!
Holladay Park– this is what it says about it- funny to name a park after someone like this!! This park is named after Benjamin Holladay (1819-1887), known to many as "a sharpster, a con man, and a rake." He stirred things up wherever he went and was a bit of a dandy, dressing like a riverboat gambler. He was said to be "wholly destitute of fixed principles of honesty, morality, or common decency." In 1868 Holladay sold his stage coach business in California to Wells Fargo and moved to Portland to get involved in the railroad business. His goal was to build a rail line to California along the east side of the Willamette River. In order to do so, he spent a total of $55,000 in bribe money to help secure his company's endorsement. He also built two large hotels in the area where the park bearing his name is now located. Known as an extravagant spender, Holladay owned numerous mansions on both coasts and had over extended himself financially. He lost his railroad in 1876, and died in Portland in 1887.
There are Three cast-bronze sculptures in the park-Entitled Constellation– a vase of cut flowers, an abstract molecule containing elements of a good neighborhood, and the figure of a home gardener, shears in hand. That is kind of funny too!
History of  Lloyd District Neighborhood
The history of Lloyd District Neighborhood is interesting. Ralph B. Lloyd was born in 1875 in Ventura, California and first came to the Northwest in 1907. While in Portland he developed two strong convictions. The first was that Portland would become a great city. The second was that the East Side should be the center of that city! So, he proceeded to buy up land, knowing that someday it would grow. It has- into one of the main business districts of Portland! The center of it is the Lloyd Center Mall- which is huge, and even has an ice skating Rink. The Max runs up Broadway- the city buildings are right near- in fact our RMLS office is connected to the Lloyd Center. I-84 runs right through this area-which is why it began to take off in 1960's. Lloyd Center was begun in 1960.
Other Important Links
Lloyd Farmers Market – Held on Tuesdays from 10am – 2pm. The market runs weekly except for the Tuesday between December 25th and January 1st. The market also runs on Thursdays from June 10, through September 30. The hours of the Thursday session are be 10am – 2pm. The market is held under the gazebo in the Oregon Square Courtyard on NE Holladay Street between NE 7th Ave and NE 9th Ave. (map) The website says it is even open now- January 21st! The 7th Avenue MAX stop is across the street.
Rose Quarter – Right off I-5! It is a 30 acre sports and entertainment district bounded on the west by NE Interstate Avenue, on the north by NE Broadway and NE Weidler Streets, on the east by Interstate and I-5, and on the south by NE Holiday Street. In the Rose Quarter, among other things, you will find the Rose Garden, the Memorial Coliseum and the Oregon Convention Center- plus lots of restaurants, cafes, shops the MAX. The Steel and Broadway bridges both lead from downtown into the Rose Quarter. You also have the East Esplanade!
Memorial Coliseum – A 12,888-set multipurpose arena located on the Rose Quarter campus. Built in 1960, it was the original home of the Portland Trail Blazers! It is also used for concerts, circuses, rodeos, ice shows, and conventions, and is commonly known as the "glass palace" because that is exactly what it looks like! Two glass needles sticking straight up into the sky. I think it's pretty cool looking!
The MAX and buses make public transportation really good!
Schools In Portland- people are permitted to send their children to whatever school they want within the Portland School District, as long as there is room. If the school is important to you, it is probably a good idea to check and see which school your neighborhood is assigned to- because it seems logical that the best schools will have a waiting list- and if you live there, you will be at the top! Find your school attendance area or a school site and view the boundary area using School Locator Page for: Portland Public Schools..
Read how to use the interactive map by clicking on the (Information) icon (circle with an i in the center).
School Report Cards for schools and districts in Oregon. Select (Portland SD 1J) In the District Selection Heading to view individual schools within the Portland Public School District.
You can find all kinds of All kinds of information about crime, maps, etc, Portlandmaps.com even exactly what happened where, if you just put in an address in Portland. There are lots of other things you can learn in Lloyd District Neighborhood – like census information, maps, school info, parks, environmental issues, permits on houses, nuisance complaints and taxes.
Plans for Lloyd District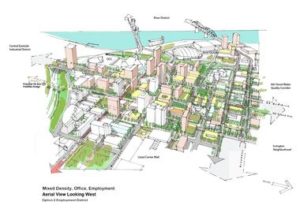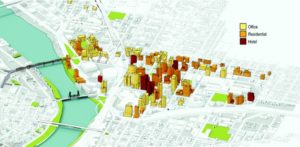 They are still in planning stages, but here are some of their ideas. The Oregonian did a story in June 2017 explaining some of the ideas.
Portland has some big plans for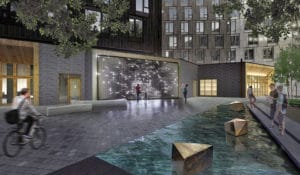 the LLoyd Center area of Portland. Here are some photos and drawings of what their ideas are. They want to make the area into a more usable space, with taller buildings for offices, apartments, add new Max lines, and some trails and walkways.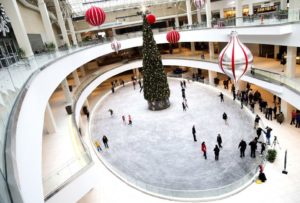 They also want to work on I 5, as it goes through the Rose Quarter. Anyone who lives in Portland knows these things are greatly needed!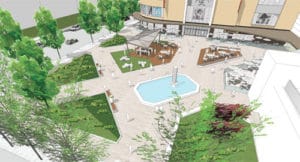 Here is what the article says: Most of us have heard about the 20-minute neighborhood: That urban utopia in which residents can easily walk or bike to the grocery store, the library, a gym, restaurants and other entertainment and services without relying on a car. (Handy? Most definitely. Affordable? Probably not.) But developers and architects working on the Lloyd Center and surrounding blocks want to take that vision a step further: Why not a five-minute neighborhood?