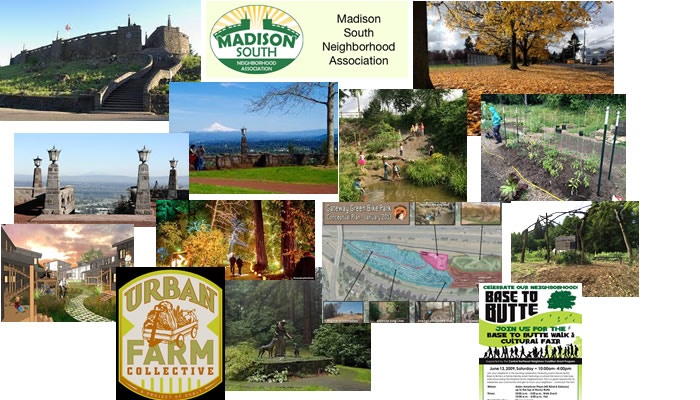 Madison South Neighborhood is right at the Base of Rocky Butte. It also goes all the way West to Rose City Golf Course. It is bordered by the Roseway, Sumner, Cully, Parkrose, Montavilla, and Rose City Park neighborhoods.
Madison South Neighborhood is very small but still reasonably priced homes. It has gone up since 2016 though. The homes are nicer once you get away from 82nd. It has mostly mid-century homes which are very popular with their old growth wood floors and big picture windows. Nice size yards. They are on the smaller side which keeps the neighborhood prices reasonable.
The location of Madison South Neighborhood is great because you can walk to the MAX line from part of it, or hop on the freeway or Halsey and you are downtown in minutes.
Rocky Butte has a great park – Joseph Wood Hill Park, with trails and an amazing 360 degree view of 3 mountains and downtown Portland. An unmarked primitive trail begins just east of The Grotto near the intersection of Skidmore Street and 92nd Avenue. An alternative and more distinct upper trail connects the high side of the tunnel on Rocky Butte Road to the west slope of the summit. An apparent trail beginning at the end of Sacramento Street, east of 93rd Avenue, peters out after about 1 kilometre (0.62 mi).Rocky Butte is a popular location for rock climbers in the Portland area. It hosts approximately 150 routes which vary in difficulty and type. The majority of routes will be top-roped, though there are some options for traditional climbing and lead climbing. The most popular climbs are on the section known as Video Bluff.
There are some unusual natural areas here, including Rocky Butte, a volcanic area popular among climbers with a gorgeous view of Mt Hood and the valley below, and also lots of trails and rock climbing challenges!
The MAX light rail station is close by, on 82nd so it helps with commuting to downtown. The Madison South Neighborhood area, though, is more like a little suburb, so most people use cars. There aren't alot of community businesses or restaurants in the Madison South Neighborhood still reasonably priced homes  so the lifestyle is very different than the neighborhoods closer in. Most homes were built in the 40s and 50s, and houses are more affordable here, so great place for first time home buyers!
Parks in Madison South Neighborhood
Rocky Butte Natural Area and Rocky Butte State Park add history, trails, and scenic views to the neighborhood.
Rose City Park is here too, plus they have a community garden, they are building a huge mountain bike track, and they have a Zen Rain Garden.
Dharma Rain Zen Center is transforming a plot of land which was once a center of controversy and contention into a zen garden of neighborhood pride.
A group of committed neighbors joined together, with the help of the Urban Farm Collective, to create the Beech Street Community Garden.
Glenhaven Park, shared between the Madison South and the Roseway neighborhoods brings children out to play, athletes out to compete, walkers to stretch their legs, and skateboarders to test the contours of the skate park.
It also has The Grotto , which is a natural cathedral. The grounds of the Grotto include 62 acres of pathways, forest, and an upper-level botanical garden situated above the cliff, which are accessed through an elevator built against the cliff wall. The Grotto is a beautiful botanical garden with a shrine that has a special Christmas light display. The upper botanical gardens also provide expansive views of the Columbia River Valley, the Cascade Mountains, and Mount Saint Helens.
Gateway Green Will Be a Dream Come True..
From their website: "Gateway Green is about a vision of a community place for people of all ages to come together to enjoy nature, to play, and to meet their neighbors. Gateway Green is about hope, love, and place." – Rex Burkholder, former Metro Councilor and co-convener of the Gateway Green Oregon Solutions project The design and use of Gateway Green is intended to provide much-needed open space in a part of Portland documented to be very park deficient. We also believe this park will aid in developing a strong sense of place and identity for East Portland and help spur economic development in the area. The neighborhoods surrounding Gateway Green are some of the most diverse in the region (over 65 languages are spoken in the local school district) and the fastest growing, with little space left to develop a large park like Gateway Green. Gateway Green would provide this dynamic part of the region much needed green space for a variety of recreational activities.
"It's a unique feature for the Portland area- we have parks, and we have bicyclists, but this combines the two in a very interesting and fun way." – Portland area resident during our Oregon's Kitchen Table public consultation
Portland is known as a bicycling hub, but we're missing a major component of that designation: an outdoor area for off-road bicycling. Unlike other cities known for biking, you have to drive an hour or more to get to an area for off-road biking. Gateway Green aims to fill that hole, providing a variety of features for biking and skill building; in fact, some of the most talented bike park designers in the country happen to live in Portland and have already donated some of their time to this project!
Other Important Links
The MAX and buses make public transportation really good!
Schools In Portland- people are permitted to send their children to whatever school they want within the Portland School District, as long as there is room. If the school is important to you, it is probably a good idea to check and see which school your neighborhood is assigned to- because it seems logical that the best schools will have a waiting list- and if you live there, you will be at the top! Find your school attendance area or a school site and view the boundary area using School Locator Page for: Portland Public Schools..
Read how to use the interactive map by clicking on the (Information) icon (circle with an i in the center).
School Report Cards for schools and districts in Oregon. Select (Portland SD 1J) In the District Selection Heading to view individual schools within the Portland Public School District.
You can find all kinds of about crime, maps, etc, Portlandmaps.com even exactly what happened where, if you just put in an address in Portland. There are lots of other things you can learn there- like census information, maps, school info, parks, environmental issues, permits on houses, nuisance complaints and taxes.