Sabin neighborhood is a charming neighborhood of historic homes, most are from the early 1900s to mid-century, with a sprinkling of newer homes built on lots that had been divided. It is in a pretty special place, because Alberta Arts borders it on the north, with it's award winning restaurants, art galleries and shops, and other businesses. And to the south is Fremont, which has a Whole Foods, Starbucks, and other local shops and restaurants. The houses in Sabin neighborhood strike me with the old world details that have been preserved, and the pretty gardens that sometimes spill out into the sidewalks and streets! There are lots of big trees on many of the streets, and a feeling of peace and serenity with bikers and pedestrians enjoying the outdoors. It is surrounded by other prime neighborhoods, Irvington to the south, Alameda to the east, Concordia to the north east and Alberta Arts District just north of it .
Because Sabin is so is close-in, starting at NE 10th and going to NE 23rd, the commute to downtown is easy. It's also close to I-5 and 405, which you can catch from Alberta. There is a close community feel among the residents, who love their neighborhood and take good care of it, and it is an older established Neighborhood with Craftsman, classic bungalows, farmhouses and old style PDX homes. There are several Parks close by, a Community Garden on 11th Ave, and lots of Shops, Cafes and Restaurants on Fremont. If you walk along 15th Ave, you'll find a Whole Foods Grocery, which is a lot like New Seasons with Natural, Organic Food and Sandwiches, Salads, Soups etc. If you follow Fremont a few blocks to the west, you will come to New Seasons, and a little bit farther, are all the shops on Williams and then Mississippi. So Sabin is really in the heart of NE Portland!
They have a pretty cool set of bylaws on their website, it really fits how Portland is! And it is what this neighborhood has as it's heart and soul, it's goals! Here is what it has adopted as a set of principles to guide the neighborhood's decisions and actions- you couldn't ask for much better!
Be accepting, inclusive and fair
Engage the community
Seek to understand and meet community needs
Support diversity
Encourage local businesses
Prepare for the future and promote sustainable living
Care for our natural environment and wildlife
Partner with community organizations
Parks and Gardens in Sabin Neighborhood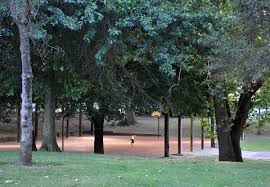 Irving Park is a 16 acre park on Fremont and 7th and has wide open lawns with big trees- it is really pretty. Plus it offers baseball field, basketball court, dog off-leash area, Fountain – Interactive, horseshoe pit, paths – paved, picnic site – reservable, picnic tables, playground, soccer field, softball field, tennis backboard, tennis court, tennis court – lighted, and volleyball court. The land in the Irvington neighborhood was originally owned by Captain William Irving, who was famous in early Pacific Northwest maritime history. Part of the land occupied by Irving Park was the site of the Irvington Racetrack, one of four defunct racetracks now sporting Portland parks.
Sabin Community Garden has several different sized plots that you can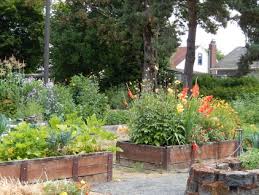 rent for the year, about 50 different ones. This helps bring the community together as people come and work their garden plots, creating beautiful lush spots of vegetables and color! It opened in 1995, and was expanded in 2008.
Ariadne's Garden is right in the neighborhood. She grows her own produce and flowers, is a self-sustaining retailer, and sells her flowers (peonies, roses, yarrow, lilies, gladiola, zinnias) and produce (tomatoes and starts, lettuces, escaroles, mustards, kales, beans, squash, raspberries, etc.) to those who visit its onsite market stand. Ariadne's commitment to healthy soils yields some of the most delicious and healthiest food available in the city.

Ariadne's Garden is a produce stand right in the neighborhood, they grow everything right there!
Eats and Sips
Great Eats:
Coffee Shops:
Extracto – Stylish coffee shop with a roll-up door, known for impressive latte art & house-roasted beans.
Caffe Destino – Down-to-earth cafe doling out coffee & tea, plus sandwiches, in relaxed, brick-walled environs.
History of Sabin Neighborhood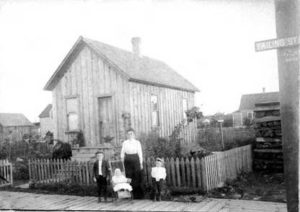 Sabin neighborhood was originally part of the city of Albina. The first immigrants came into the area in the late 1800s, mostly Europeans and Russians who had come to work in farming, and in the new factories in Portland. The electric trolly encouraged this growth in Albina area,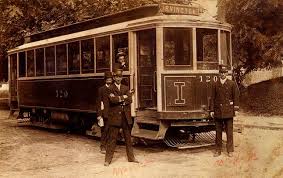 because it gave the people a direct line to get into Portland to work. These early immigrants established businesses along MLK (which used to be Union Ave), and on Alberta and Fremont. They also built several churches, and the communities were tightly knit, continuing all the traditions they had brought from home.
During World War 2, Portland became a ship building city, and many
immigrants came in to do this work. An area called Vanport was built up with housing for these people, in the wetlands of the Columbia River. Hundreds of people lived here. In 1948, the Columbia River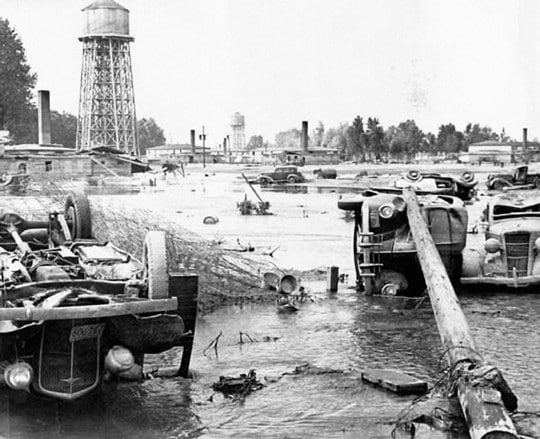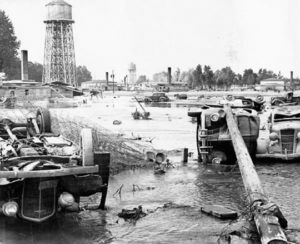 flooded, destroying all these homes and killing alot of people. The ones that remained had no where to go, so began moving into Sabin, Alberta and some of the other North NE neighborhoods. Portland practiced Redlining back then, which means people were excluded because of race. So these African American people had few choices as to where they could live. Sabin was one neighborhood that welcomed them.
In 1968 the Sabin neighborhood was formed, and included both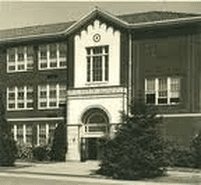 wealthy neighborhoods like East Irvington and Alameda Park, and poor neighborhoods like Lincoln Park and Upper Dixon. The neighborhood took on the same of the Sabin School.
Sabin has always been, and still is, one of the most diverse neighborhoods in Portland, with a close community that takes care of it's people, its schools and it's local businesses.
Other Important Links
The MAX and buses make public transportation really good!
Schools In Portland- people are permitted to send their children to whatever school they want within the Portland School District, as long as there is room. If the school is important to you, it is probably a good idea to check and see which school your neighborhood is assigned to- because it seems logical that the best schools will have a waiting list- and if you live there, you will be at the top! Find your school attendance area or a school site and view the boundary area using School Locator Page for: Portland Public Schools..
Read how to use the interactive map by clicking on the (Information) icon (circle with an i in the center).
School Report Cards for schools and districts in Oregon. Select (Portland SD 1J) In the District Selection Heading to view individual schools within the Portland Public School District.
You can find all kinds of All kinds of information about crime, maps, etc, Portlandmaps.com even exactly what happened where, if you just put in an address in Portland. There are lots of other things you can learn there- like census information, maps, school info, parks, environmental issues, permits on houses, nuisance complaints and taxes.