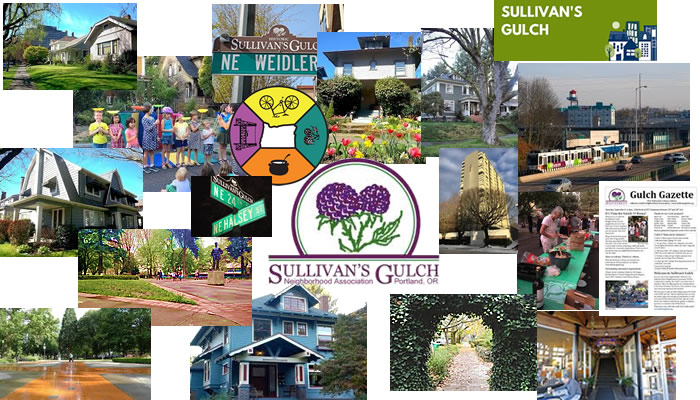 Sullivan's Gulch Neighborhood is between Broadway and I-84, and NE 16th to NE 33rd. It is close to Lloyd Center, walking distance to the Broadway MAX, and really close to downtown. The reason it is called Sullivan's Gulch is because it was a deep gulch valley like area that was hard to build on. The RR tracks went through it. 84 was completed in 1975 through the gulch. You can read more about it below in the history segment!
Sullivan's Gulch is a mixture of beautiful Craftsman Bungalows, Old PDX, Victorian and a lot of condo conversions- most created from cool historic buildings with hardwood floors and character. There are also quite a few apartments, everything kind of mixed together with the commercial, restaurants and pubs. It is a very dense compact neighborhood, well established, has some large older homes on tree-lined streets, also some pretty cool quirky vintage apartments, and newer condos and apartment buildings. Sullivan's Gulch Neighborhood is a good place to live if you want to be able to walk or ride your bike everywhere or take public transit- the shopping and restaurants nearby are awesome. It is very close to Broadway and Weidler and all the commercial things on those streets, plus Lloyd Center is nearby. They recently built a New Seasons that is walkable for the entire neighborhood too.There are also lots of different types alternative medicine, like chiropractor, Naturopathic doctors in this neighborhood too. I think that singles, young and retired couples and professionals would probably most enjoy this neighborhood.
If you like tree lined streets, parks and green spaces, this probably isn't the place for you. It is much more urban, and 84 runs through it, which is a heavily traveled freeway, so much of the neighborhood is noisy. You are also right up against Lloyd Center, a huge shopping mall. There is one park, Holladay park, but it isn't very big compared to others in Portland, more of a small urban park.
Read more in our neighborhood guide about Lloyd. Hollywood Sellwood, and all the other neighborhoods and suburbs of Portland.
Parks in Sullivan's Gulch Neighborhood
History of  Sullivan's Gulch Neighborhood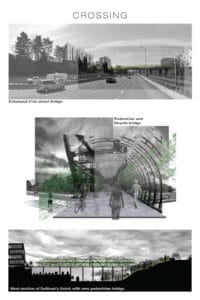 Timothy Sullivan first claimed the land, 320 acres, in 1851. He built a cabin on the south edge of the gulch. Back then it was mostly forest with a stream running through the gulch, filled with wildlife and fish! Sullivan's Spring was near the cabin. When he died in 1865, his daughter, who was one of the Sisters of Providence Order, donated it to the order.
The RR came into the gulch in 1888, the gulch was filled in quite a bit to keep it from flooding, and it became an industrial zone. The city of Portland thought about building a freeway through the gulch way back in 1926, but then the depression came, and then the war, so it didn't get approval until 1947. It took quite a while for it to be completed through the whole gorge, but finally was in 1975.
To the right are some historic photos of Sullivan's Gulch and the Crossing:
Other Important Links
The MAX and buses make public transportation really good!
Schools In Portland- people are permitted to send their children to whatever school they want within the Portland School District, as long as there is room. If the school is important to you, it is probably a good idea to check and see which school your neighborhood is assigned to- because it seems logical that the best schools will have a waiting list- and if you live there, you will be at the top! Find your school attendance area or a school site and view the boundary area using School Locator Page for: Portland Public Schools..
Read how to use the interactive map by clicking on the (Information) icon (circle with an i in the center).
School Report Cards for schools and districts in Oregon. Select (Portland SD 1J) In the District Selection Heading to view individual schools within the Portland Public School District.
You can find all kinds of All kinds of information about crime, maps, etc, Portlandmaps.com even exactly what happened where, if you just put in an address in Portland. There are lots of other things you can learn there- like census information, maps, school info, parks, environmental issues, permits on houses, nuisance complaints and taxes.