Sunderland Neighborhood – A town with wetlands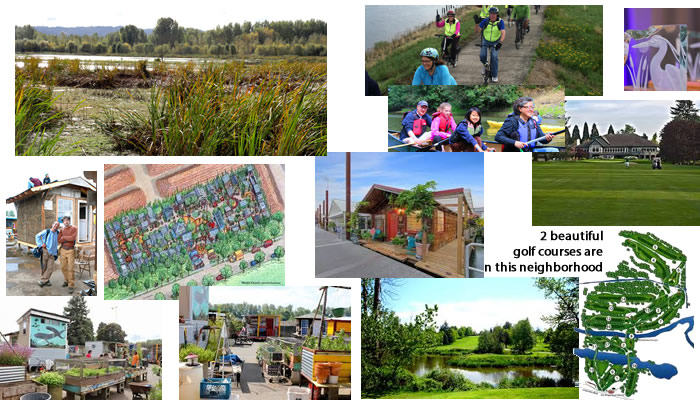 Not many people actually live in Sunderland Neighborhood because it is really boggy, with lots of wetlands, has 2 golf courses and the airport is right near it! It is hard to give the exact boundaries. Dignity Village, a homeless camp, is located in the neighborhood though.
A large portion of the neighborhood is occupied by the Riverside and Broadmoor golf courses, and there's another large golf course just off the east side of the neighborhood, in neighboring East Columbia, Portland. To the east of Sunderland lies Portland International Airport. The very northern edge of the neighborhood, which is NE Marine Drive, borders the Columbia River.
The South end of the neighborhood is up against Columbia Boulevard and Lombard Street. There are really just a few homes in the south part of the neighborhood. The Sunderland Neighborhood is also is close to a prison and the airport, so not a real neighborhood, if you are comparing it to other neighborhoods in Portland.
The Sunderland Neighborhood is good for golf courses, and being close to the Columbia River and seeing wildlife, kayaking or just enjoying the River. There are 2 golf courses in the neighborhood, the Broadmoor Golf Course and the Columbia Edgewater Golf Club. The other good thing about the neighborhood is that it is super close to the airport, so if you fly in and out of Portland alot, it might be ok to live here. There are lots of big stores and chain restaurants nearby too, like Ross, Target, Ikea, and Best Buy. Sunderland does have a few tiny places to eat.
One thing people should know about this area is that it is home to Dignity Village, which is a camp of about 60 homeless people. The area has some crude cooking, electric and bathroom facilities set up for residents. Tiny temporary shelters are set up. In this intentional community, people practice communal and socialist principles.
Sunderland is next to East Columbia, Madison South and the Portland International Airport
Other Important Links
The MAX and buses make public transportation really good!
Schools In Portland- people are permitted to send their children to whatever school they want within the Portland School District, as long as there is room. If the school is important to you, it is probably a good idea to check and see which school your neighborhood is assigned to- because it seems logical that the best schools will have a waiting list- and if you live there, you will be at the top! Find your school attendance area or a school site and view the boundary area using School Locator Page for: Portland Public Schools..
Read how to use the interactive map by clicking on the (Information) icon (circle with an i in the center).
School Report Cards for schools and districts in Oregon. Select (Portland SD 1J) In the District Selection Heading to view individual schools within the Portland Public School District.
You can find all kinds of All kinds of information about crime, maps, etc, Portlandmaps.com even exactly what happened where, if you just put in an address in Portland. There are lots of other things you can learn there- like census information, maps, school info, parks, environmental issues, permits on houses, nuisance complaints and taxes.