Vernon Neighborhood: The "Alberta Arts" district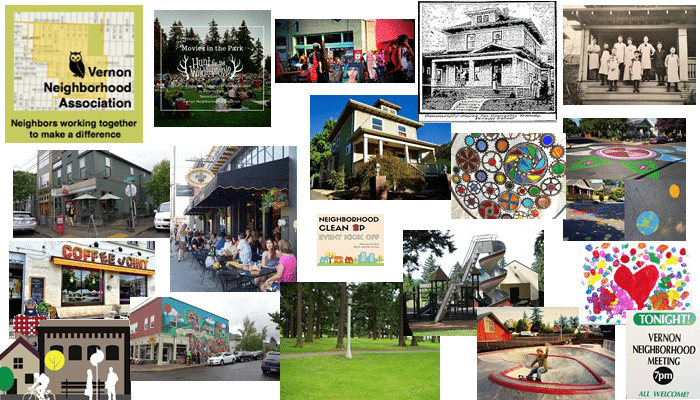 Vernon Neighborhood runs from NE 10th to NE 22nd and from Ainsworth south to Wygant- kind of zig-zags south. Part of it is called the "Alberta Arts" district- which is an up and coming artsy neighborhood with cool shops, cafes and art galleries. Alberta Arts runs from MLK to about NE 32nd and then from Alberta north to Killingsworth. The main artsy area is along NE Alberta. If you look under the Concordia neighborhood, you will find a lot of links and things about the Alberta Arts District. Vernon is to the west of Concordia, and come of Alberta is in Vernon too. So it is a pretty dense, urban neighborhood that is very walkable to all the shops and restaurants on Alberta, and Killingsworth.
The houses in the Vernon Neighborhood are being fixed up at a ferocious rate- it's been a really hot neighborhood for the last 10 years because of the artsy appeal. It's a good close in NE area that is in transition. It borders Concordia to the east, King to the west, Woodlawn to the north and Sabin to the south. Alberta Park is in the northeast corner of the neighborhood. It is a huge park with big trees, grass lawn, an off leash dog area, and playground. It also has a trail which circles around the park and Vernon school.
Homes in the Vernon Neighborhood are mostly older houses with character and charm, some Victorian, bungalows, Craftsman and midcentury, with a few apartments, townhouses, and condos thrown in. Housing here is a little bit more affordable, so alot of young families and first-time home buyers have moved in. Depending on the area, it may not be quite as safe as other neighborhoods, but it is definitely an up-and-coming neighborhood that will continue improving as time goes by.
Other Important Links
The MAX and buses make public transportation really good!
Schools In Portland- people are permitted to send their children to whatever school they want within the Portland School District, as long as there is room. If the school is important to you, it is probably a good idea to check and see which school your neighborhood is assigned to- because it seems logical that the best schools will have a waiting list- and if you live there, you will be at the top! Find your school attendance area or a school site and view the boundary area using School Locator Page for: Portland Public Schools..
Read how to use the interactive map by clicking on the (Information) icon (circle with an i in the center).
School Report Cards for schools and districts in Oregon. Select (Portland SD 1J) In the District Selection Heading to view individual schools within the Portland Public School District.
You can find all kinds of All kinds of information about crime, maps, etc, Portlandmaps.com even exactly what happened where, if you just put in an address in Portland. There are lots of other things you can learn there- like census information, maps, school info, parks, environmental issues, permits on houses, nuisance complaints and taxes.