Woodlawn Neighborhood is one of the farthest North of the NE Portland Neighborhoods.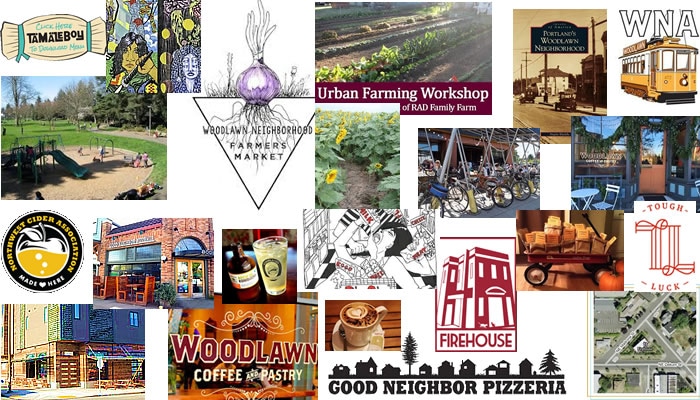 It's one unique feature that gives it some class, is the Woodlawn Triange, which is where diagonal streets come together in the middle of the neighborhood around a park. There are several parks nearby and the way the houses are being restored and remodeled. It borders on Columbia Blvd to the North, Ainsworth to the South, MLK to the West and NE 21st to the East. Neighborhoods that border are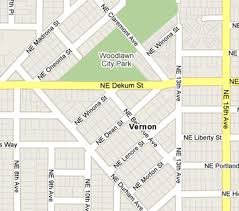 Neighborhood to the West, Vernon and King to the South and Concordia to the East.
Woodlawn is a commonly overlooked neighborhood as it seems somewhat tucked away, but in the past 5 years it has become extremely popular by people who know Portland, and prices have skyrocketed! Bordering industrial north and northeast Portland, Woodlawn really is a little gem of a neighborhood which is being slowly but surely built into a wonderful family oriented neighborhood. New businesses have popped up in the last few years and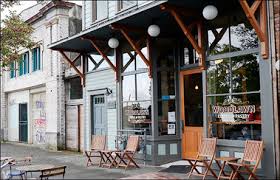 have really made the neighborhood more popular. The local neighborhood community is very active and close knit, which helps the neighborhood to keep improving! Woodlawn Park has a playground, outdoor stage, sports fields and picnic areas, and is very popular, a good place for community to meet. This is also an "artist community", so you will see lots of incredible art (street art being one) and art shows. That is one of the things that draws me to this neighborhood, it's artsy creative personality!
Woodlawn is an older, historic neighborhood, whose origins started as a rural farming village over 150 years ago, making it the oldest settled town in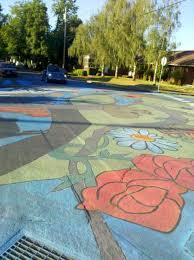 Portland's history. The Woodlawn Historic District, has had several ups and downs in the past, in fact when I first started selling real estate in Portland back in 2005, it was pretty rough. But I watched as it blossomed, people got excited about the neighborhood, the nearby shops, the cool old street patterns, and it changed pretty quickly! Now it is full of charming, well kept older homes most having kept their original character intact, and alot of new businesses, shops, restaurants and pubs have come in, plus there are lots of community activities, my favorite being the Trek in the Park held each summer.
Woodlawn Neighborhood is pretty diverse, with high numbers of African-Americans and Hispanics, some being pushed out as the neighborhood gentrifies. It is still up and coming, but I would say more up than coming! Homes here tend to be smaller bungalows, some smaller Victorians and are still relatively affordable, especially when compared with neighborhoods close by. New homes are being built here, too, because some of the lots were bigger and could be divided, or houses were run down so they were torn down.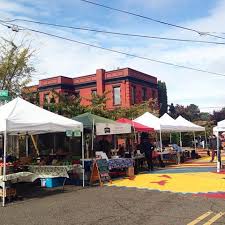 On the north side of the neighborhood, you will find Woodlawn Park, a large triangular park that used to be the home of a train station. Woodlawn Elementary School is also located there and the streets are angled at a 45 degree angle, which makes it unique and kind of cool! There are lots of commuters in this neighborhood since it is pretty close in, and walkers!
There is also a wonderful Woodlawn Farmers Market on Saturdays, at the NE Dekum St and NE Durham Ave Intersection.
Parks in Woodlawn Neighborhood
Woodlawn Park is over 7 acres! Some of the amenities are accessible play area, accessible restroom, basketball court, BEECN – basic earthquake emergency communication node, paths – paved, picnic tables, playground, soccer field, softball field, splash pad, stage – outdoor, and statue or public art.
History of Woodlawn Neighborhood
Woodlawn Neighborhood is one of the oldest settled areas in the Old Albina District. It was settled in the 1860s as a farming community. At one time it had a shoe repair store, a butcher, a baker, a candy maker and a doctor. Since the Piedmont neighborhood next door was zoned exclusively for housing, and also because the streetcar came to Woodlawn, it began to develop into more of a commercial area with a lot of little businesses instead of just being a housing community.
When the bridge went in between Vancouver and Portland in the 1920s, people started going over the bridge into Vancouver instead of to Woodlawn. Then in the 1950s, when Vanport flooded in 1948 , the shipworkders settled in Woodlawn and built small houses with modest salaries. This was very different than most of the other neighborhoods nearby, where people were building large beautiful homes. By the 1970s, Woodlawn was already going downhill fast. Drugs were everywhere, and it just kept sinking. Until recently, when the east side began to renovate and renew itself, and slowly, as the other neighborhoods filled up and became too expensive, Woodlawn was rediscovered!
Other Important Links
The MAX and buses make public transportation really good!
Schools In Portland- people are permitted to send their children to whatever school they want within the Portland School District, as long as there is room. If the school is important to you, it is probably a good idea to check and see which school your neighborhood is assigned to- because it seems logical that the best schools will have a waiting list- and if you live there, you will be at the top! Find your school attendance area or a school site and view the boundary area using School Locator Page for: Portland Public Schools..
Read how to use the interactive map by clicking on the (Information) icon (circle with an i in the center).
School Report Cards for schools and districts in Oregon. Select (Portland SD 1J) In the District Selection Heading to view individual schools within the Portland Public School District.
You can find all kinds of All kinds of information about crime, maps, etc, Portlandmaps.com even exactly what happened where, if you just put in an address in Portland. There are lots of other things you can learn there- like census information, maps, school info, parks, environmental issues, permits on houses, nuisance complaints and taxes.