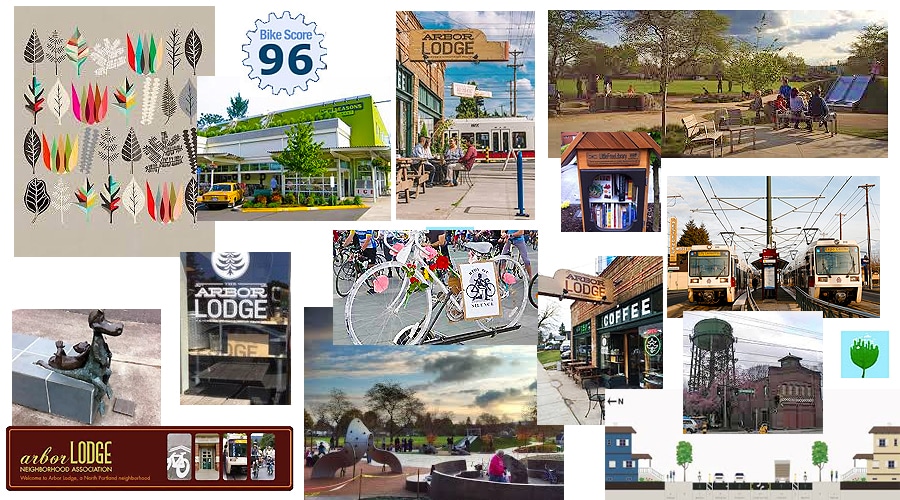 Arbor Lodge neighborhood, Portland, is one of the most popular neighborhoods in Portland. It is full of historic homes, little shops and coffee houses, and the MAX light rail runs right through it. It is located in N Portland and borders Overlook neighborhood to the south, Piedmont to the east, and Kenton to the north. It's southern border is Willamette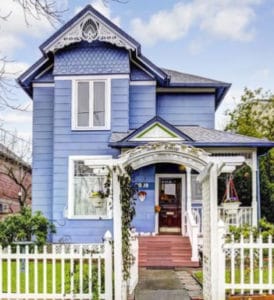 Blvd, which has a walking bike path that goes all along the Willamette Overlook. Arbor Lodge Neighborhood is a great place for walking, bike riding and just looking at the view of the city and Mt Hood over the Willamette River and industrial area. There is a great community feeling in Arbor Lodge, neighbors really care about one another and the community. The residents have poured a lot of money and love into restoring the houses and the whole neighborhood, plus it was an urban renewal area when the MAX Light Rail yellow line first went in, so the city of Portland has invested in it too. There is a good mixture of young families, singles and local old-timers. Lots of people jog ride bikes stroll their babies and walk their dogs. There are also a lot of students because the college is so close, just a little to the east on Willamette.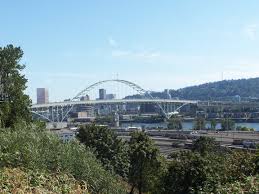 What stands out to me and makes the neighborhood special to me is the walkway that goes along the Overlook giving spectacular views of Forest Park across the river and farther up you have a view of Downtown and the bridges. (You just have to look over the industrial area below that is on the Willamette river!) People are always walking, jogging and biking along there. The University of Portland is on this overlook, so there are lots of college students that use it, as well as mothers with babies, and older people. This neighborhood is great for commuting because of having the MAX yellow line that goes into downtown Portland, and the freeway entrance to I 5 is right on Rosa Parks. If you want to get to the rest of N Portland, like Mississippi, Williams or even Alberta, you can either walk or bike across the freeway on the pedestrian walking bridge

on Skidmore or you can just take Rosa Parks or Killingsworth. This gives you access to the hot little business areas that are nearby. Since the area is flat, it makes for an easy bike ride, or even a nice long walk. Rosa Parks has the New Seasons store right there on the corner by the MAX, so it is right in your neighborhood!
When you drive through Arbor Lodge Neighborhood you will find quiet tree lined streets with people out there walking, jogging, biking with kids and strollers. It seems to be a very eco friendly neighborhood, like most of the inner metro area, and very diverse! Arbor Lodge Neighborhood homes are all different ages and sizes, from your classic Bungalow to Old Portland Craftsman to Cape Cod and new. Prices can range from modest to mid high. And you have all kinds of people!
History of Arbor Lodge Neighborhood
In 1889, Duff Sherman, who worked for the Oregon National Bank of Portland, submitted a permit for a plat of the streets of Arbor Lodge. Most houses were built from 1910 to 1930. You can see that as you walk through the neighborhood. There are lots of cute little bungalows from the early 1900s, and on the main streets, like Denver, there are some really beautiful historic homes. Interspersed among the houses there were little cafes and businesses. Arbor Lodge never really had a downtown area, like some of the other Portland neighborhoods did, but it is close to other areas like Mississippi, and Kenton, which did have little town areas. The Mock Crest area was platted and developed after World War 1.
Arbor Lodge kept growing over the years, so over the years homes have been added that aren't so historic, and it is growing still! In the late 1960s, I 5 was finished, cutting off Arbor Lodge from the rest of the city, and the whole North Portland area fell into a slump. This continued during the 1970s through the 1990s, all the way up until the Urban Renewal Plan for North Portland went into effect, and the Max Light Rail came into North Portland. When I first started selling real estate in North Portland, around 2004, it was at the beginning of it's transition. People said that North Portland was considered pretty dangerous, and people just drove past without even slowing down to look! I had seller show crazy huge safes hidden in basements, hidden pockets in the houses were guns had been stored, and gun shot holes that had gone through walls and windows!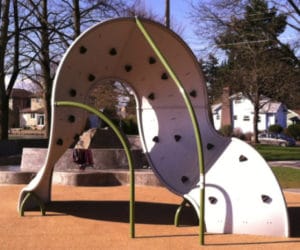 The turn around was amazing. As soon as Portland started it's Urban Renewal program in the area, and built the Max Light Rail line that started at Kenton and went into downtown, the area exploded. It coincided with the beginning of the rebirth of the inner cities, and the ultra popularity of Portland, which has been steady since that time. All the older homes have been restored, one by one, lots divided if possible, and new houses fit in wherever they can be squeezed in.
Now Arbor Lodge and the other N Portland neighborhoods, are super hot. There is an amazing playground for kids! It is a vibrant, exciting, friendly community, where houses fly off the market almost before they are listed! And I know it will continue to be a popular place for all different kinds of people to live.
Parks in Arbor Lodge Neighborhood
Other Important Links
Schools In Portland- people are permitted to send their children to whatever school they want within the Portland School District, as long as there is room. If the school is important to you, it is probably a good idea to check and see which school your neighborhood is assigned to- because it seems logical that the best schools will have a waiting list- and if you live there, you will be at the top! Find your school attendance area or a school site and view the boundary area using School Locator Page for: Portland Public Schools..
Read how to use the interactive map by clicking on the (Information) icon (circle with an
i in the center).
School Report Cards for schools and districts in Oregon. Select (Portland SD 1J) In the District Selection Heading to view individual schools within the Portland Public School District.
You can find all kinds of All kinds of information about crime, maps, etc, Portlandmaps.com even exactly what happened where, if you just put in an address in Portland. There are lots of other things you can learn there- like census information, maps, school info, parks, environmental issues, permits on houses, nuisance complaints and taxes.