Hayden Island Neighborhood is an actual Island found in the Columbia River between Vancouver and Portland. The wide main channel of the Columbia passes between Washington and Oregon. To the south, flows a smaller channel, and creates Hayden Island. It is considered N Portland. The Columbia River is the 4th largest river in the United States! It is pretty amazing! Hayden Island used to be a bustling place, with beaches, carnivals, dance halls and lots of excitement. It has deteriorated, but some areas are being renovated. There are still alot of shops, restaurants and chain stores, people love to come over the bridge from Washington state because in Oregon you don't have to pay sales tax!
There are lots of condos either on the river or with a view of the river, houseboats, hotels and commercial buildings. Jantzen Beach is right in the middle of it and the bridge over the Columbia River to Washington State goes right over the middle of it, so it is pretty noisy from the cars. It gets alot of noise from both the freeway and the airport- but the views can be spectacular- especially if you like birds and wildlife! I had one client that lived in a houseboat right on the river and watched baby osprey grow up and finally take off from a nest high on a pole. It was awesome! I have showed condos, townhomes and houseboats in this area, and it is a really unique place. If you love the water, birds, and the river, Hayden Island Neighborhood might be a perfect place to live.
Hayden Island Neighborhood is one of four major islands in the Portland Metropolitan area; it is the only one that has been developed to live on! Government Island is out in the middle of the Columbia – you can see it from Hayden Island. There are six boat marinas, and 4 floating home moorages. We used to take our boat out on the Columbia and explore all the sand beaches, islands, the slough, and stop at marina restaurants to eat! It was alot of fun!
One special thing about the island is that it contains 800 acres of undeveloped natural preserve, owned by the Port of Portland. If you love the river, wildlife, birds, and natural areas, this is a wonderful place! (except for the airplanes and traffic noise!)
If you want to see which houses are for sale in Hayden Island, you can search for houses by neighborhood and price, and even have new listings emailed to you as soon as they are listed…from just the neighborhoods you are interested in!
History of Hayden Island Neighborhood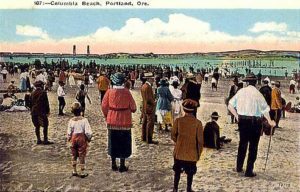 For hundreds of years this region was home to native people who flourished on the bounty of forest and river. The Willamette River meets the Columbia near this spot. After running for 1,210 miles from Canada the Columbia River finally meets the Ocean in Astoria, about 125 miles down river.
The early history: Lewis and Clark discovered the mouth of the Columbia River in 1805 and built Fort Vancouver in 1824. Hayden Island was named after an Oregon pioneer and early Vancouver settler Gay Hayden who owned the island. After settling there in 1851 he built a grand home and lived on the island for five years with his wife and kids.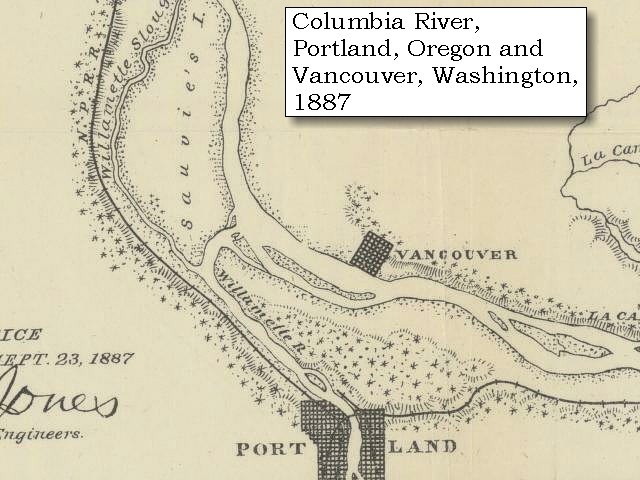 The Hayden Island Neighborhood actually was two islands; Sand Island (Tomahawk Island) to the East and Hayden Island to the West. They were joined by adding land fill. The island is within Portland city limits.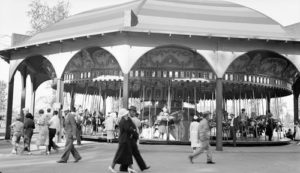 The Columbia Beach opened on August 5, 1916. It was developed by Portland Railway, Light & Power Company, which, ran a streetcar to the location. Hayden Island Neighborhood originally had an amusement park, camping facilities, and a huge dance area! The park sprawled over 123 acres at Hayden Island.
Vanport was built near the current Portland International Raceway to house workers for the war effort building ships. It was built in the flood plane, and was swept away in 1948, when a 200-foot section of the dike holding back the Columbia River collapsed during a flood, killing 15. The city was underwater by nightfall leaving its inhabitants homeless. It was probably the saddest event in Portland history.
Other Important Links
Schools In Portland- people are permitted to send their children to whatever school they want within the Portland School District, as long as there is room. If the school is important to you, it is probably a good idea to check and see which school your neighborhood is assigned to- because it seems logical that the best schools will have a waiting list- and if you live there, you will be at the top! Find your school attendance area or a school site and view the boundary area using School Locator Page for: Portland Public Schools..
Read how to use the interactive map by clicking on the (Information) icon (circle with an
i in the center).
School Report Cards for schools and districts in Oregon. Select (Portland SD 1J) In the District Selection Heading to view individual schools within the Portland Public School District.
You can find all kinds of All kinds of information about crime, maps, etc, Portlandmaps.com even exactly what happened where, if you just put in an address in Portland. There are lots of other things you can learn there- like census information, maps, school info, parks, environmental issues, permits on houses, nuisance complaints and taxes.