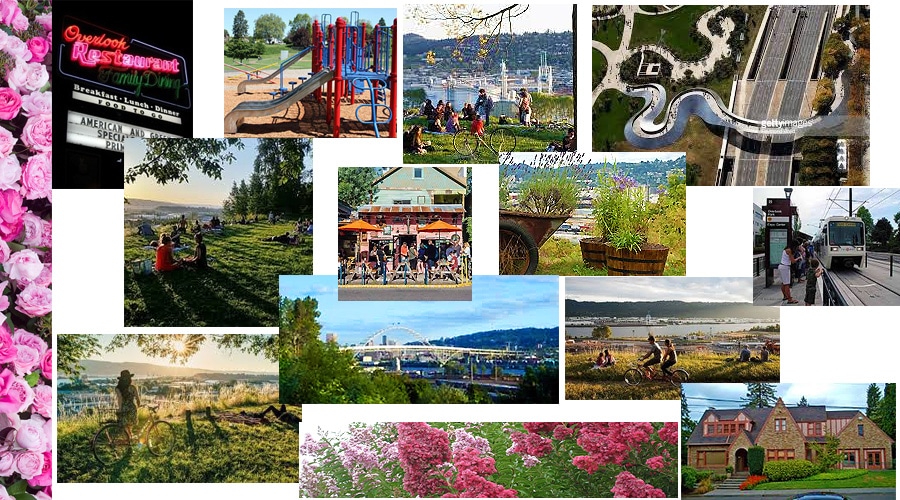 Overlook neighborhood is one of Portland's favorite neighborhoods, especially the section that is in the Overlook Triangle, and close to the Overlook. As you are going out along busy bustling Killingsworth headed from I-5, suddenly you are hit with absolutely breathtaking views of Downtown Portland and Mt Hood looking out across the river. You can also see Forest Park and the West Hills over the Industrial River area. As you curve around you see the arched bridges of Portland silhouetted by Downtown. People are walking and biking all along the way. You are in Overlook. Overlook is bordered by the Willamette River on the SW, the Freemont Bridge on the south, I-5 to the east and Ainsworth and Willamette to the north. It is just minutes to downtown by car of bike or just hop on the MAX. It borders Arbor Lodge neighborhood, University Park, Boise–Eliot and the Willamette River!
Overlook Neighborhood is a really wonderful place that alot of people want to live in! It has alot to offer. Gorgeous homes of all styles, Craftsman Colonial, Old English, Tudor, Bungalows even New Orleans French along wide tree lined streets with well kept yards and lots of flowers! The ones along Willamette on the river have sweeping views. People are biking and walking everywhere. There is Adidas right off Greeley and to the North is the University of Portland and it's beautiful grounds; so it is somewhat of a college town or a running-jogging mecca! They also were the first neighborhood in Portland to be completely organic pesticide free, at least that what they are striving for!
Overlook Neighborhood has been restored over the past 10 or 15 years. It was a high class area at one time, the beauty of the houses show that, and since the MAX train has come into the area, it has blossomed and bustled again, and is filled with trendy little cafes and eating places. It is easy to take the MAX yellow line into downtown, you can bring your bike if you want to, so easy to commute to Portland. Or you can jump on Interstate and take it south down near Swan Island, and get into downtown without taking the bogged down freeways! Or you could take Willamette Blvd to the St John's Bridge, and take Highway 30 into town. If you want to walk somewhere to get yummy food, buy some flowers, get a beer at a pub, or just find some cute shops to browse through, you can take the walking bridge over the freeway and get to Mississippi and all it's restaurants, cafes and pubs, or head towards St Johns, Kenton or any of the other little business areas that are close by. Overlook Neighborhood feels secluded when you are in it's protected little streets, but it has easy access to many new little eateries, it really isn't far out at all!
There are a lot of really nice houses and they seem to sell pretty quickly especially in the Overlook Triangle which is the section to the south. One of my favorite listings of all time was the original Stage Coach House, that was built back in the late 1800's. It was beautiful, with inlaid leaded curved glass, gorgeous wide woodwork, pocket doors, inlaid oak floors with cherry strips around the edge, beautiful built-ins with curved leaded glass and huge New Orleans style decks on the 2nd floor. There are other houses just as unique in this classic older neighborhood.
Parks in Overlook Neighborhood
Eats and Sips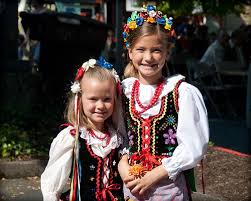 The Old Gold – A Whiskey Bar
Mio Sushi is a Japanese restaurant in a historic Craftsman that serves Asian small plates, like Pork Belly and Sweet Egg, Kaboch Squash, Misoyaki Eggplant and Sushi!
Lucky Labrador Tap Roomhas pizza by the slice, and beer and is knd friendly
Blend Coffee serves the famous Stumptown Coffee of Portland
There is a Polish Festival every fall in Portland celebrating it's history! Historically Overlook was a Polish neighborhood, and they still have a Polish festival each year, a PPolish library and Polish food!
History of Overlook Neighborhood
"Overlook Neighborhood is one of the original seven Pioneer Donation Land claims that were given to early settlers that came to Portland in the 1840s. James Thompson was one of the first to settle in Overlook, his house sitting right where Longview Avenue meets Overlook Blvd. Four other Pioneer Donation claims were on the marshy flood-plain nest to the river. One claim in the early 1850s, was Swan Island. The land in this area was described as a bluff with gently rolling clay loam, lots of trees, including fir, maple, cedar and hemlock. At first the land was farmed by the early settlers, but as time went on, parts were sold off, and divided into smaller lots, farms, pastures and woodlots. Dirt roads were built out along the bluff and neighborhoods slowly grew. One of the first listings I had in N Portland was on Willamette Blvd. It was the site of the old stage coach, and Inn. The house was built back in the late 1890s, was a beautiful southern plantation type house with inlaid oak floors, leaded glass windows, and an upstairs deck that went all the way across the front. It had several bedrooms upstairs, a huge kitchen and dining room, and the old Stage Coach garage was still there! I could close my eyes and picture the early owners cooking meals for the Inn in that big kitchen, and bedding down the horses in the coach house.
In 1890 the Willamette Bridge Railway built a steam powered passenger railroad through the area. It went along the route that Killingsworth takes today, going out to Greeley, then Lombard and all the way west to St. Johns, which was it's own city back then. Eventually the line was electrified and incorporated into the streetcar system. This helped spur growth, and more and more houses sprung up! The name Overlook comes from the Overlook Addition, the area that sits around the bluff that overlooks Portland. Those were the good old days. But in the 1960's, Interstate 5 plowed through Portland to go north from California to Washington. This part of North Portland was cut off, and the area went into decay and ruin. But since the Urban Renewal for N Portland, and the introduction of the Max light rail, the neighborhood has soared, and has come back to it's original splender!
Other Important Links
Overlook Neighborhood Association
The MAX and buses make public transportation really good!
Schools In Portland- people are permitted to send their children to whatever school they want within the Portland School District, as long as there is room. If the school is important to you, it is probably a good idea to check and see which school your neighborhood is assigned to- because it seems logical that the best schools will have a waiting list- and if you live there, you will be at the top! Find your school attendance area or a school site and view the boundary area using School Locator Page for: Portland Public Schools..
Read how to use the interactive map by clicking on the (Information) icon (circle with an i in the center).
School Report Cards for schools and districts in Oregon. Select (Portland SD 1J) In the District Selection Heading to view individual schools within the Portland Public School District.
You can find all kinds of All kinds of information about crime, maps, etc, Portlandmaps.com even exactly what happened where, if you just put in an address in Portland. There are lots of other things you can learn there- like census information, maps, school info, parks, environmental issues, permits on houses, nuisance complaints and taxes.