When I first started showing homes in Piedmont Neighborhood, I was struck by the beauty of the historic homes that I found here. You could tell that when it was built, it was a high class place to live! There are beautiful Craftsman, Four Square, Old PDX style, historic farm houses and bungalows, many with spectacular character and detail. The streets are quiet and tree lined, with sidewalks; creating an environment that encourages people to walks and bike! Many of the streets have alleys that go between the back yards of the houses, some opening up to garages.
Piedmont is in N Portland, nestled in between Humboldt, Alberta, Arbor Lodge, Boise–Eliot and Kenton. If you go to the east, you come into Alberta with it's trendy shops, amazing restaurants and art! If you go to the south, you get to Mississippi Ave, with it's trendy and funky businesses. The Max light rail is just across the freeway on Interstate, and New Seasons is just a few blocks away on Rosa Parks. PCC Campus is right at the edge of the Piedmont Neighborhood, and Mcmenamins Chapel Pub is there too.
Piedmont Neighborhood was established in 1889 and called The Emerald Portland's Evergreen Suburb- and means foot of the mountain. I do not know what mountain that would be! But it's a cool name. In it's early beginnings the Portland Streetcar ran through it and there are a lot of beautiful homes that were built with stunning craftsmanship and charm. The area must have been something in it's youth! Just like most of the inner cities, Piedmont went into disrepair once the streetcar quit coming around in the mid 1900's and it kept going downhill until just recently. The rebirth of the urban neighborhoods has revitalized all these formerly vibrant neighborhoods, and they are coming back to life. The Max has instigated alot of this revitilization, because the era of the suburb is dying. Peopleagain want to live in an urban, lively environment, where they can enjoy all that the city has to offer. The Max light rail has made it easier for people to commute to the city, and walking and bike riding has come back into vogue. Little downtown areas like Mississippi, Alberta and others are coming back to life too, probably even more vibrant than they were in the past! The beautiful old historic homes are being restored; shops cafes and restaurants are opening everywhere; lifestyle is becoming more urban and people are leaving the suburbs.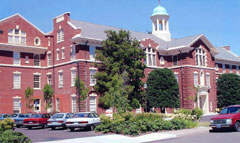 Rosemont Commons is a Historic place that was renovated from the former Villa St. Rose Convent to a 100 unit low income senior rental housing faculty. It is beautiful and was designed by renowned Portland Architect Joseph Jaccoberger in 1917. It is on 7.7 acres and is a Georgian style and it is now being listed on the National Register of Historic Places. The Portland Development Commission has bought Rosemont and is turning it into an urban village for all ages and incomes. Besides the Commons there are 18 family rental town homes; 10 Habitat for Humanity homes; six Home Ownership a Street at a Time (HOST) homes and 10 market-rate houses. Piedmont has lots of older style homes including Old Portland Bungalows Cape Cod English Tudor. There are some vintage condo conversions also. You will see amazing old growth trees that line the streets. If you want the turn of the century home with lots of character and love walking and bicycling to the park New Seasons and neighborhood owned coffee shops you will love Piedmont.
Piedmont Neighborhood Piedmont is bordered on the West by I-5 East by MLK North by Columbia Blvd and to the South by N Ainsworth. It is a Neighborhood in transition pretty far north but getting a rebirth and rebuilding because of the Max which is just a couple of blocks from it's West border. There are a lot of cool old homes in this Neighborhood especially around Ainsworth.
Parks in Piedmont Neighborhood
Peninsula Park is incredible! It is on the South border of the neighborhood, with one of the oldest rose gardens in the NW and a gorgeous fountain. It was designed as a French-style parterre, is one of Portland's most beautiful formal rose gardens, and the only sunken rose garden in Oregon. The rose garden was the showplace of its time, and when it was finished in 1913 300,000 visitors came in the first year. The official Portland rose, named Mme. Caroline Testout, was cultivated in this garden, and this rose is what earned Portland the name 'City of Roses.' It has a great pool for swimming basketball courts soccer field paths for walking and a beautiful Italian style community center.Much of the original design elements remain today – the ornamental fountain, street lamps, brick walkways, and the music pavilion. It was also the first community center in the Portland park system. It has a very interesting history. You can read about it at this link at Portland Parks and Recreation.
Farragut Park Includes basketball court – outdoor disabled access play area disabled access restroom paths – paved picnic tables playground softball field and wading pool or water play feature.
Penninsula Park Community Center and Pool Built in 1913 this Italian-villa style facility was the first community center in the Portland park system. Its original floor plan was perfectly symmetrical consisting of two pools and two gyms – one for men the other for women. Such separate-but-equal social attitudes were also reflected in the entryway murals: young men featured in the area leading to the men's side and young women on the women's side! The Peninsula Pool was built in order to fill the need created by the closure of the bath houses that had been in use on the Willamette River. These structures were closed due to increasing pollution in the Willamette. As popular as the pool is with people it also has a history of being enjoyed by Humboldt penguins. In 1957 when the penguins were scheduled to make their debut at the Washington Park Zoo the zoo's penguin facilities were not yet finished so the Peninsula Park Pool was used as a holding area until their own space was ready. Although the penguins weren't the noisiest swimmers Peninsula has ever seen they are the only ones who have swum there in formal attire!
History in Piedmont Neighborhood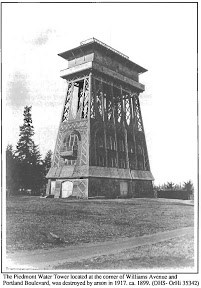 1889 Piedmont was officially platted and deed restrictions and conditions of sales recorded for those desiring to settle in perhaps Portland's first planned community. The plat included 15 feet wide alleys that ran north to south. All water, gas, and sewer pipes as well as all electric, telegraph, and telephone lines except where absolutely necessary for street lights, were confined to the alleys. Electric and horse cars were allowed on any street as long as there was consent of two-thirds of the street's property owners. Electricity was provided, 200 foot well and a 100 foot water tower was erected, deed restrictions that were added to create a high quality, strictly residential neighborhood. Homes had to be built at least 25' from the street and 15' from the side lot line and cost at least $2500. Industrial and commercial were kept out by the deed restrictions! The people who lived there mostly owned their homes, and commuted to Portland, and were mainly upper-middle class professionals who owned their own homes.
It stayed that way until World War 2, when shipbuilding became big in Portland, and alot of the workers moved into the Piedmont neighborhood.
The Rose Garden was created in 1912, became famous with 300,000 visitors in its first year. The official Portland rose,was cultivated in this garden, was planted all over Portland, and gave Portland the name, "The City of Roses."
Other Important Links
The MAX and buses make public transportation really good!
Schools In Portland- people are permitted to send their children to whatever school they want within the Portland School District, as long as there is room. If the school is important to you, it is probably a good idea to check and see which school your neighborhood is assigned to- because it seems logical that the best schools will have a waiting list- and if you live there, you will be at the top! Find your school attendance area or a school site and view the boundary area using School Locator Page for: Portland Public Schools..
Read how to use the interactive map by clicking on the (Information) icon (circle with an i in the center).
School Report Cards for schools and districts in Oregon. Select (Portland SD 1J) In the District Selection Heading to view individual schools within the Portland Public School District.
You can find all kinds of All kinds of information about crime, maps, etc, Portlandmaps.com even exactly what happened where, if you just put in an address in Portland. There are lots of other things you can learn there- like census information, maps, school info, parks, environmental issues, permits on houses, nuisance complaints and taxes.
Video for our listing for sale in Piedmont, April 14th, 2018, showing house and amenities of the neighborhood