When I first started selling real estate in Portland, in 2004, St Johns Neighborhood was just going into transition. I remember coming across the St John's Bridge, and stopping at Safeway to grab something to drink, and being shocked by the police officer standing menacingly at the door, with his gun in full view, making eye contact with each person as they came into the store. I realized then that this neighborhood had been a rough place not too long before, but I could see it was changing fast. Houses were being fixed up all around me, hammers and saws echoing through the streets. It was amazing. Within a couple of years, it was one of the hottest neighborhoods in Portland! Probably the renovation of the St John's Bridge is what has helped spur on this lightening quick change for St Johns. It was a long time in coming, taking over 10 years, but it was finally finished in 2006! This has done wonders for the little town of St Johns!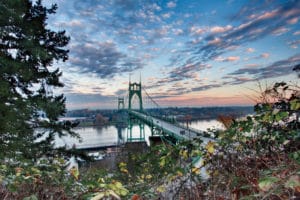 St Johns Neighborhood has alot to offer. The location is amazing. It is at the gateway to Forest Park, just across the St John's Bridge. If you take Highway 30 just a little ways to the north, you come to Sauvie's Island, a wonderful place with farms, beaches and bike paths, that extends between the Columbia River and the Columbia slough, all the way out to St Helens! We used to put our boat in at Sauvie's Island and explore the beaches and forests along the slough. We also enjoy the beaches of Sauvie's Island, and the U pick farms, and Corn Mazes and Pumpkin festivals! You can actually take it all the way to Astoria, to the ocean!
If you want to get out to Hillsboro and the west countryside, you can go north on Hwy 30 from the St John's bridge, then up German Town Rd to the west hills on Skyline, or continue out to Hillsboro and the Tech corridor of Portland. St Johns is actually a very good place to live if you want to live in Portland but commute out to Hillsboro and beyond, because you can completely circumvent the traffic that gets stuck in downtown Portland. There are a lot of Intel employees that live in St Johns and commute.
If you take Hwy 30 the other direction, towards Portland, you will be in downtown NW Portland in less than 10 minutes! Not only that, right there in your neighborhood, you have a vibrant town with cafes, restaurants, trendy shops, a farmers market and it's own festivals! And if you go just a little bit to the north, you come to a gorgeous peaceful wetlands area with 2 lakes, bordered by the Columbia River on one side, and the Columbia Slough on the other!
The St Johns Neighborhood is bordered by the Columbia River (separating it from Hayden Island) to the northeast, the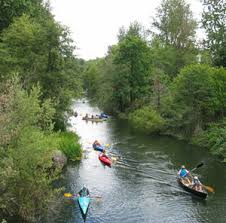 Willamette River (separating it from Sauvie Island and Linnton ) to the northwest, the North Portland railroad cut ,(separating it from the University Park, Portsmouth and Kenton neighborhoods) to the southeast and the Cathedral Park neighborhood to the southwest. St Johns Neighborhood is at the end of a peninsula created by the Willamette and Columbia coming together. In it's past history it must have been quite pretty- there are a lot of cute historic bungalows and Old PDX style homes as well as Cape Cods, Four Squares and even some Craftsman. For many years it was run down and full of crime-but in the past few years, I have watched the little neighborhood bloom and take off, and it has again become a very popular place to live.
The community is close, and people who live here seem to enjoy walking, biking and just being outside, meeting their neighbors and mingling! Maybe being so close to the University of Portland affects the people who live here in some ways, because, as many college towns, there seem to be quite a few independent thinkers, artists, and entrepreneurs.
Parks in St Johns Neighborhood
St Johns Neighborhood is surrounded by water on 3 sides, but it sadly doesn't have much access to the water-The northern portion of the St John's neighborhood is a vast industrial landscape of huge warehouses parking lots and cargo facilities including the Rivergate Industrial District- which is the Port of Portland. It's kind of sad there are no pretty parks or beaches down on the water- but it is too industrialized. I was disappointed the first time I went to St Johns Neighborhood looking for a cool place on the river for a picnic. I did find one park- but it wasn't really on the water. It was under the bridge and is called Cathedral Park.
Cathedral Park – This park is believed to be one of the 14 Lewis and Clark landing sites in the Vancouver-Portland area: William Clark and eight men camped there on April 2 1806. This spot had been a fishing and camping site for many area Indian tribes. In 1847 the founder of St. Johns James John settled on the site and operated a ferry to Linnton across the Willamette River . In 1931 the St. Johns Bridge was built on the site with 400-ft towers and a main span of 1 207 feet. It is the only steel suspension bridge in Portland and is designated as an official historical landmark. It includes boat dock boat ramp disabled access restroom dog off-leash area paths – paved picnic tables and stage – outdoor.
Forest Park is right across the bridge In 1803 William Clark (of Lewis and Clark fame) paddled far enough up the Willamette River to see Forest Park's present location. He described this forest as having Douglas Firs with trunks ranging from five to eight feet in diameter! There are more than 112 bird and 62 mammal species that live in and under its massive tree canopy and gorgeous undergrowth, even the little tiny pigmy owl lives there!
The 30-mile Wildwood Trail in Forest Park is part of the region's 40-Mile Loop system that links Forest Park to pedestrian and trail routes along the Columbia River to Gresham through southeast Portland along the Willamette Greenway and back to the Marquam Trail in southwest Portland.
Smith and Bybee Wetlands – It is right along the edge of N Portland and St Johns Neighborhood's and is the largest wetlands area in any American City ! You can find beaver river otter black-tailed deer osprey bald eagles and one of the largest remaining populations of Western painted turtles in Oregon . Access to the wildlife area is either by the Interlakes Trail (paved and universally accessible) or by boat. The starting point for both is the parking area on Marine Drive . The trail is less than a mile long round trip and has two wildlife viewing platforms. There is a portable toilet at the trail head. Non-motorized boats are allowed.
Columbia Slough Walking and Biking The Columbia Slough is 32,700 acres- the largest urban wetland in the USA with 175 bird species 26 fish species 6 lakes 3 ponds 50 miles of waterway and 30 miles of levees. begins at Fairview Lake and meanders west for 19 miles to Kelley Point Park where it empties into the Willamette River. Historically the Columbia Slough waterway was located in the floodplain for the Columbia and Willamette Rivers. Seasonally the Slough and Columbia River would flood forming new wetlands and channels. It's a fun place to take a kayak canoe or even a motor boat and enjoy the nature around you! Sauvie Island is part of this area.
Pier Park 87 acres acquired in 1920 includes baseball field basketball court – outdoor disabled access picnic area disabled access restroom disc golf paths – paved paths – unpaved picnic site – reservable picnic tables playground skate park soccer field softball field tennis court – outdoor and wading pool or water play feature. And a cool Skate Park!
St John's Park Includes disabled access play area paths – paved picnic tables playground soccer field softball field and wading pool or water play feature.
St John's Raquet Center for tennis is a public tennis facility located at 7519 N Burlington Ave, Portland, OR 97203. There are 3 public tennis courts available at this tennis location. The tennis courts are lighted.
History of St Johns Neighborhood
The original plat for the town of St Johns Neighborhood was filed on July 20, 1865. The neighborhood is named for one of its settlers, James John. John moved to the peninsula in 1844, after originally settling across the river in Linnton. By 1849, twelve families were living in the area – many of whose descendants still live in the neighborhood today.
James John was a generous man and donated eight blocks of his land for the town site. When he died, he left the rest of his property to build a public school where children from all religious denominations could learn together
St. Johns was officially recognized as a municipality by the Oregon State Legislature in 1902, and in 1915 they became part of the City of Portland. Little side info: St Johns is named in honor of settler James John who settled in Linton in 1843 and came to St Johns Neighborhood to lay out the original eight block town site in 1865. He reportedly was a nice kindly hermit which inspired the population to address him as "Saint" John. (An alternate version of the story says that he never visited the local brothel and that's why he was called "Saint" John.)
More About the bridge. It is awesome! It is a steel suspension bridge that spans the Willamette River between St John's. It is a really cool looking historic bridge with two 408 foot tall Gothic towers and a 1207 center span with a total length of 2067 ft! It is the tallest bridge in Portland- with 205 feet of navigational room underneath.
When it was built the area was served by a ferry that carried 100 vehicles per day! It was a long hard fight to get the bridge built- it was 5 miles from the city- and the city didn't think it would be worth the time and money. Finally one month before the Great Depression of 1929 hit- the bridge was started! It provided good jobs during the depression- and was dedicated in 1931. It was considered one of the most beautiful bridges ever built- and had the highest clearance in the nation and the longest suspension span west of Detroit. It is still a beautiful bridge. There is a lot more about the history of the bridge if you go to Wikipedia.org
St John's used to be a High Class beautiful area when it first came into being. The St John's Bridge is one of the prettiest bridges I've seen and will take you from St John's over the Willamette River and into NW Portland within 5 minutes! It is situated at the tip of the West Peninsula going from NE Portland West and it is surrounded on 3 sides by river most of it industrial and then by the Neighborhoods of Kenton Cathedral Park and Portsmouth. It is coming back slowly but surely!
Eats and Sips
Other Important Links
Schools In Portland- people are permitted to send their children to whatever school they want within the Portland School District, as long as there is room. If the school is important to you, it is probably a good idea to check and see which school your neighborhood is assigned to- because it seems logical that the best schools will have a waiting list- and if you live there, you will be at the top! Find your school attendance area or a school site and view the boundary area using School Locator Page for: Portland Public Schools..
Read how to use the interactive map by clicking on the (Information) icon (circle with an
i in the center).
School Report Cards for schools and districts in Oregon. Select (Portland SD 1J) In the District Selection Heading to view individual schools within the Portland Public School District.
You can find all kinds of All kinds of information about crime, maps, etc, Portlandmaps.com even exactly what happened where, if you just put in an address in Portland. There are lots of other things you can learn there- like census information, maps, school info, parks, environmental issues, permits on houses, nuisance complaints and taxes.