The Pearl District Neighborhood is famous the world over! It used to just be a bunch of big industrial and commercial buildings that sprawled all over NW Portland. Someone had the brilliant idea to turn these buildings into lofts- and thus was born the Pearl District. It took off- and it just keeps going and going. All the old buildings of Pearl District Neighborhood have been remodeled and turned into lofts- plus lots and lots of new ones have been built. There are shops, restaurants, cafes, and parks areas that intermingle together.   We are in the process of building a whole huge section just on the Pearl.  Each building is different, they all off something a little unique, so we want to make a guide that goes along with the Pearl. It should be finished by April 2018
Parks in Pearl District Neighborhood
The Park Blocks: NW Park Ave from Ankeny St to Glisan St It goes 6 blocks, from NW Park Ave from Ankeny St to Glisan St. There are big beautiful trees to sit under and enjoy the day or play basketball or vaccinate ball. There is an adorable 12-foot bronze elephant and baby sculpture, Da Tung & Xi'an Bao Bao.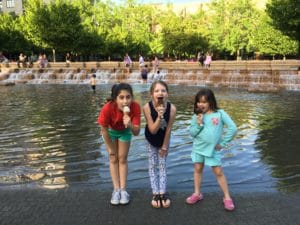 Eden and her friends eating ice cream at Jamison Square.
Jamison Square: NW Johnson, between 10th and 11th A popular fountain for the kids and the kid at heart, especially in the summer. It has a tide pool and cascading fountain so children can splash and a tree-shaded lawn for lounging. Grab some ice cream on the corner at Cool Moon Ice cream for so handmade frozen dream after some fun in the sun. We do this all summer!
Tanner Springs Park is on NW Marshall & Northrup, between 10th and 11th and is a sunny spot with a big grassy area to spread out and take in the fresh air. Great view of the Fremont bridge and cool old industrial structures. Wetlands once existed in the area so it is kind of a neat feel. There is a cool children's area with a huge sandbox and things to climb and play on.
Things to do
Things to do:
First Thursday is an art walk through the Pearl District Neighborhood. Each month most downtown galleries open their doors, uncork the wine, and invite in the public to see their newest art. It goes from about 6-9 PM and there is great live music and happy hour to enjoy as well.
Recently voted #5 in Forbes magazine's "best Hipster Neighborhoods" Why? It has everything an urban lover could ever want- art galleries, parks, coffee shops, world class restaurants and bars and live entertainment venues.
Shopping:
Enjoy clothing shops like a 2 story Anthropology, House of Lolo and LuLu Lemon. Also, shop for those perfect pieces for your home at one of the many furniture and home stores like- Hunt & Gather, Perch Furniture and West Elm.
Grocery:
Fitness and gyms all in the Pearl!
Entertainment:
The Brody Theater – Living Room Theater with Improvised comedy – Art house movie theater that you can enjoy food and drink while you watch the movie.
Getting Around:
Bike – Portland is one of the country's friendliest bike cities.  Rent a bike at the Jamison square biketown.
TriMet buses serve people from Multnomah, Clackamas, and Washington counties. Many bus lines connect with the MAX Light Rail.
TriMet's MAX Light Rail system connects Portland, Gresham, Beaverton, Hillsboro and the Portland Airport. The five lines are:
Westside Blue Line – Hillsboro – City Center
Eastside Blue Line – Gresham – City Center
Red Line – Portland Airport – City Center – Beaverton
Green Line – Clackamas – City Center – Portland State University
Yellow Line – Expo Center – City Center – Portland State University
The streetcars connect Northwest Portland, the Pearl District, Portland City Center, PSU and the South Waterfront District.
12,000 Portlanders a day utilize the 4.8-mile route that loops from NW 23rd Avenue through the Pearl District, and along 10th and 11th Avenues to Portland City Center.
Highly Sought After Condos plus Eats and Sips
The Avenue Lofts:
Located at NW 14th and Irving in the Pearl District Neighborhood. Formerly a Meier & Frank warehouse, it was renovated in 2004. There are roughly 195 lofts.They have wide open spaces, high ceilings, large windows, secured parking and a central courtyard.
Irving Street Lofts:
The Irving Street Lofts were a historic warehouse built in the 1920's. It was converted to rental units and artist lofts in the 1980's, then to condominium lofts in the 1990's. Units have high ceilings, open floor plans, and can be used for residential or commercial. The Irving Street lofts has one of the finest roof top decks in the city. They are one of the more affordable options.
North Park Lofts:
The North Park Lofts are in an historic building that was built in the early 1900's. Located right next to the North Park blocks, this building is a mix of both artist loft space and traditional condominiums.
Pearl Lofts:
If you are looking for a loft in a newer building, the Pearl Lofts is a boutique building built in the mid-1990s. It has just 28 units located at NW 10th and Hoyt. It was designed to complement the historic Pearl town houses on 11th St.
Many units at the Pearl Lofts have oak hardwood floors, soaring great room ceilings, and private one car garages.
The building has secured entries, a private outdoor garden area, and is across from the Irving Street pedestrian walkway. It's close to all the shops and the Portland Streetcar.