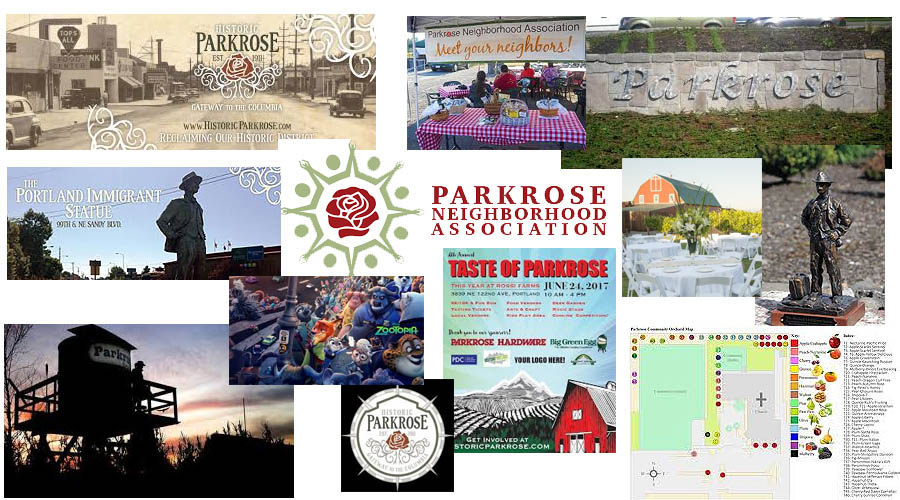 Parkrose is located in the farthest northeast part of Portland, just past 82nd Ave, the north section of it overlooks the Columbia River towards Washington, I 205 is the west border with Johnson Lake and the Airport beyond. The south border is I 84, and the east border is NE 122nd Ave.  It is only 15 minutes to downtown, with great public transportation.   At one time, Parkrose must have been a pretty high class neighborhood.   There are some really pretty houses in this area, some with views over the Columbia, and quite a few of them, surprisingly, have older in ground swimming pools!   Houses vary in age from the early 1900s, when it was first settled,  with the majority of the houses having been built around the mid century through the 1970s.  Ranches, and daylight ranches are common,  or mid-century that have full basements with fireplaces and a 2nd bathroom, are common, and most have large lots!  Some houses have Mt St Helens or Mt Hood views, or even some views of the river and Washington beyond.
This area surprised me when I first started exploring it.  I had thought it was like some of the other outer eastside areas…kind of run down. But once I started showing and listing houses here, I realized it is a gem, and it must have been a really nice neighborhood when it was first created.   Parkrose really has 2 sections, one is north of Sandy Blvd, and is mostly commercial.  Ikea, Home Depot and Costco are in this area, lots of offices and businesses, including RMLS…the realtor mls office, and Airport way.  South of Sandy, though, is residential. The closer you are to Sandy, the more run down the area is, but as you get farther south, there are some beautiful neighborhoods, with lots of trees, big yards, and large homes. It can get pretty windy up there because it is right along the Columbia River.  Also be aware that if you are at the far NW part of the neighborhood, you are pretty close to the airport, so it can get noisy!
Parkrose used to be it's own city, not part of Portland at all. You can read more about it's history in the history section below.  This area is definitely more affordable than neighborhoods closer to Portland, it is really close to the airport, for people who travel a lot, and it is at the crossroads of I 205 and 84, so easy to get over the river to Washington, south to Salem, or into Portland proper.  Sandy Blvd can take you into town quickly also, and so can Columbia Blvd.  So this is a great area as far as transportation, highways and quick routes around traffic!   There is lots of sh0pping nearby, along 122nd to the east, and big box stores like Home Depot, Costco, Ikea, Best Buy and lots and lots of other stores and chain restaurants. What it does lack, is the cute little trendy downtown areas that the closer in Portland neighborhoods have. But it does have it's own  community garden, festivals and even a native plant workshop! You can read more about those perks below.  It also has it's own school system, which is pretty decent.  It is definitely a neighborhood in transition, as houses are bought and restored, but a great family neighborhood for an affordable price!
Parks and Festivals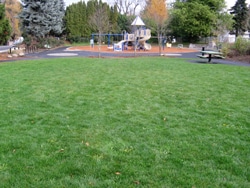 Senn's Dairy Park is only one acre but it is planted with native plants, which makes it unique. It was a dairy at one time, thus it's name. It has a grassy lawn with benches and picnic table, a walking path, a playground, and community garden plots. This project demonstrates a successful partnership; the community and city staff working together to create a unique neighborhood asset.  It also has a community garden.
Annual Native Plant Sale was started to help inspire the Parkrose community to be more green with trees, flowers, bushes and plants.  It teaches people which native plants would work best for your yard, your experience and your budget.  There are workshops available, and it focuses on new and large scale community projects for rural properties and restoration of land that has been polluted or ruined.
They also have a festival every year to help raise scholarshiop funds for Parkrose High seniors, and also for money that can be used to enhance the Parkrose Business District.  It usually has over 100 classic and vintage cars, which are entered to win prizes.
Rossi Farms  is a family owned farm on Shaver and 122nd that shows free movies outside on the farm.  They host weddings and offer other community functions. The farms history goes all the way back to 1900. You can read more about it in the section below on history.
Parkrose National Night Out and Movie in the park happens every summer. Here is what they did in 2017:
National Night Out runs from 5 to 7:30 p.m., when you can enjoy face painters, balloon art, sno-cones and meet police and fire representatives. The Audubon Society will bring a couple of their birds and Mountain Peak Therapy Llamas will have a llama and alpaca from their well-known, friendly crew.
Live music from classic rock favorites, Echoes of Yasgurs, will start at 6:30 p.m. Food vendors Mixteca and Waffle Palooza will have some amazing Mexican food and fancy waffles for sale. However, you are also welcome to bring your own picnic. Just no alcohol, please!
History
Parkrose was first settled in the late 1800s, and began as a small farming community.  Many of the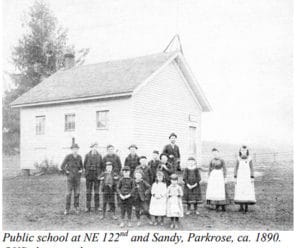 residents were either farmers, worked in logging, or commuted into Portland   The Parkrose School District was created in 1885.  Parkrose was platted in 1811, and was probably named Park Rose because it was so close to the newly platted Rose City Park!
Rossi Farms is a 5 generation farm that has an interesting history! Not many farms from the early days are still in operation, especially within the city of Portland!  Alfonso Debenetti immigrated from Italy in 1880, and farmed Ladds Addition!  He had 2 daughters and a son, who all worked hard on the farm, along with cousins and his wife.  They scrupulously saved, and in 1900, Alfonzo was able to buy this farm in Parkrose…which at that time, was considered way out in the country!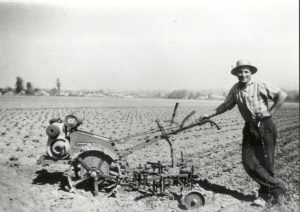 In 1914, Nick Rossi immigrated from Italy to work as a farm laborer with Alfonso, along with his friend, Jim Giusto. They worked hard along with Alfonso, and both of them ended up marrying Alfonso's 2 daughters!  This is the 2nd generation of the farm, and where it took on the name of Rossi Farms  In the 1920s, Aldo, who was Alfonso's grandson, continued the family business….with his son Joseph being the forth generation and Joseph's daughter, Gabrielle Rossi leading the  5th generation!  quite a feat to keep a farm going through 5 generations within a city like Portland.  They have changed with the times, offering different activities and programs to keep going. One of the things they do now is they host weddings!