The Brentwood Darlington Neighborhood Portland is located in southeast Portland and is bordered by neighborhoods Woodstock to the west, Mt. Scott-Arleta to the north, Milwaukie to the south, and Lents to the east. It is a community centered family oriented neighborhood,  on it's way up because of it's proximity to Portland. You'll find a mix of urban and country feel in the Brentwood Darlington Neighborhood.  It is still affordable, and the houses are cute. Alot of them need updating or fixing, but the neighborhood will definitely continue to go up!  It is a good place for a starter home, and you can get a house with a decent size yard!
On the south side, you can find the Springwater Trail, which is an amazing trail that goes right into Sellwood, and along the Willamette to the floating esplanade!  It is going to end up being 40 miles long!  It is getting cleaned up because in the past, alot of homeless people camped out on it, but slowly they are making other places for the homeless.
Portland Fruit company is on the edge of Brentwood Darlington Neighborhood on Foster and 81st. It is an awesome place to get fresh produce in season for really good prices! I've been going there for 10 years now! Foster Rd is changing quickly, with restaurants and shops springing up all along it.
The Johnson Creek area is south of this neighborhood is also growing and building- so that there are lots of newer stores not too far away on 82nd, like Home Depot, Trader Joes etc.
The area is defined by several strong geographical features, including Johnson Creek, tall Douglas Fir trees, and the soaring bluff along Flavel Drive. Commercial areas developed along SE 52nd Avenue, SE Flavel Street, and SE 72nd Avenue, along with the largely commercial thoroughfare, SE 82nd, which forms the neighborhood's eastern border.
Brentwood-Darlington has been an officially designated neighborhood since 1974, though it was called Errol Heights at the time. The overall boundaries have remained constant, incorporating the smaller neighborhoods of Errol Heights, Brentwood, Darlington, Harney Park, Woodmere, and Crystal Springs into one neighborhood in 1996.
Parks in Brentwood Darlington Neighborhood
Brentwood Park, located at 60th and Duke, is the largest neighborhood park at 14.05 acres. Since 1951, Brentwood Park has offered a green space for citizens in Brentwood-Darlington. Amenities include fenced off-leash dog area, paved paths, picnic tables, playground, soccer field, softball field, tennis court, and volleyball court.
Errol Heights Park & Community Garden, located at SE 52nd Ave and Tenino St, is 12 acres acquired by Portland Parks in 1996. Its amenities include a great walking path through the site with views of the Errol Creek wetland area. Many native plants and shrubs thrive in Errol Heights – part of the Johnson Creek Watershed. The Park also features a Community Garden Space. In fact, The neighborhood is home to several large scale urban gardening projects, including the Brentwood Community Garden, It is also home to the Portland State University Learning Gardens Laboratory.
History of Brentwood Darlington Neighborhood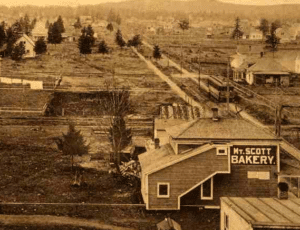 The first residents of the Brentwood Darlington area were single-family homesteads in 1882, which divided the streets into a grid pattern of long blocks. Settlers Henry and Mary Ann Miller took advantage of the Donation Land Act of 1850, and along with George Wills, a baptist preacher and farmer, eventually owned most of the land in the area. By the 1930's, residents of Brentwood-Darlington could catch the electric streetcar and go downtown for dinner and a movie, though for most of the neighborhood's existence, roads led primarily to Milwaukie rather than Portland. World War II brought an influx of people into the Portland area, causing the rapid growth of Southeast Portland.
Other Important Links
The MAX and buses make public transportation really good!
[pps]
You can find all kinds of [pmaps] even exactly what happened where, if you just put in an address in Portland. There are lots of other things you can learn there- like census information, maps, school info, parks, environmental issues, permits on houses, nuisance complaints and taxes.