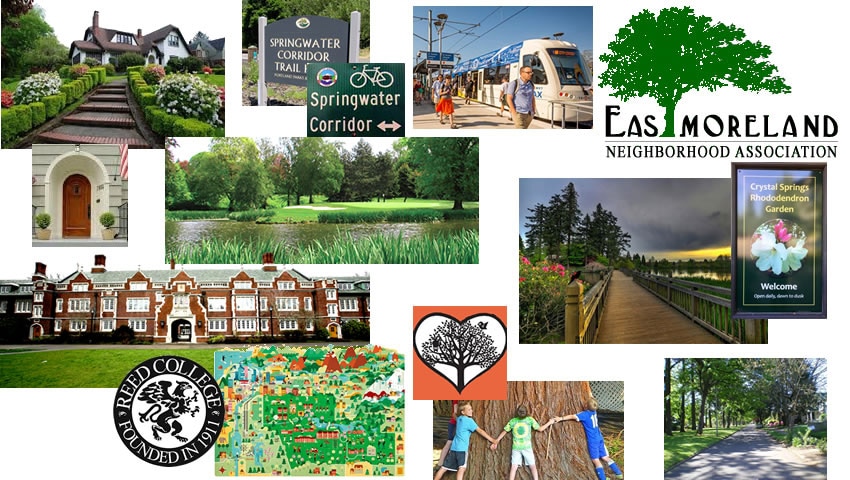 Eastmoreland Neighborhood is one of the most beautiful neighborhoods in Portland, it's tree lined streets winding through the gentle hills, past gorgeous historic homes that were built in the early 1900s. It is like entering another world, almost a fantasy world of Old English homes set up on little hills overlooking the street below, or huge Tudor styled homes set back from the street with huge lawns and gardens. It is what people dream of when they think of Portland's historic homes, and ancient trees with branches hanging over the streets- giving it an aura of magic. It is quiet, peaceful, very safe, and also a very close community. People have a very strong sense of community, and when someone grows up in Eastmoreland, they always want to come back. Every time I drive through the neighborhood, or show houses, I experience the same feeling of wonder!
The north end ofEastmoreland Neighborhood is Reed College and it's beautiful grounds. Eastmoreland Golf course is to the west. Johnson Creek and the Springwater Trail is to the south, and the little town of Woodstock with it's wonderful restaurants, pubs and shops, is to the east. is bounded on the west by the northern pacific RR tracks, on the north by Eastmoreland Country Club, on the south by Crystal Springs Blvd and on the east by SE 39th Ave. It is kind of set apart from the other neighborhoods- by the tracks, the country club and the trees and open space beyond Crystal Springs . It is a gorgeous area- probably the one of the prettiest neighborhoods of Portland. To the east, past the RR tracks is Sellwood-Westmoreland area. The Orange Max line stops right at the entrance to Eastmoreland, at the Bybee Bridge, making it easy to go into the city for dinner, or a show, without worrying about parking! the branches of old trees hanging over the streets- giving it an aura of magic. This is Eastmoreland. It is a community that people stay in- if they can. There are many different architectural styles, including English country, Cape Cods , Tudors, and Colonial – not too many Craftsmen or Bungalows. It seems like a completely different city. Eastmoreland is built around [reed]-built in 1908- a Liberal Arts and Science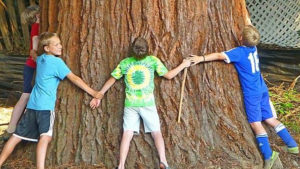 College that actually has a working nuclear reactor! The college is situated on a beautiful 100-acre tree-lined campus in residential southeast Portland . The campus features a lake and canyon with abundant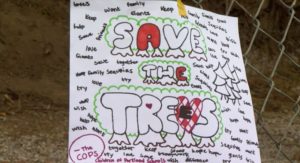 wildlife and native plants.
Eastmoreland is very protective of her history and her trees. There was a huge battle that went on in 2016 to save some 100 year old Sequoia Trees that were in the neighborhood. A builder wanted to cut them down and build houses. The neighborhood won the fight and the trees are still there!
Houses here are very expensive, on a par with downtown Portland or Portland Heights. Sometimes you can find a smaller cottage that needs updating for under $500000, but it is rare! The houses can easily reach up close to a million and beyond.
Parks in Eastmoreland Neighborhood
Crystal Springs Rhododendron Garden– is in the Eastmoreland neighborhood- started as a test garden for rhodys- it now has over 2500 plants- and gives tours. It is between the golf course and Reed College.
Eastmoreland Garden was a neighborhood project that transformed a gravel parking area into a beautiful garden.
Springwater Trail system starts in Sellwood- and goes past Eastmoreland's southern side along Johnson Creek, all the way out to Gresham
Berkeley Park is a 6.5 acre park at Bybee and SE 39th Ave.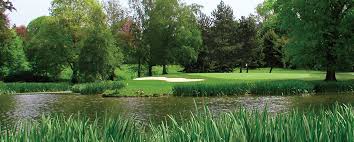 Eastmoreland is Oregon's second oldest golf course. It came into being originally as a golf course for the use of members of the Multnomah Athletic Club. The planning committe decided to rent a 150-acre plot of pasture land that had been leased to the Willsburg Dairy. This agreement was to have lasted for five years. Portland's Mayor Albee approved of the project, and soon the City was purchasing rather than renting. Chandler Egan, a former national amateur golf champion and leading golf course architect, was commissioned to design the course, and in 1917, Portland had its first public golf course. It is 140 acres and 18 holes.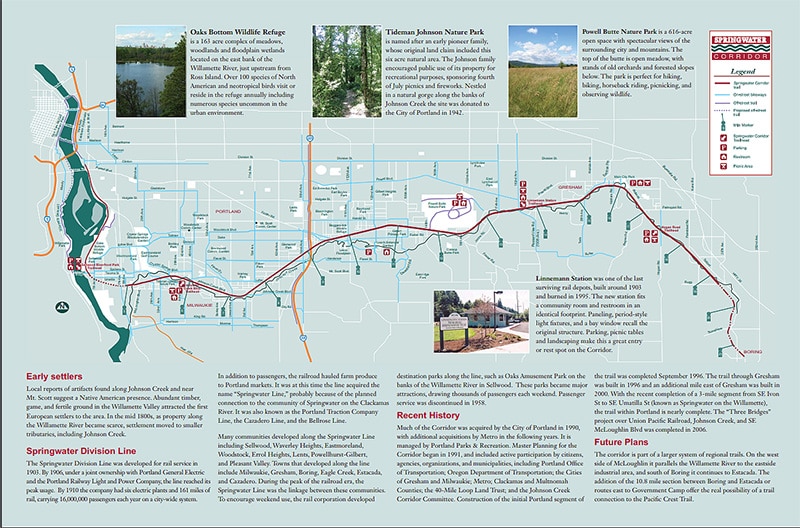 History of Eastmoreland Neighborhood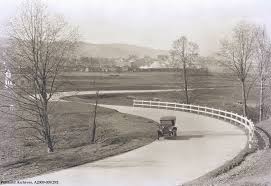 William S Ladd, one of Portland's early entrepreneurs and mayors, owned much of inner SE Portland, including Westmoreland, Eastmoreland, Ladd's Addition and Laurelhurst. Ladd called this area Crystal Springs Farm, and held on to it until 1910, when Ladd donated 40 acres to become Reed College. He felt that if the College went in, it would draw homeowners who would want to live in a high class, stately community near a prestigious college. His plan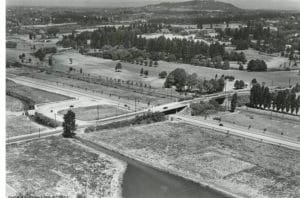 worked! He designated 1270 home sites, and called the new area Eastmoreland, making it kind of a sister neighborhood to Westmoreland, which was on the other side of the RR tracks. The Bybee Bridge was built over the tracks to connect them. This gave the Eastmoreland neighborhood access to the restaurants, shops and pubs in Westmoreland business district.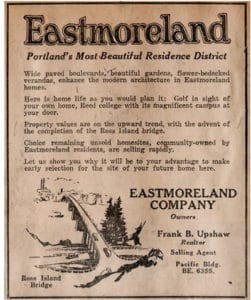 When sales didn't meet his expectations, he donated 150 acres to the city to build a golf course. Still, the sales were slow. Because of this, Eastmoreland homes show a wide range of different housing styles that were popular in the 1920s and 30s, although English Tudor and Colonial seem to be the most common. Maybe the slower growth allowed the time for beautiful homes on large lots with spectacular charm and character to develop….I'm not sure. But whatever happened, the neighborhood feels almost magical to anyone who walks or bikes or even drives through it!
The college was built in 1908, and had it's first classes in 1911. It was named after early pioneers, Simon and Amanda Reed. It has always been an integral part of the neighborhood, and even now, Reed has a full schedule of lectures, concerts, and exhibits that many of the Eastmoreland residents attend.
Other Important Links
The MAX and buses make public transportation really good!
[pps]
You can find all kinds of [pmaps] even exactly what happened where, if you just put in an address in Portland. There are lots of other things you can learn there- like census information, maps, school info, parks, environmental issues, permits on houses, nuisance complaints and taxes.