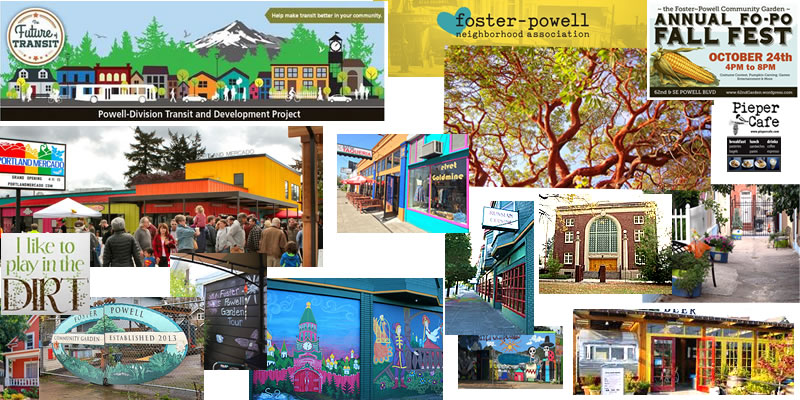 Foster-Powell Neighborhood (FoPo) is the newest hot neighborhood in Portland in 2017! It is still really affordable so young families and first time home buyers are going nuts buying in this neighborhood right now. This has helped to create a new and vibrant community. Foster-Powell Neighborhood has changed so much over the last couple years and it continues to get better every month. Homes are getting fixed up or flipped on every corner. I always wondered why it took so long for this area to be discovered. There are so many cute historic homes on quiet little streets, that were just waiting to be restored!
Foster Rd runs diagonally through the Foster-Powell Neighborhood, which makes for unique angles and even some uniquely shaped buildings. It looks like it used to be a bustling business district, with some really cool historic commercial and retail buildings. It is finally being developed. One of the first things to go in was a cute little Food Cart area, set up kind of artsy, with alot of colors and wood picnic tables, that just seems to draw you in. Then, one by one, the buildings have been seeing some restoration, and businesses have been going in. Someday it will be restored to it's original charm.
I discovered this area several years ago, when I just happened on the Portland Fruit Co. It has local produce, or in season produce, at amazing prices! You can drive by, and when Watermelon is in season, there are huge boxes of watermelons at super good prices, or squash, or apples…whatever they can get a good deal on, they pass on the savings! I still stop there whenever I am anywhere close!
Local favorites, great restaurants and shops and more…
Other Important Links
Here is a link to the Neighborhood Blog.
The MAX and buses make public transportation really good!
[pps]
You can find all kinds of [pmaps] even exactly what happened where, if you just put in an address in Portland. There are lots of other things you can learn there- like census information, maps, school info, parks, environmental issues, permits on houses, nuisance complaints and taxes.