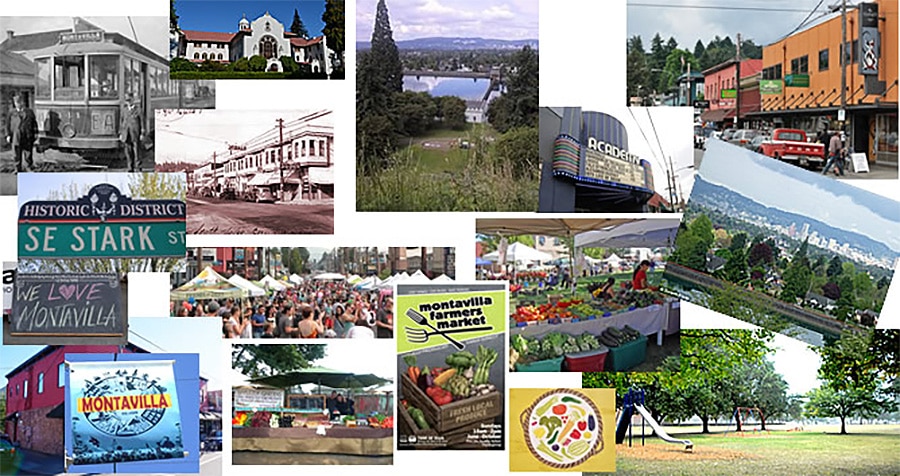 Montavilla Neighborhood Portland was in the top 10 most popular neighborhoods in the country in October 2017, according to The Lonely Planet survey! That is amazing! Montavilla Neighborhood has been getting more and more popular every year, but to be in the top best neighborhoods in the country? Wow! Montavilla Neighborhood lays across both SE and NE Portland, and goes behind Mt Tabor; so it includes the east Tabor area, the Stark Street shops and restaurants and farmers markets, as well as the back of Mt Tabor! The street boundaries are 84 to the north, 205 to the east, Division to the south, and then it follows 76th along behind Mt Tabor goes west on Burnside, and then follows 68th to meet 84.
Montavilla Neighborhood has lots to offer. It is an older historic little town, with it's own community center, little town area, farmers market and has tree lined streets with cute little bungalows and gardens. Plus it is right by Mt Tabor Park, which is a volcanic Butte with trails, views, parks and a forest. You can read more about Mt Tabor below in our park section. It also has good public transportation, the Max isn't too far, buses go down Burnside, 82nd, Glisan, and there are sidewalks and bike paths! The community center at Montavilla Neighborhood has lots of classes for all ages, (you can read more about it below), the Farmers Market is amazing, and the community is really pulling together. It shows!
Stark St has become a hot little business district in the past few years, offering awesome restaurants, bars, cafes, shops and entertainment. It is just behind Mt Tabor. There is also a big farmers market that people love.