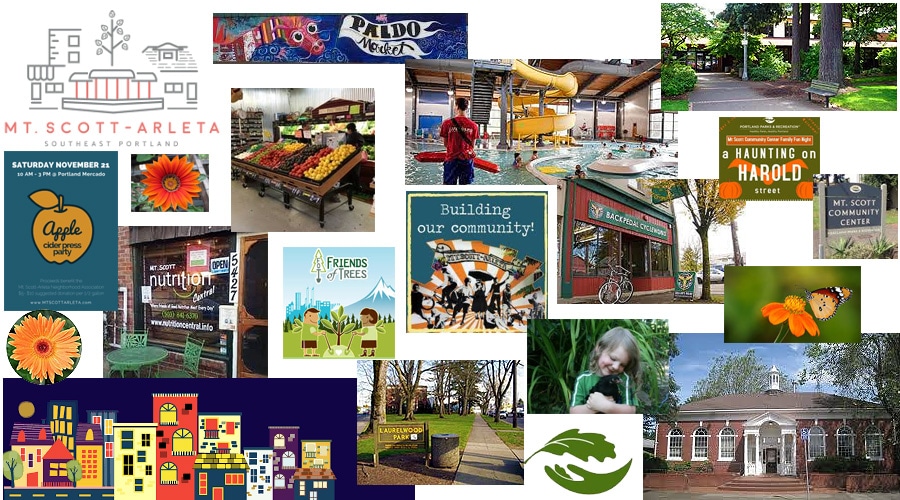 Mt Scott Arleta Neighborhood has become super popular in the past few years. It is close to Portland, is close to the FoPo(Foster-Powell) neighborhood and all the new shops and restaurants on Foster, which is growing like crazy! Mt Scott Park has an amazing pool and community center. Mt. Scott Community Center is very popular throughout Portland, due to its indoor pool with fun slides, the roller skating rink, indoor playground, etc. Another plus with the Mt. Scott area are the nice neighborhoods that exemplify a real family spirit. This area seems to attract younger families and singles.
The homes in Mt Scott Arleta Neighborhood mostly consist of of the traditional style including Craftsman, Bungalow and Colonial. There are some really nice cafes and unique stores like the Arleta Library Bakery Cafe. This restaurant is a hip place that serves tasty southern style food. Another cool place is a Hawaiian place called Da'Hui. Mt Scott Arleta Neighborhood commercial area isn't large, but what it does offer is independent, unique and quaint- great places for community gathering. Another big plus is Mt. Scott park located on SE 72nd street which has a nice massive sized sports field, play structures and picnic areas. Overall, a very nice area. The houses are really cute, alot of historic homes that are being fixed up.
Street advisor lists it in the top best neighborhoods in Portland in 2017 for these reasons:
Parks & Recreation
Neighborly Spirit
Clean & Green
Peace & Quiet
Safe & Sound
Parks in Mt Scott Arleta Neighborhood
Other Important Links
The MAX and buses make public transportation really good!
[pps]
You can find all kinds of [pmaps] even exactly what happened where, if you just put in an address in Portland. There are lots of other things you can learn there- like census information, maps, school info, parks, environmental issues, permits on houses, nuisance complaints and taxes.