Mt Tabor Neighborhood is a 636 foot butte in the middle of east Portland- it used to be an old volcano! In fact it is the only one of two extinct volcano's in the United States that is in the city limits of a major city! The other one is in Bend, Oregon. Mt Tabor is now a beautiful park with walking trails, picnic areas, and breathtaking viewpoints, sports areas and woods. The Mt Tabor neighborhood and South Tabor Neighborhoods are just to the west of this butte. Division, Stark and Burnside run right up to it, and Powell Blvd is to the south. Thornbird and some of the other roads that wind right up to it have some awesome huge homes- mansions even! The area is also full of bungalows, Craftsman, 50's ranch style and a lot of early 70's homes- in all price ranges and all kinds of shape. Some fixers, some gorgeously restored. It's a stable family neighborhood- and just 15 minutes to downtown!
The boundaries are Burnside to the north, Division to the south, SE 76th Ave to the east and SE 49th Ave to the west. It borders on Montavilla to the NE, Center(North Tabor) to the north, Richmond and Sunnyside to the west and South Tabor to the south. Powell Blvd is a striking dividing line in regards to cost. If you live north of Powell Blvd, your house is worth quite a bit more than the exact same house south of Powell.
Mt Tabor area has alot to offer it's residents. The primary thing is, of course, Mt Tabor Park, which is 196 acres with forest, trails, sweeping views all the the way to downtown Portland and Mt Hood views, picnic areas and several reservoirs. Mt Tabor Park and 3 of the reservoirs are listed in the National Register of Historic Places. The other part of this neighborhood that is unique, is it is really close to Hawthorne Blvd, which ends at the base of Mt Tabor. Hawthorne is one of the most popular atreas for people to visit, enjoying their trendy restaurants, shops, and pubs. It also has a Powells Book Store, a New Seasons Market and a Grand Central Bakery, 3 of my favorite places in Portland! There are quite a few alternative medical practitioners, including massage therapists, acupuncturists, Naturopathic Doctors and chiropractors.
Mt Tabor Park was originally full of fruit trees- a farm. In the early 1900's it was donated to the city to be used as a park. You can learn more about it's history in the section below entitled history. You can also learn more about the neighborhood at the Mt Tabor neighborhood association website
Mt. Tabor Architectural Heritage PDF
Parks in Mt Tabor Neighborhood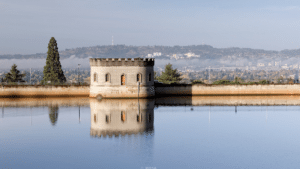 Mt Tabor Reservoir, taken from Friends of Mt Tabor website. It is gorgeous!
Mt. Tabor Park is 195 acres, and has it all…. miles and miles of trails, grassy areas, beautiful forests, plus all the normal things you expect to find in a park, like basketball court, play area, a restroom, picnic area, dog off-leash area, picnic tables, playground, and tennis courts. If you love to walk, hike, or have a dog that you love to take on beautiful long walks through a forest…but you also want to live in the city, this area is for you! There is a committee that watches out for and takes care of the park, called Friends of Mount Tabor Park
History of Mt Tabor Neighborhood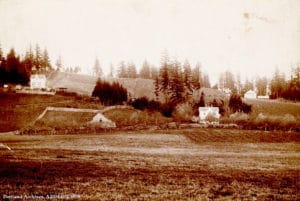 This area is one of the oldest areas to be settled in Portland. Reverend Clinton Kelly settled in the eastern part of then inner SE area in 1848, a huge tract of land, and paid only $50 for the land claim. He farmed it as well as doing circuit preaching around Portland. A few years later Dr Prettyman, who had been originally living in Oregon City, moved out and staked the claim that includes the Mt Tabor neighborhood. He was a naturopathic doctor, had studied at the Botanic Medical School in Baltimore, and brought the dandelion to Oregon to be used medicinally! Other people settled the area, mostly farmers, who grew fruit and vegetables to California for the gold rush!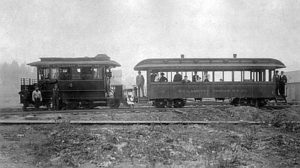 In the 1870s the RR came in, which helped the area to grow, including all the way out to Mt Tabor, Montavilla, Arleta and the rest of the east side. In 1887 the Morrison Bridge was completed,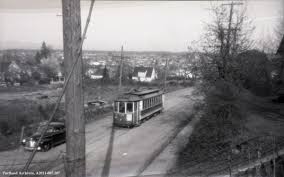 and in 1888 the street car came out. It was a wonderful idea to bring street cars, trains etc out to the edges of Portland, because they fueled the engine of growth, made it easy for the farmers to ship out their produce, and also easy for people to commute into the city.
Mt Tabor Park and Reservoir also is an interesting story too. It was the largest park in Portland for 50
years, until Forest Park was created in 1947. It was chosen as a park back in the late 1800s when Portland chose Bull Run for it's water source. They needed a place for the water to come to, from the mountains, because it was a gravity fed system, which is very unique. 5 reservoirs were built on Mt Tabor to hold the citie's water way back then, and all but one of these is still being used.
Other Important Links
The MAX and buses make public transportation really good!
[pps]
You can find all kinds of [pmaps] even exactly what happened where, if you just put in an address in Portland. There are lots of other things you can learn there- like census information, maps, school info, parks, environmental issues, permits on houses, nuisance complaints and taxes.