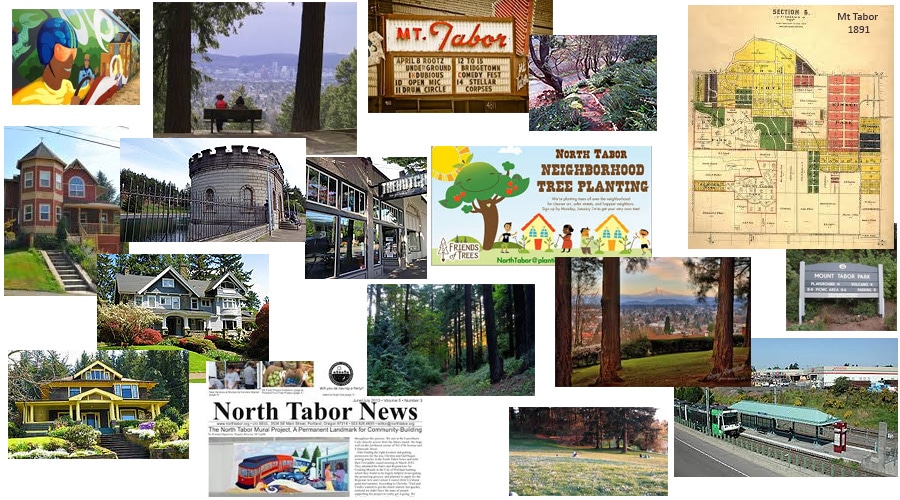 North Tabor Neighborhood sits on the north side of Mt Tabor and is a surprisingly laid-back and quiet oasis, compared to the bustle all around it. It is between I 84 and East Burnside Street, between Northeast 44th and 68th avenues. North Tabor Neighborhood has a unique mixture of homes, businesses, restaurants and huge services such as Providence Portland Medical Center, including a mix of eras, sizes and styles, from bungalows, Cape Cods, Victorians and Craftsman to apartments, condos, and new construction. It is a transportation mecca with access to the 60th MAX station and buses lines running along Burnside, Glisan and 60th. It is easy walking distance to Mt Tabor Park, Laurelhurst Park, and Normandale Park. There is a new bikeway project planned for the Mt Tabor area that will be finished by 2030. It is called The 50s Bikeway, and is a 4.3-mile bike way that will include eight arterial crossing improvements to increase pedestrian safety. It will create a north-south safety corridor that connects eight east side neighborhoods from Rose City Park, through Mt. Tabor and down to Woodstock. The area already is a huge biking area, but the city intends to make it safer!
I wrote lots more on our Mt Tabor neighborhood site.
Parks in North Tabor Neighborhood
History of North Tabor Neighborhood
It was once farmland, and became residential during the early 1900s with the development of the Mount Tabor Villa streetcar line along Northeast Glisan Street, linking the neighborhoods of Laurelhurst to the west and Montavilla to the east. NorthTabor.org: tells us "The history of North Tabor Neighborhood has its beginnings at the very earliest date of Portland's development, growing rapidly from the late 1800s and into the early 1900s. The area was originally considered part of "North Mount Tabor", and was predominantly farmland. The second phase of development soon followed, with the construction of the Mount Tabor Villa streetcar line, which served our area and what was later renamed as the Montavilla area. This streetcar line, which ran along Glisan from about NE 28th Ave to east of NE 82nd Ave, was originally constructed in 1892, and quickly triggered a lot of in-fill development, particularly in the areas closest to the streetcar line.
Other Important Links
The MAX and buses make public transportation really good!
[pps]
You can find all kinds of [pmaps] even exactly what happened where, if you just put in an address in Portland. There are lots of other things you can learn there- like census information, maps, school info, parks, environmental issues, permits on houses, nuisance complaints and taxes.