The Reed Neighborhood Portland is the area that was built around Reed College in SE Portland bordered by Sellwood-West moreland, Brooklyn, Creston-Kenilworth, Woodstock, and Eastmoreland neighborhoods and has cool historic home with old growth tree lined streets and classic Portland architecture.
Reed Neighborhood is a almost like a small college town, yet it is just a neighborhood. You get families, professionals, students and retired citizens who enjoy living in a community filled with activity yet certainly respectful of others. Like a college town, education is really important to people in this neighborhood, so the public schools very good, particularly Cleveland High School which is one of two high schools in the area to have the International Baccalaureate Diploma Program. As expected in a college "town", you will find coffee houses, organic restaurants and groceries and a few little unique shops. Reed College campus is beautiful with lush green fields, a wetlands area and historic brick buildings. There are lots of community events hosted by the college that you can attend. And people in this neighborhood, like all over most of Portland, are very eco-conscious; lots of walkers and bikers, and people who care about the environment. There is a Trader Joes close by, and a New Seasons just up in Woodstock
Homes in the Reed neighborhood are usually really nice, mostly built after 1900 up till the 1930s. The Northern part of the area has alot of beautiful huge tudors, bungalows and English cottages and they are usually well maintained with well kept yards. There are a few newer homes that have been built on lots that were split, but they are mostly Craftsman style and really pretty! The Southern part of the Reed neighborhood is mainly 1970's ranches and multi level apartment buildings for student housing. This goes up the the industrial area, so isn't as nice.
Parks in Reed Neighborhood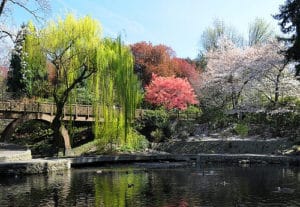 There are 3 parks nearby, as well as the Reed College Campus.
The [crystal_springs] is 7 acres of over 2500 types of rhododendrons and azaleas and is a wonderful place to get lost for an afternoon. Is has a big pond, bridge and gorgeous greenery and when in bloom in spring, the rhodies are spectacular!
Berkeley Park has a playground, ball courts, Alex Rovello Memorial Courts-tennis court, walking paths and more.
History of Reed Heighborhood
Reed College was founded in 1908 and is a Tudor Gothic style architecture. It feels like you are stepping back into time. There are huge well kept lawns, a big pond and woods area, and there is the Eastmoreland Golf Course that backs up to it. There are no commercial businesses like restaurants or shops in Reed, but it is really close to Woodstock, people here can go walking or biking to a restaurant or coffee shop is easy.
Other Important Links
The MAX and buses make public transportation really good!
[pps]
You can find all kinds of [pmaps] even exactly what happened where, if you just put in an address in Portland. There are lots of other things you can learn there- like census information, maps, school info, parks, environmental issues, permits on houses, nuisance complaints and taxes.