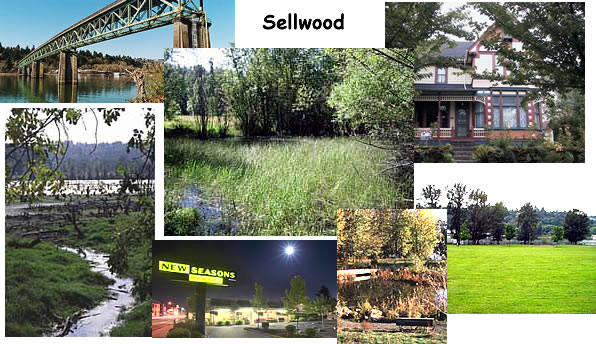 The Sellwood Bridge connects John's Landing to Sellwood-Moreland Neighborhood, so it is easy to get into downtown SW Portland. Which bike riders, joggers and walkers are always going across it. Starting under the bridge and going north is Oaks Bottom Wildlife Preserve– which is a long wide stretch of wetlands and beach that is teeming with wildlife. A trail goes along the river to Oaks Park– which has a carnival ride system, and an awesome roller rink-with wavy wood strips you can skate on. There is an off leash dog park too.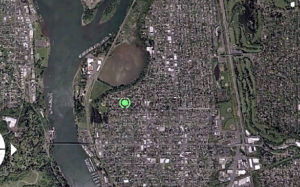 SE Bybee splits Sellwood-Moreland Neighborhood and Westmoreland- and as it heads east it becomes a bridge to Eastmoreland– across the wide valley of RR tracks. There are only 3 ways to go east, across that area of tracks from Sellwood-Moreland Neighborhood to Eastmoreland- You can take either SE Tacoma, SE Holgate, or SE Bybee. It's a good thing to remember when you are trying to get from the river to the Reed College area. Sellwood-Moreland Neighborhood is full of funky cottages, cute little bungalows, Craftsman with big front porches to sit on in the summer, and gorgeous restored Victorian homes- most setting on quiet tree lined streets. From Tacoma Rd , heading north, the residential area runs west into Sellwood Park- a big park that is set high above the river. As you continue going north, you run into Westmoreland There are lots of shops, cafes, restaurants, antique shops and other cool places to explore. As you get towards Westmoreland, the climate is a little more mainstream, and the houses a little bit bigger- but the atmosphere isn't quite as unique, original and creative as Sellwood! There is a real neighborhood-community feel in Sellwood- with the community center, community pool, and the New Seasons Store. If I was going to live in the city, I would choose Sellwood- just because of the feel and proximity to the river!
Parks and Trails in Sellwood-Moreland Neighborhood
One excursion I love is to take the trails all the way into Portland and back. There is a trail that goes all the way downtown from Sellwood-Moreland Neighborhood. Many people ride their bike to work. It is a beautiful ride along the river! You can ride all the way around on both sides of the river. You can take the trail so many places- You can continue on to the Steel Bridge- go across the river on the jogging bridge and ride back on the [esplanade]- which is a floating bridge that floats on the river on the Eastside. They recently built a pedestrian bridge that goes from SE Portland to the SW Waterfront District and right into Downtown.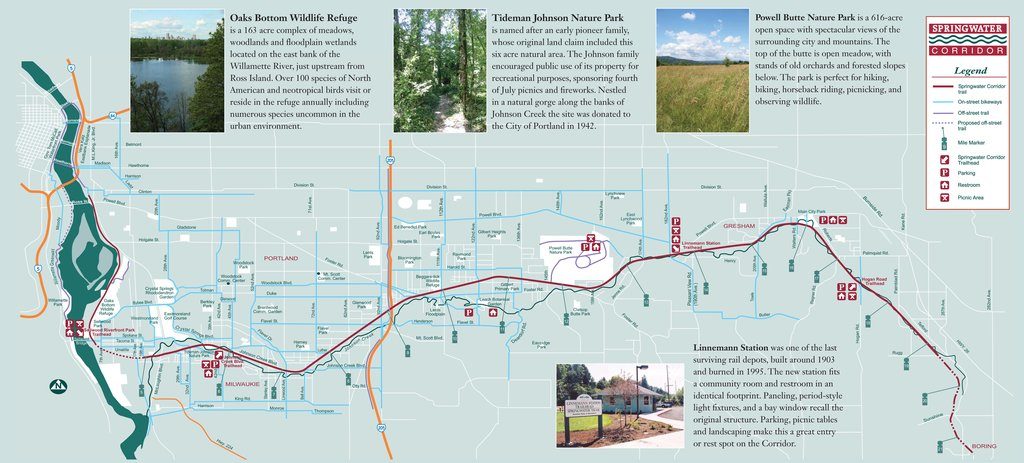 Tilikum Crossing: Bridge of the People is the largest car-free bridge in the United States. Tilikum Crossing carries the Portland Streetcar, the MAX Orange Line, TriMet buses and cyclists and pedestrians as well as Emergency Vehicles. Tilikum Crossing makes it even easier for residents throughout our region to get to important destinations like Portland State University, OHSU, the Central Eastside District and OMSI. Thanks to Tilikum Crossing, residents also have new and improved connections to already existing, state-of-the-art transportation infrastructure such as the Portland Tram, the Gibbs Street Pedestrian Bridge, the Eastside Esplanade and over 319 miles of bikeways throughout the city.
There are 4 parks right in Sellwood, 3 of them are along the River- and a couple of more in Westmoreland- plus the beginning of the [springWater] Trail system which goes, (or will soon go!), from the Willamette River all the way out to Clackamas area and beyond. It connects to the Johnson Creek area, and will become part of the 40 mile loop of trails that go around Portland.
Sellwood Park is along 7th, a few streets north of Tacoma. It is a beautiful woodsy area with grass that overlooks the lower parks along the river. If you live on the NW side of Sellwood, you can walk to the park and take the trail down to the river. It has a baseball field, basketball court, park restroom, picnic area, football field, paths, picnic tables, playground, soccer field, softball field and tennis courts.
Oaks Park is an amusement park right along the river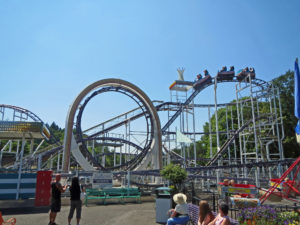 Sellwood Riverfront Park is right down on the water, and has a boat dock, disabled access restroom, dog off-leash area, paved and unpaved paths, picnic tables, and an outdoor stage for concerts etc.
Oaks Pioneer Church & Park is a small park on the edge of Sellwood Riverfront Park-It was built in 1851 and moved to the edge of Sellwood Park in 1961- and is now a National Historic Landmark where 400 weddings have been preformed.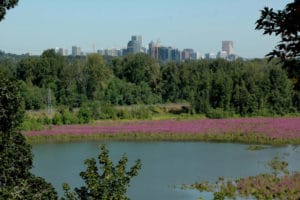 Oaks Bottom Wildlife area has all kinds of birds- Hawks, eagles, quail, pintails, mallards, coots, woodpeckers, kestrels, widgeons and even the great blue heron can be seen standing at the edge of the water, looking into the river's depths-suddenly grabbing a fish and swallowing it whole. You can look across the water and see downtown Portland and the Willamette Park.
Westmoreland Park Includes baseball field, basketball court – outdoor, disabled access restroom, football field, paths – paved, paths – unpaved, picnic site – picnic tables, playground, soccer field, softball field, statue or public art, tennis court – outdoor, and wading pool or water play feature. It has an interesting history. Hand-dug by residents during the Depression as part of federal job-making efforts, the concrete pond is consider to be one of only 2-3 manmade casting ponds in the USA. It is three feet deep, about 350 feet wide and 410 feet long. The pond opened in 1936 with an international fly-casting tournament. In 1940, the federal Works Progress Administration poured a concrete bottom. It was just redone in 2006 because it had drained.
Trimet has the Max-Street car out to Milwaukie- through Sellwood.
History of Sellwood-Moreland Neighborhood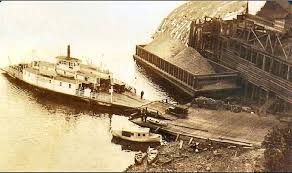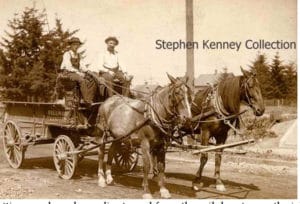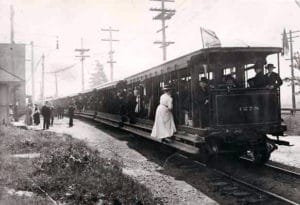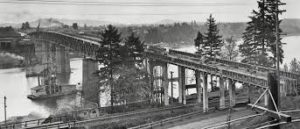 In 1882, a real estate company bought 321 acres from Reverand Sellwood, who was a pioneer Episcopal minister who moved to Oregon. The land was incorporated in 1883, and the Sellwood Real Estate Company set up a free passenger ferry from downtown Portland to Umatilla St. The post office was set up in 1883, and in 1893 the first Interurban Train line ran south out of Portland, stopping first at Sellwood, then to Golf Junction, which was one of the largest plots of land that had so far been set aside for a golf course- it was 180 acres; then the train went on to Milwaukie and then Oregon City. The train, of course, opened up the area to growth, and houses went up all over. In 1909, Sellwood opened up the Sellwood Car house, that housed all the different types of street cars that were used around Portland. The train went from Hawthorne area to Sellwood, so all the farmers would bring their farm produce to Sellwood, and the Sellwood transfer company would take the produce and deliver it to the train to be shipped out. Sellwood was kind of a hub for the east agricultural land around Portland, because the Mt Scott, Lents and even out to estacada and beyond. Sellwood also benefited from the neighborhoods of Eastmoreland and Woodstock needing to commute into the city, so there were quite a few trains that went through during rush hour in the morning and at night.
The Sellwood Bridge was open in 1925, which changed alot.
Other Important Links
The MAX and buses make public transportation really good!
[pps]
You can find all kinds of [pmaps] even exactly what happened where, if you just put in an address in Portland. There are lots of other things you can learn there- like census information, maps, school info, parks, environmental issues, permits on houses, nuisance complaints and taxes.