Woodstock Neighborhood Portland is east of Eastmoreland-which is one of Portland's most expensive and exclusive neighborhoods, with million dollar homes, a golf course, Reed College, and even a Max light rail stop! Woodstock is just on the north side of SE 39th. Woodstock Neighborhood was originally a little town back in the early 1900s with shops and restaurants and everything you need in a town. So when Woodstock became popular again in the early 2000s, everything was there for it's rebirth! It has cute little town center with cafes, shops and eateries, even a New Seasons Market. It has a wonderful farmers market. And it has alot of really cute houses that are walkable to all the restaurants and shops!
It's official boundaries are SE 39th to the west, SE 60th to the east, SE Holgate to the north and SE Claybourne and SE Henry to the South- with a long narrow section extending all the way to Johnson Creek. The neighborhoods that border it are Richmond, Mt. Tabor, Powellhurst Gilbert, and Foster-Powell. It is right above [reed]- in fact Reed is just 2 blocks away from the NW corner of Woodstock- which means a lot of the students live in Woodstock. Eastmoreland is way too expensive for students! Many of the streets are unpaved, but it is still considered one of the most walkable neighborhoods in Portland!
The Woodstock Neighborhood has lots of charm and character, with a lot of nice older homes that are tucked into quiet neighborhood streets. This is one of the oldest neighborhoods in Portland with some of the homes being built in the 1880's. The area is mostly peaceful, safe, and has lots of young families that have moved in, plus many retired people who have moved here and others that have lived here most of their lives! There is a wide variety of styles and ages of homes, including Victorian, Queen Anne, Tudor, Craftsman, Bungalow, most of them with typical lot sizes of .11 acres. After World War II, lots of houses were built in the southern part of Woodstock, and the NE section, so in these areas you find more of the mid century style.
The west side of Woodstock borders right along Eastmoreland all the way to the southernmost end of Portland, The farther west you go, the more expensive the homes are. As you head out towards the SE, the houses become smaller and they are a little bit cheaper… but it has changed so much in the last few years and is still growing fast! The main drag of Woodstock is spreading east quickly with many new shops and restaurants even past 52nd. I foresee this trend continuing!
The schools in Woodstock are really good. Woodstock elementary offers Chinese Manderin Immersion, which is highly in demand, and it is a highly rated school. It blends a Mandarin Immersion program with a traditional English only program in grades K-5, and kids in this program seem to do really well. Lewis elementary
The Woodstock Neighborhood is pretty liberal and independent- They kept Starbucks out until just a couple yrs ago even though they tried for years to build one. They are about supporting local businesses. Of course times are changing though and it is much more gentrified now. The town is even trendy and doesn't have many chain restaurants. It's a cute little town where everyone walks and rides bikes. Tons of young families have moved in recently since Woodstock Elementary has been one of the highest rated public schools in Portland in 2016. It is also still affordable, especially on the outer rim.
It was first platted in 1889-so it is one of the older sections of Portland- and there are a lot of cool turn of the century homes that have been restored. The northern portion of Woodstock contains the majority of the Neighborhood's older homes, some built as early as the 1880s. Post World War II housing construction is concentrated in the southern panhandle and the northeast corner of the neighborhood.
Schools in Woodstock Neighborhood
The schools in Woodstock are really good. Woodstock elementary offers Chinese Manderin Immersion, which is highly in demand, and it is a highly rated school. It blends a Mandarin Immersion program with a traditional English only program in grades K-5, and kids in this program seem to do really well. Lewis elementary is also highly rated, so lots of families want to move into this neighborhood for the schools.
Parks in Woodstock Neighborhood
One excursion I love is to take the trails all the way from the south edge of Woodstock, all the way past Eastmoreland, through Sellwood and into Portland. The Springwater Trail runs along the east edge of Woodstock, Eastmoreland, Sellwood and goes all the way to the river, to Oaks Bottom Wildlife Refuge, to Oaks Park and on to downtown Portland. It is amazing! This is another feature I love about Woodstock neighborhood. Many people ride their bike to work using this trail. It is a beautiful ride along the river! You can ride all the way around on both sides of the river. You can take the trail so many places- You can continue on to the Steel Bridge- go across the river on the jogging bridge and ride back on the esplanade, which is a floating bridge that floats on the river on the Eastside. They recently built a pedestrian bridge that goes from SE Portland to the SW Waterfront District and right into Downtown. You can see a map of the trail below.
This sprawling, tree-lined park sits next to the Woodstock School and is a favorite place for after-school play. The park features softball and soccer fields, 2 tennis courts, horseshoe pit, playground, wading pool, picnic tables, paths, and restrooms. During the summer months you'll find people playing Frisbee and walking their dogs every day. Since the neighborhood is full of artists, you'll often find local bands and musicians practicing their craft, making the perfect backdrop for a sunny day at the park.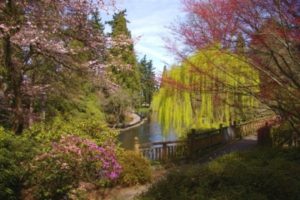 Reed College Canyon is a 28-acre watershed in the heart of the campus includes the headwaters of Crystal Springs Creek, a tributary of the Johnson Creek Watershed, and Reed Lake, which has been deemed the oldest naturally occurring lake in Portland. Enjoy sights of Great Blue Herons, or try to catch a glimpse of mature coho salmon in the creek waters, some of the first Salmon to make it up the Johnson Creek tributary in over ten years. The path around the canyon winds through a century-old orchard, past giant uprooted trees, and features picturesque benches with glorious views of the lake. Here is a map of the Reed College Canyon for interested walkers.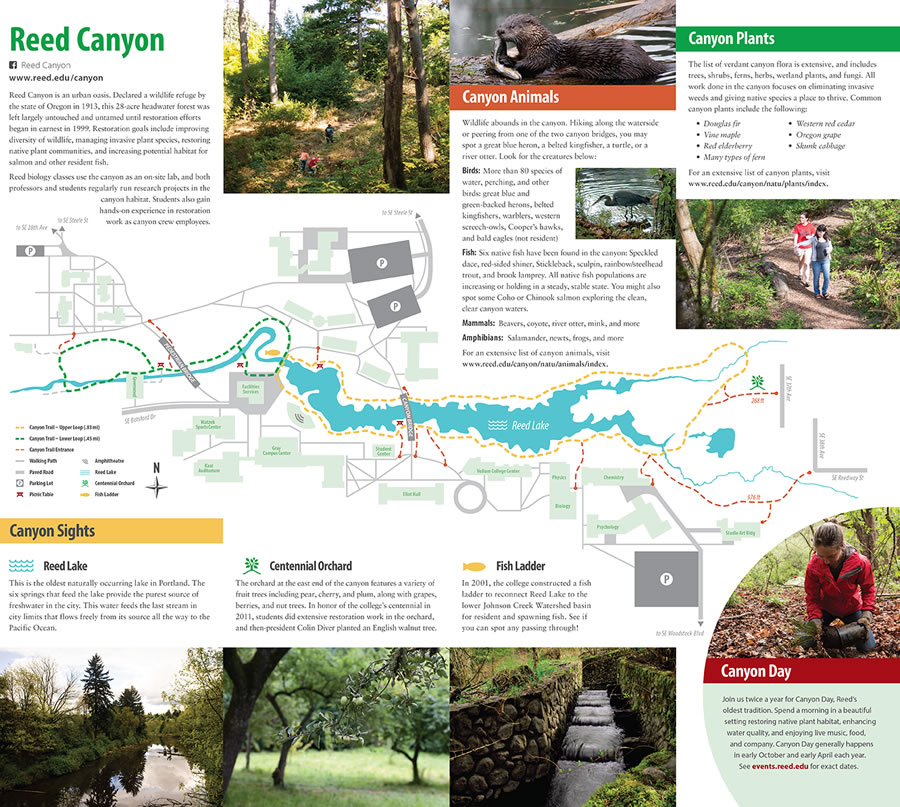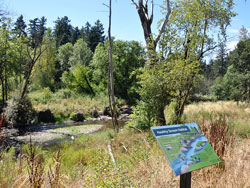 Johnson Natural Area is almost 8 acres on 37th Ave in Woodstock neighborhood. It has natural area, hiking, and walking paths. It is named after an early pioneer family whose original land claim included this 6-acre wilderness area. The Johnson family encouraged public use of its land.
property for recreational purposes, sponsoring 4th of July picnics and fireworks. The park is nestled in a natural gorge along the banks of Johnson Creek, the site was donated to the City of Portland in 1940.
Other Important Links
The MAX and buses make public transportation really good!
[pps]
You can find all kinds of [pmaps] even exactly what happened where, if you just put in an address in Portland. There are lots of other things you can learn there- like census information, maps, school info, parks, environmental issues, permits on houses, nuisance complaints and taxes.
Other History
Woodstock is one of the oldest neighborhoods in Portland, first platted for development in 1889. The land that would become the Woodstock neighborhood was settled by Methodist minister Clinton Kelly from Kentucky, and was primarily a residential estate before the first neighborhoods and commercial centers were organized. Sir Walter Scott's romantic novels were incredible popular in the late 19th Century, and Woodstock was one of the most popular titles, resulting in the neighborhood's naming. Many of the houses in the Woodstock neighborhood date back to the late 1800's, including stately Queen Anne homes, Victorian classics, and craftsman bungalows.