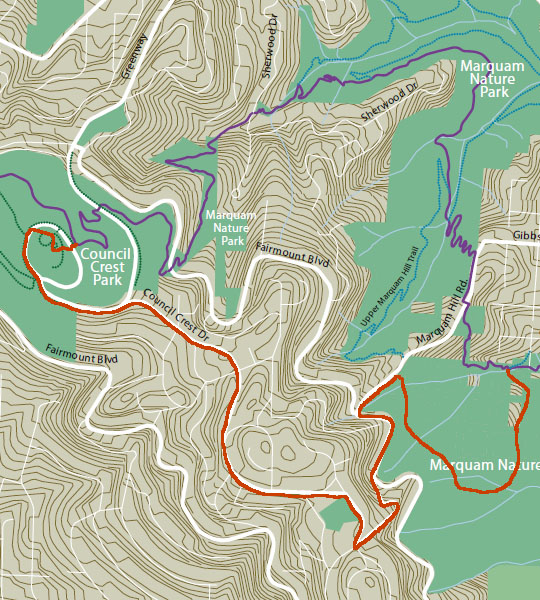 Healy Heights Neighborhood is probably one of the most prestigious neighborhoods in Portland. Huge beautiful homes with million dollar views, it is on the SW side of Council Crest, bordered by the neighborhoods of Hayhurst, Bridlemile, Southwest Hills, Homestead and Hillsdale. Most homes are around a million or above. Many of the homes have breathtaking views of Mt Hood, the River and the City. Some have panoramic views. Sometimes you can see 4 white capped mountains, including Mt Hood, St Helens, Mt Adams and even Mt Rainier! The neighborhood sits right above downtown Portland, with easy access for the commute to downtown, to OHSU compex, but also pretty easy access to Intel and the Technical Corridor in Hillsboro. People who live in Healy Heights many times have done a job relocation to OHSU or to INTEL
Location is perfect if you work at OHSU or Downtown. Many doctors live in the neighborhood, and people commute to OHSU by bike or walking. Residents say they love the proximity to NW 23rd and Downtown Portland. It is literally just minutes to a performance at the "Schniz" or dinner at a romantic spot on NW 23rd.
There are many people who live in this neighborhood that take the trails either down to OHSU to work, or even to downtown Portland. The trails are steep, but really pretty, going through beautiful forest.   Some people even ride their bikes their and back. or take their bikes part way, and catch public transportation…especially back up the hill.
Parks in Healy Heights Neighborhood
The Healy Heights Neighborhood sits right above the Marquam Trail Park and trail system that winds all the way downtown Portland. It goes through OHSU so you can literally take a trail to work each day and many Portlanders do! It is a forested, 40-mile Loop system, that starts at Willamette Park, passes over Council Crest, and connects with the Wildwood Trail in Washington Park. It has many trails that wind around Marquam Hill, through trees such as old growth fir, western hemlock, red cedar, and maples.
Healy Heights Park includes basketball court, playground, and soccer field.
History of Healy Heights Neighborhood
In 1851, John Talbor clained the land through the donation land act.  This is a steep area, up on the hill above Portland, so took quite a bit longer to develop.  There was just no easy way to get up here.   The roads that were there became muddy and impassible during the rainy season.  In 1893 the Cable RR came up the hill, which helped a little bit, but it took more to get this area into high gear.
It wasn't until the Vista Bridge went in during 1903 that this neighborhood started to grow.   In fact land prices went up suddenly from just a few hundred dollars an acre to $10000 an acre by 1910 as soon as the bridge was built.  Before that, houses were built on the more level area around Vista, and it was called the grid.  You can see that there are some pretty old houses below Vista, the neighborhoods are beautiful with big trees and some huge historic homes. 
In 1911 Joseph Healy, platted the area out to be an area of custom homes with large lots, and decreed the homes to have open floor plans with walls of windows, and unique architectural features that would make it stand out as an elite neighborhood. He named it after himself, Healy Heights.
Other Important Links
The MAX and buses make public transportation really good!
Schools In Portland- people are permitted to send their children to whatever school they want within the Portland School District, as long as there is room. If the school is important to you, it is probably a good idea to check and see which school your neighborhood is assigned to- because it seems logical that the best schools will have a waiting list- and if you live there, you will be at the top! Find your school attendance area or a school site and view the boundary area using School Locator Page for: Portland Public Schools..
Read how to use the interactive map by clicking on the (Information) icon (circle with an i in the center).
School Report Cards for schools and districts in Oregon. Select (Portland SD 1J) In the District Selection Heading to view individual schools within the Portland Public School District.
You can find all kinds of All kinds of information about crime, maps, etc, Portlandmaps.com even exactly what happened where, if you just put in an address in Portland. There are lots of other things you can learn there- like census information, maps, school info, parks, environmental issues, permits on houses, nuisance complaints and taxes.