Maplewood is a very special neighborhood. It is hard to describe it, you have to just experience it. People who live here are very down to earth, friendly and community oriented. They truly care about others and just know how to enjoy life in simple ways. You will see quaint cottages with picket fences and chickens running around the front yard, people out walking or biking, pretty gardens and flowers, and lots of kids. Maplewood is located in the west Hills, on the edge of Gabriel Park, very close to Multnomah Village, with the SW Community Center at it's corner; an amazing location. The majority of the Maplewood neighborhood is in Multnomah County, though there is a little bit that is in Washington County, meaning the property taxes will be lower! It borders Ashcreek, Hayhurst, Multnomah, and Garden Home neighborhoods, the boundaries being SW 45th Avenue, SW 66th Avenue, SW Multnomah Boulevard, and SW Vermont Street. There are lots of parks, greenspaces, and just trees all around! Woods Creek and Vermont Creek run through the neighborhorhood. They are both tributaries of the Tualatin River. The streets are mostly winding and hilly with very few sidewalks, but people still walk a lot!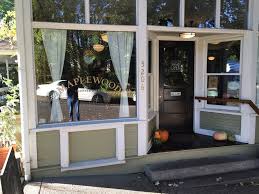 There is an adorable little cafe that used to be a big old farmhouse built in the early 1900s. It is called Maplewood Cafe. There is a big room in the back where mothers get together to have coffee and let their kids play. You can rent it out for events after hours. They have wonderful coffee, snacks and pastries. This place is always packed with locals even though it is hidden in the middle of a almost rural looking neighborhood. I love it! I go there all the time!
One of the best parts of this neighborhood too is that it is so close to Multnomah Village. The village has really good restaurants, bakeries, cafes, a really unique toy store, antique shops and galleries. The Multnomah Art Center is in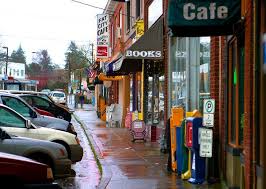 the middle of town, offering all kinds of classes in the arts. We love it so much, we had my daughter's wedding there! Multnomah Village is what you expect to find in a more urban environment, like the inner east side of Portland. I've written a detailed guide to the Village in my neighborhood guide, so you can find out more about what it offers by reading that section too!
Gabriel Park is a wonderful 90 acres park that is right next to Maplewood on the East Side of it. I talk more about it under parks below. On the West side, there is the Portland Golf Club.
Maplewood has mostly quiet streets that are safe for kids to ride their bikes on, walkable to many things, yet peaceful and serene. Houses were built mostly in the 20s to the 40s and 50s, although anytime there is available land, small subdivisions of the house of that era, have been built. There are a few newer homes, built whenever a lot opens up. Lots of the homes have hardwood floors, charm and character, with big yards and privacy. There are a lot of trees, and it feels suburban, in a way, almost rural. It doesn't seem like you are just 10 minutes out of such a vibrant city as Portland! Because this area is so close to Portland, the commute is pretty fast….no bridges to cross on the west side, so this neighborhood is very popular for those that like to work in the city, but desire the peacefulness of the country at night! Public transportation isn't as good in this area as it is on the east side of Portland, though. More people use cars. Schools are very good here, so lots of young families have been moving in because of the schools.
Parks
April Hill park, a hidden gem, offers a playground, soccor and sports fields, and trails around Woods Creek. There are play structure, soccor fields and nature trails. It is very peaceful!
Gabriel Park is 90 acres with trails, ball fields, play equipment…plus it offers "Artists in the Park" which is a really unique program that helps friends and neighbors get together outside and feel inspired creatively by the park and nature. People do all kinds of creative things, like drawing, painting, knitting, sewing by hand, writing letters, or poems, taking photographs, or any other artsy thing they may want to do. Doing it with others makes it more fun and more inspiring! Other activities like Tai Chi or yoga, or playing a musical instrument could be fun as well. Artists are welcome to lead a group or work on a personal project. Some art supplies, easels and drop cloths are available for use for anyone who does not bring their own.
Gabriel Community Garden has been going for 33 years! It is still going strong. They even added an orchard in 1991. The raised beds maximize the sloped site, and classes are offered to people wanting to know more about gardening and harvesting.
Southwest Community Center & Pool – has lots of active things for people to do. Children can splash and play in one pool, while the adults exercise in the adjacent lap pool. There is a gym, and exercise classes in mirrored room so you can make sure you are doing it right and concentrate on form! They even host classes for seniors, Mind Body Movement for children, Girlfriends for teens, and Aerokibo for adults. In the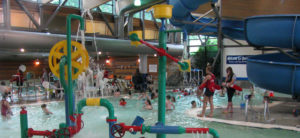 gym, kids or adults can play basketball.
Marquam Nature Park: It starts just south of downtown at the bottom of the West Hills and winds up the hill right near the Maplewood neighborhood. The Nature Park is a real retreat forest, you feel like you are way out in the woods, but it is in the middle or urban Portland, and there's lots of wildlife and native plant species that you can enjoy as you walk or run along the trails. The trail system connects Council Crest and the Oregon Zoo. The main trail is less than a mile, with 10 marker posts.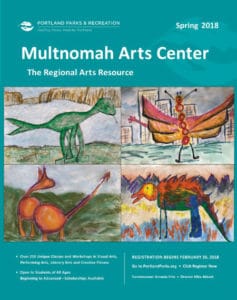 Multnomah Art Center is a wonderful place for families with kids to take classes, learning how to do different things. Here is what it says on their website: The Multnomah Arts Center (MAC) provides excellent arts education in the visual and performing arts at an affordable cost to students of all ages. We offer programs in music, movement, dance, theater, woodshop, literary arts, conditioning, metal arts, mixed media, printmaking, drawing, painting, photography, ceramics, sculpture, textiles and more. Programs run year-round, and scholarships are available.  My grandson is taking a cartooning class there this year that teaches him how to give life to his characters and make them have personality.  The amount of classes and choices are amazing, and the prices are very fair!   Along with their vibrant arts education program, MAC hosts theater, music and dance performances, gallery exhibitions and other special events. Multnomah Arts Center is one of the largest comprehensive community arts centers in the nation. MAC utilizes the facility to the fullest by providing high quality instruction in the visual and performing arts to all interested persons regardless of ability, age, race, religion, ethnic origin, or financial means. The center has been recognized by the National Guild of Community Schools of Art, Regional Arts and Cultural Council, Oregon Arts Commission and the National Endowment for the Arts.  Annually, MAC serves more than 6,000 students of all ages and abilities by providing classes in a wide variety of visual, performing, and literary arts. Currently, the music department alone employs more than twenty-five teaching musicians and has approximately 275 students enrolled in private music instruction. Each year, there are more than 100 qualified teachers providing instruction in the arts to students at the center.
History
Oregon Electric Railroad policy was to name stations after Native American tribes, so when they built their station near present SW 51st Ave and SW Maplewood Road, they named it Kuza, for the Kusans; Athapascans settled on the Siletz reservation.
In 1911 about a dozen families lived in the area. Some of the residents formed a Boosters Club and made plans to bring water, streets and sidewalks to the community. There was still no electricity, gas, phone service or school. In the winter of 1911 a nursery salesman sold many Norway maple trees for planting along the dirt roads. The community never liked the name Kusa, and after the planting of the maples petitioned the Oregon Electric to change the name of their station and area to Maplewood.
Other Important Links
The MAX and buses make public transportation really good!
Schools In Portland- people are permitted to send their children to whatever school they want within the Portland School District, as long as there is room. If the school is important to you, it is probably a good idea to check and see which school your neighborhood is assigned to- because it seems logical that the best schools will have a waiting list- and if you live there, you will be at the top! Find your school attendance area or a school site and view the boundary area using School Locator Page for: Portland Public Schools..
Read how to use the interactive map by clicking on the (Information) icon (circle with an i in the center).
School Report Cards for schools and districts in Oregon. Select (Portland SD 1J) In the District Selection Heading to view individual schools within the Portland Public School District.
You can find all kinds of All kinds of information about crime, maps, etc, Portlandmaps.com even exactly what happened where, if you just put in an address in Portland. There are lots of other things you can learn there- like census information, maps, school info, parks, environmental issues, permits on houses, nuisance complaints and taxes.