Marshall Park Neighborhood is like the other west Portland neighborhoods that are just south of Barbur and I 5. They are quiet, residential, woodsy, with winding streets that mostly go down the hill, big yards, lots of trees and oriented to the forest and trails! It is bordered by the West Portland Park,  Markham, South Burlingame,   Collins View and Arnold Creek Neighborhoods. It is close to the city, you have a number of ways to get downtown even if there is traffic on I 5, yet it feels secluded, private and peaceful- a haven to return to after working! Marshall Park is a 25 acre park with several hiking trails, and it is part of the neighborhood. Lewis and Clark College is right on the edge of the Marshall Park Neighborhood, so there are a few little coffee shops, yoga studios etc, but not much!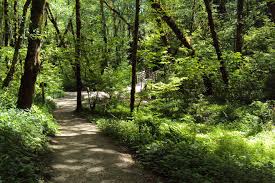 Marshall Park is a beautiful wooded canyon created by Tryon Creek's cascading flow over large bolders as it heads down the hill to the Willamette River. It's headwaters are in Multnomah Village, they run through this neighborhood, through Tryon Creek State Park and into the Willamette. Because so much of this area has been protected, by both Marshall Park and the state park, it has sheltered native birds, plants and aquatic animals. This is what makes the Marshall Park Neighborhood special for those who love the peace of the forest and the abundance of native species.
Marshall Park neighborhood has various home styles, mostly 40s and 50s on up. It definitely doesn't have any cookie cutter neighborhoods, but there are a variety of ages, sizes, prices and styles. It tends to be expensive and upscale, because of being so close to Portland and Tryon Creek, plus the surroundings and lot size are amazing. But you can find older smaller homes that aren't too expensive. Shopping is not in the neighborhood, but you can either go down to John's landing, west to Tigard, or north to Multnomah Village. There are also a lot of things right on Barbur Blvd. just to the north. No cute little business areas, though. It feel much more like you are living in the suburbs than in the city, because it is very quiet and safe with dense trees and hills. One thing that makes this neighborhood special is that Tryon Creek actually lies mostly within this neighborhood. Tryon Creek is a state park, with a visitor center, creek and waterfall, cool stone bridge, and miles of trails, going all the way down to the Willamette River. The neighborhood also includes the Jensen Natural area. While this park is only about 2 acres, it stands out for its quiet setting and beautiful trees.
It is a pretty amazing park.  It starts way up at the top of the SW Hills by Lewis and Clark College, and goes all the way down to Lake Oswego, with beautiful forested trails going the whole way.   My daughter used to take her dog up and down the hill to wear him out!   Once you get to the bottom, you are in downtown Lake Oswego, you can get a coffee, or lunch or even hop on the Willamette Shore Trolley and go into Portland.  Or check out the lake or the Willamette River.