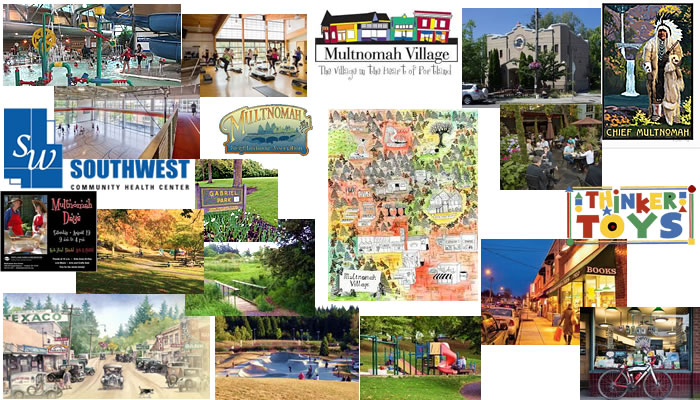 Multnomah Neighborhood includes Multnomah Village, which is a place all in itself that I have written about in detail in the next neighborhood. This section is about the wider neighborhood of Multnomah which goes all the way to Vermont, includes Gabriel Park and 45th, and runs up against Hillsdale, then goes all the way along Bertha to I5. It is a big neighborhood! And it has a lot to offer, depending on what part of the Multnomah Neighborhood you are in. If you are in the NW part, you have Gabriel Park, a 90 acre park that is absolutely gorgeous with trails, a skateboard area, picnic and playground facilities and just plain beautiful rolling hills, grass, bushes and trees. If you are over on Vermont and 45th, you can walk or ride your bike through it to Multnomah Village, which is on the other side of it. It is a wonderful place for kids, a peaceful place to relax and regain sanity after the stress of life, and it is one of the things that makes the Multnomah Neighborhood so special!
If you go to the east side of the Multnomah Neighborhood, you run into Hillsdale, a nice little downtown area with grocery, bank, library, coop grocery, restaurants, cafes and most everything else you need. Vermont actually turns into Capitol Highway close to where it runs into Hillsdale. Right on the edge there are a couple of charming cafes and restaurants that are totally local, not the strip malls that are farther down Capitol Hywy.
The south side of the Multnomah Neighborhood runs along Barbur Blvd and I5. If you are too close, you can hear the traffic noise, so sometimes when you are looking for a house, and it looks about a block or two away, you may think it would be quiet, but because the hill goes up from there, you hear the roar of I5 instead. The good thing about being so close to I5 and Barbur, is you can jump on 5 and get into town in a couple of minutes, or if the freeway is stopped, you can usually take Barbur in without much traffic to contend with, unless it is morning rush hour! There is a new Safeway on Barbur, a Starbuck and other restaurants and stores, plus several marajuana shops.
The west side of the Multnomah Neighborhood is bordered by Capitol Hywy and 45th. Garden Home neighborhood is there, and there are lots of trails that run across Garden Home Road, by the Garden Home Rec center, and connect somewhat with the Fanno Creek Trail. It seems like the neighborhoods get more woodsy and less urban the farther west you go. Parts of Multnomah are like that too, but there are also more open sunny places, which I like!
The middle of the neighborhood contains the Village. It is one of my favorite places to go on the west side. It still has charm and character, with local restaurants and cafes, it has the coolest toy store, that I have frequented with my grandchildren. Grand Central Bakery is amazing, Fat City Cafe has the best spinach salad…I could go on and on! My daughter was married at the Multnomah Art Center, which has a big stage, wood floors and the charm of yesteryear! (Plus lots of classes you can take to learn different arts, theater, dance etc.)
The neighborhood all around Multnomah Village can access it easily. There aren't always sidewalks, but most of the streets are quiet, winding through the hills, and if you watch for cars, you can safely navigate them to get into the Village. It is easy to bike also, there are hills, but they aren't too high! Each part of this neighborhood has a little different feel. People like it because it is really close to Portland, with many ways to get into town, but it has a somewhat residential/urban feel, and the forest is always close by! The community is close, probably partly because of The Village drawing people together, and also the SW Community Center, which is on Vermont, and all the activities in Gabriel Park!
Parks in Multnomah Neighborhood
Gabriel Park is 90 acres with trails, ball fields, play equipment…plus it offers "Artists in the Park" which is a really unique program that helps friends and neighbors get together outside and feel inspired creatively by the park and nature. People do all kinds of creative things, like drawing, painting, knitting, sewing by hand, writing letters, or poems, taking photographs, or any other artsy thing they may want to do. Doing it with others makes it more fun and more inspiring! Other activities like Tai Chi or yoga, or playing a musical instrument could be fun as well. Artists are welcome to lead a group or work on a personal project. Some art supplies, easels and drop cloths are available for use for anyone who does not bring their own.
Gabriel Community Garden has been going for 33 years! It is still going strong. They even added an orchard in 1991. The raised beds maximize the sloped site, and classes are offered to people wanting to know more about gardening and harvesting.
Southwest Community Center & Pool – has lots of active things for people to do. Children can splash and play in one pool, while the adults exercise in the adjacent lap pool.
There is a gym, and exercise classes in mirrored room so you can make sure you are doing it right and concentrate on form! They even host classes for seniors, Mind Body Movement for children, Girlfriends for teens, and Aerokibo for adults. In the gym, kids or adults can play basketball.
Spring Garden Park is about 5 acres and was just newly improved by the Friends of Spring Garden Park. They put in natural climbing logs and made it a much more interactive park
Custer Park is about 6.5 acres with a play structure, ball fields
Multnomah Village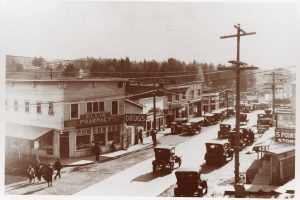 I've written a whole section about Multnomah Village under a different neighborhood, but thought it would be good to say a little bit more about it here. The Village was born of yesteryear, and it's charming, lively vibe, and has lots of sidewalk cafes, bakeries and bookstores! It also has all different kinds of restaurants, like traditional German, cozy American, and real Italian food! There are women's clothing stores, both new and recycled, rustic home decor and antiques shops, plus Thinker Toys, one of my favorites! There are over 100 different businesses and community services in Multnomah Village, which you can find on their website. Multnomah Village Business Association website for a list of merchants.
History of Multnomah Neighborhood
The Tice's got the land claim in the mid 1800's. It was a densely wooded area, without a name a very few residents. It was one of the stops on the Oregon Electric Railway as it traveled from Portland south to Salem in the early 1900s. It was official policy to use Native American names when they could, so in 1908 when the stop was established, they gave it the name of Multnomah, which is a Native American tribe, and probably the chiefs name. Lewis and Clark also called the Willamette River Multnomah.
Multnomah was annexed by the city of Portland in 1950. The Village was formed and called Wildwood, partly because it was a stop on the RR line, and it eventually was annexed by the city of Portland over an 8-year period beginning in 1954.
An interesting side note. Multnomah Village was, for a long time, home to the world's first WikiWeb, houses in an office in the village and was the first Wiki application ever written! It was developed in 1994 by Ward Cunningham, to make the exchange of ideas between programmers easier and was based on the ideas developed in HyperCard stacks that he built in the late 1980s.
Other Important Links
The MAX and buses make public transportation really good!
Schools In Portland- people are permitted to send their children to whatever school they want within the Portland School District, as long as there is room. If the school is important to you, it is probably a good idea to check and see which school your neighborhood is assigned to- because it seems logical that the best schools will have a waiting list- and if you live there, you will be at the top! Find your school attendance area or a school site and view the boundary area using School Locator Page for: Portland Public Schools..
Read how to use the interactive map by clicking on the (Information) icon (circle with an i in the center).
School Report Cards for schools and districts in Oregon. Select (Portland SD 1J) In the District Selection Heading to view individual schools within the Portland Public School District.
You can find all kinds of All kinds of information about crime, maps, etc, Portlandmaps.com even exactly what happened where, if you just put in an address in Portland. There are lots of other things you can learn there- like census information, maps, school info, parks, environmental issues, permits on houses, nuisance complaints and taxes.