Portland Heights Neighborhood isn't a technically a real actual neighborhood in Portland, but it has always been one of my very favorite mini-neighborhoods, and when you talk about Portland Heights Neighborhood, any Portlander knows what you mean! It's quaint picturesque area that has streets winding up from downtown, past old historic homes, some of them worth over a million, others eclectic, quirky cottages poised at the edge of the street! As soon as you enter the neighborhood, you feel like you have stepped into the European Countryside-that a kerchief headed milkmaid or boy shepherd could step out into the winding street – or a horse and buggy could saunter by! It is a hidden neighborhood that not many people visit- yet so close to downtown, you could walk! There are light filled forests all around with trails that lead into forest park or Washington Park! It is a magical place where it seems like life must be more simple, old fashioned, slower paced! Not part of a thriving diverse, growing city like Portland!
I have found myself on one of these streets, as I drive up or down through the upper hills of Portland, and never fail to feel the magic- I want to just stop and soak it all up! The schools are some of the most desirable in Portland- Ainsworth Grade School, Sylvan Middle School and Lincoln High. Many of the people have grown up in this neighborhood and manage to stay and raise their children here too!
Some of the houses are quaint cottages set into the forest, others are built on stilts with spectacular views, others are newer houses with either a view or in a light filled forest, or on a little street that neighbors frequent in their walks. Washington Park curves up the hill alongside the houses and winding streets. One of my first listings was on Madison, at the end of the street in downtown Portland. It was just 2 houses away from a little known entrance to Washington Park, with a trail that winds up the hill to the zoo, Rose Garden and other treasures.
You can learn more about Portland Heights by going to the other neighborhoods that it includes,
Arlington Heights
Lair Hill
Goose Hollow neighborhood
Parks and Farmers Market in Portland Heights Neighborhood
Portland Heights runs right up against Washington Park, which is the most unique special park in Portland, and my very favorite!  It is amazing to have a park like this right in downtown Portland. There are trails that begin down near the Vista Bridge, near Burnside, that you can catch by going either to where the sign says Washington Park, or just go to the end of Madison, and there is a trail head there.  To be able to access all this from downtown is one of the things that makes Portland special.  Washington Park has so many unusual things that it offers. It is not just a normal park!  Here is what I love about it:
Washington Park Washington Park lies right on the edge of the SW Hills, so it is almost part of the neighborhood, in fact, it is as close as you can get! Washington Park is amazing with all the things it has for people to do.  Here are some of the parts of it that I love
The Oregon Zoo is a large zoo in the forest, with trails traversing and winding through the zoo's hills and valleys.  There are some wonderful exhibits, my favorite being the lions.   Many times I have visited the zoo with my grandchildren, and the lions come right up to the glass and stand up, and claw at the glass, chasing the kids back and forth, like the lions were interacting and playing with them.
Portland Children's Museum has so much to offer, including a place to dress up and act out stories on a stage, a woodworking area that they can make things, a clay room where they can create clay pieces and have them glazed and fired, a craft area with all kinds of different mediums for making things. a town with grocery store and restaurant, vet office and other things for play acting, a water works where they can explore water in many different ways, and a construction area where kids can play in rubber mulch with bulldozers, and all kinds of things.  We had a membership with my grand children were younger, and it was one of the most creative places we could explore.
World Forestry Center is a wonderful resource that helps kids learn about the forests. There are lots of exhibits, many hands on activities that make it fun to learn about the forests and the creatures who live there. There is an old steam engine logging train outside that my grandson loved to climb on when he was little, when Thomas the Train was his favorite thing.
The Hoyt Arboretum  is beautiful in the spring and fall especially, with the beautiful spring flowering trees and bushes and the fall color. There are 12 miles of trails that traverse it, with 190 acres and 6000 specimens from all over the world to look at.  We have enjoyed many hours over the years walking along the trails, and discovering new things.
International Rose Garden is probably one of the most famous parts of Washington Park, so I probably don't need to say too much about it.  It is absolutely beautiful when the roses are out.  My kids and grandchildren love running up and down the grass steps, across the stage below, and through the rose isles, and around the uniqe fountain that stands in the middle of the roses.
Japanese Gardens  are absolutely beautiful, serene and peaceful, with water, bridges, ponds and trails through it. There are 8 different unique gardens, including the Strolling Pond Garden, the Sand and Stone Garden and the tea garden, where you can have tea!  In 2017 a new feature opened, the Cultural Village, which provides a place that people can immerse themselves in traditional Japanese arts through seasonal activities, performances, and demonstrations in the Tateuchi Courtyard.
History of Portland Heights Neighborhood
Portland Heights Neighborhood goes up the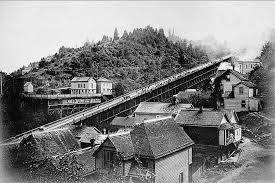 steep hill that comes west up out of downtown Portland and The Portland Heights neighborhood towers above southwest Portland providing spectacular views and close proximity to downtown. This area was virtually inaccessible until a cable car was built in 1890 that provided all-weather access to this highly desirable location. In 1906, the electric streetcar provided even more reliable service to Portland Heights Neighborhood and continued on up to Council crest.
Because the hill is so steep, and there are so many gulches and gullies, people had to construct bridges so that people could get around.  When you are downtown you can look towards the west, and you can see how hard it must have been to settle up there and build houses. Many of the houses had to be built on steep slopes, some using stilts…and they have to be restructured today to make them safe. It is amazing that most of them are still solid and haven't fallen down the hill.