South Burlingame Neighborhood is almost in downtown Portland at it's most eastern point. It follows I5 down from about 12th all the way down to where I-5 makes a sharp curve to the left, right above John's Landing, then the border goes over to Taylor's Ferry and follows that back up. It is bordered by the Hillsdale, Corbett-Terwilliger, Collins View, Marshall Park, Marquam, and Multnomah Neighborhoods. Basically it is between the cemetery and I-5. There are lots of curvy roads in the neighborhood, and some of it is really close to I-5, so kind of noisy. Other parts of it, higher up, are above Terwilliger, which is also noisy. But if you aren't near the main drags like that, it has some really pretty, quiet streets, with older homes from the early 20s and 30s up through the 60s. There are also some newer homes that have been built through the years, as older homes subdivide their lots, or really old dilapidated homes were torn down. Everyone keeps their yards up and there are lots of trees, and some sidewalks. There is also a little area with Market of Choice, Starbucks and a few other businesses right at the top of Terwilliger where it meets Taylor's Ferry. Other than that, you have to leave the neighborhood to get to any restaurants etc.
The commute into town is usually pretty good. You can take I5 if it isn't busy, but this is where it usually jams up. If it is crowded, you can either take Barbur Blvd into town, or take Taylor's Ferry down to Macadam and then into Portland along the river.
This is a rather small neighborhood, because so much of it is taken up by freeways, the cemetery and a big funeral home. But the neighborhoods are really cute, and once you get away from the noisy streets, it is really peaceful and pretty! Fulton Park is down right off Taylor's Ferry right before you hit the bottom, and it is a really awesome little neighborhood perched on a cliff above the river. There are older historic homes with spectacular views and also brand new houses that have been built on the cliff, with cool views. Some are built looking over I5, which gives an amazing view, but it is really noisy. From Fulton Park, there are steps and pathways you can take to get down over the cliff and into John's Landing. Once you are down there, you have access to all the shops, restaurants, cafes, pubs and the River. There are trails from Willamette Park that go all the way into Portland along the river, which is what I like about this area.
The community is pretty close knit and eco friendly. They started a neighborhood sustainability committee to help bring awareness of gardening, composting and how to take care of greenspaces. They do a summer garden tour, moving and discussion, potluck gatherings, tree plantings and other things to help the neighborhood stay green.
There are areas for shopping. If you cross I5, and go up to Barbur Blvd, you will find a Fred Meyer, and a little farther west, a Safeway. If you go up Capitol Highway, you will find the Food Front Cooperative Grocery, and if you keep going on into Hillsdale, you have access to all of the shops there, including a huge gorgeous library. You can also take Capitol Hwy into Multnomah Village, and there are all kinds of restaurants, cafes, shops etc there. You can find more info on both these areas in my Multnomah Village Neighborhood, and the Hillsdale neighborhood. Also, John's Landing is just below Burlingame, and we have a guide to that neighborhood too!
Parks in South Burlingame Neighborhood
South Burlingame Neighborhood does have the Burlingame Park, which is almost 5 acres and has a playground and picnic area.
Fulton Park is crammed between Barbur Blvd and I5, so quite noisy, but it does have a community center with a community center that has dancing every Saturday, it has a gum, kitchen and indoor stage. and the Stephens Creek Natural Area. Just down the hill is Willamette Park on the River, so if you live in the lower Burlingame area, you are pretty close to that.
History of South Burlingame Neighborhood
South Burlingame Neighborhood was formed on June 7, 1910 when B.M. Lombard, in partnership with Fulton Park Land Company, laid out a plan for section of land that was part of the Fulton Park District. The original Fulton Park area was 411 acres and was formed in 1888 when Marquam sold his land to the South West Portland Company for $150,000. South Burlingame was formed in 1910 when the Fulton Park Land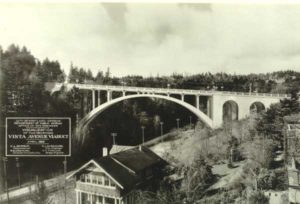 Company, laid out a plan for section of land that was part of the Fulton Park District, to become residential lots. It used to be called Carson Heights, and is still known by that name by the old timers, but now is called South Burlingame. It's nickname was Hummingbird Hill back then, because there were so many hummingbirds!
South Burlingame Neighborhood was connected to Barbur by an old wooden bridge that was part of the old Vista Bridge from Vista Ave. It was finally replaced with the present bridge in 1991. The original Terwilliger Bridge was the only wood-frame bridge across Interstate 5 in the whole state.
Other Important Links
The MAX and buses make public transportation really good!
Schools In Portland- people are permitted to send their children to whatever school they want within the Portland School District, as long as there is room. If the school is important to you, it is probably a good idea to check and see which school your neighborhood is assigned to- because it seems logical that the best schools will have a waiting list- and if you live there, you will be at the top! Find your school attendance area or a school site and view the boundary area using School Locator Page for: Portland Public Schools..
Read how to use the interactive map by clicking on the (Information) icon (circle with an i in the center).
School Report Cards for schools and districts in Oregon. Select (Portland SD 1J) In the District Selection Heading to view individual schools within the Portland Public School District.
You can find all kinds of All kinds of information about crime, maps, etc, Portlandmaps.com even exactly what happened where, if you just put in an address in Portland. There are lots of other things you can learn there- like census information, maps, school info, parks, environmental issues, permits on houses, nuisance complaints and taxes.