The Southwest Hills neighborhood of Portland sits high up on the hill above downtown Portland, in what used to be called the Tualatin Mountains! Some of the neighborhood is outside the city of Portland in the unincorporated area of Multnomah County, surrounded by some of the top inner city neighborhoods of Portland, Sylvan Highlands, Goose Hollow, Downtown, Homestead, Healy Heights, and West Slope, which is technically Beaverton.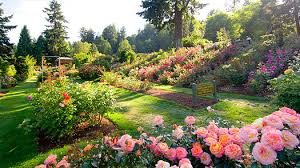 Part of the northern border is actually Washington Park and 26. The Southwest Hills Neighborhood is truly a beautiful residential neighborhood with homes having incredible views of downtown Portland. On clear sunny days, you can see Mt. Hood, Mt. Adams and Mt. St. Helens, and even sometimes, Mt Rainier! Plus the valley and city lights below, which can be spectacular!
The Southwest Hills neighborhood includes Portland Heights and Council Crest. I wrote a whole section just on Council Crest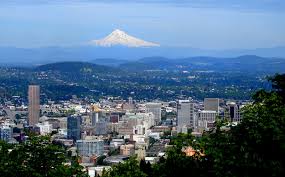 alone, even though it isn't an official neighborhood, because it is such an outstanding area, very unique because of the hill it sits on and the views it affords. Sometimes it gets confusing trying to figure out which neighborhood is which, as you go up into the hills above Portland. Many of the neighborhoods are small and compact, making it hard to figure out exactly where they start and stop. Portland Heights is the neighborhood that is directly above Goose Hollow and downtown SW Portland, rising up from the valley pretty quickly. Some of the houses are built on steep hills, some even built on stilts! The best way to understand exactly where this neighborhood is, is to go up Vista from Burnside, towards Broadway. Once you pass over 26, you are in Portland Heights. And as you keep going, you will turn right on Broadway, which becomes Patton, and you will be in the south west hills.
The Southwest Hills neighborhood has a lot to offer. It is almost in downtown Portland, so the commute is easy and quick. You don't have to take the freeway! You are really close to Washington Park, one of the more beautiful parks in all of Portland, with the zoo, the arboretum, the Japanese Gardens, the Rose Garden and more! The schools here are excellent, so many people want to be in the Southwest Hills neighborhood just for the schools. And you are very close to the OHSU complex, it is possible to ride your bike or take a trail to work if you work there. Plus, you just have to go down the hill, and you are in the middle of the city, with it's amazing restaurants, shops and entertainment, including Portland's popular professional sporting events.
The home styles vary, the closer to the city you are, the older and more historic the homes. So along Vista and the neighborhoods around it, there are a lot of gorgeous early 1900 homes, with all the charm and character they used to build into homes- like inlaid hardwood floors, wide moldings, huge pocket doors, gorgeous built ins, some with leaded glass, big windows and large front porches. As you go up Broadway toward Patton and the houses on the hill, more houses were built in the 20s, 30s, 40s and even later! It becomes a mix of the older historic homes, the mid century, some cottages, and some gorgeous new homes.
Parks in Southwest Hills neighborhood
Council Crest Park  is a beautiful park, one of the highest points in Portland with trails and views of the city.  The Southwest Hills Neighborhood around it has access to the park, and many of them also have amazing views.
Governor's Park is a very small natural area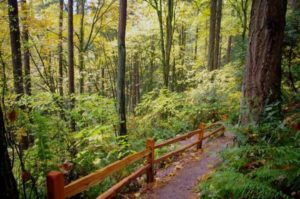 Marquam Nature Park is 178 acres of forest with a 6 mile trail that climbs over 1000 feet!  The highest point is 920 feet
Washington Park Washington Park lies right on the edge of the SW Hills, so it is almost part of the neighborhood, in fact, it is as close as you can get! Washington Park is amazing with all the things it has for people to do.  Here are some of the parts of it that I love
The Oregon Zoo is a large zoo in the forest, with trails traversing and winding through the zoo's hills and valleys.  There are some wonderful exhibits, my favorite being the lions.   Many times I have visited the zoo with my grandchildren, and the lions come right up to the glass and stand up, and claw at the glass, chasing the kids back and forth, like the lions were interacting and playing with them.
Portland Children's Museum has so much to offer, including a place to dress up and act out stories on a stage, a woodworking area that they can make things, a clay room where they can create clay pieces and have them glazed and fired, a craft area with all kinds of different mediums for making things. a town with grocery store and restaurant, vet office and other things for play acting, a water works where they can explore water in many different ways, and a construction area where kids can play in rubber mulch with bulldozers, and all kinds of things.  We had a membership with my grand children were younger, and it was one of the most creative places we could explore.
World Forestry Center is a wonderful resource that helps kids learn about the forests. There are lots of exhibits, many hands on activities that make it fun to learn about the forests and the creatures who live there. There is an old steam engine logging train outside that my grandson loved to climb on when he was little, when Thomas the Train was his favorite thing.
The Hoyt Arboretum  is beautiful in the spring and fall especially, with the beautiful spring flowering trees and bushes and the fall color. There are 12 miles of trails that traverse it, with 190 acres and 6000 specimens from all over the world to look at.  We have enjoyed many hours over the years walking along the trails, and discovering new things.
International Rose Garden is probably one of the most famous parts of Washington Park, so I probably don't need to say too much about it.  It is absolutely beautiful when the roses are out.  My kids and grandchildren love running up and down the grass steps, across the stage below, and through the rose isles, and around the uniqe fountain that stands in the middle of the roses.
Japanese Gardens  are absolutely beautiful, serene and peaceful, with water, bridges, ponds and trails through it all.
History of Southwest Hills neighborhood
I wrote a section of history in my Council Crest section. It was pretty amazing. Because the hills are so steep, and there are gullies with creeks, and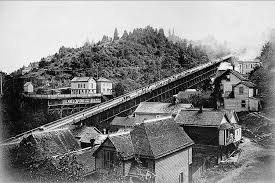 huge foothills, and then it was logged, the area was really too muddy and slippery to access very easily. When Talbot first claimed the land grant in 1851, it was covered with forest, which was pretty impassable. Then they logged much of it, and it became mud! It wasn't able to be developed or even accessed very well until the Vista Bridge was built in 1903, over the huge crevice that was Turner Creek. The area on the other side of the bridge was somewhat flat, and could be developed into grid like neighborhoods that were laid out. Many of those houses are still there, consisting of Old PDX, Victorians, Colonials, 4 Square, and even some bungalows.
While all this was going on along Vista, in 1890 the Portland RR had built a cable line that went up to the top of Council Crest. It was super steep, and looks pretty scary to me. But the view from up there was so amazing, they turned it into a big park with carnival rides and a restaurant! This continued until 1929 when everything crashed. In 1936, the city of Portland bought the land and turned it into Council Crest Park.
So even though this area of Council Crest and Portland Heights became one of the oldest and most exclusive neighborhoods in Portland, it took it a little longer than some of the other neighborhoods to be settled because of the steep hills.
Other Important Links
The MAX and buses make public transportation really good!
Schools In Portland- people are permitted to send their children to whatever school they want within the Portland School District, as long as there is room. If the school is important to you, it is probably a good idea to check and see which school your neighborhood is assigned to- because it seems logical that the best schools will have a waiting list- and if you live there, you will be at the top! Find your school attendance area or a school site and view the boundary area using School Locator Page for: Portland Public Schools..
Read how to use the interactive map by clicking on the (Information) icon (circle with an i in the center).
School Report Cards for schools and districts in Oregon. Select (Portland SD 1J) In the District Selection Heading to view individual schools within the Portland Public School District.
You can find all kinds of All kinds of information about crime, maps, etc, Portlandmaps.com even exactly what happened where, if you just put in an address in Portland. There are lots of other things you can learn there- like census information, maps, school info, parks, environmental issues, permits on houses, nuisance complaints and taxes.