Carlton Oregon – The wine capital of Oregon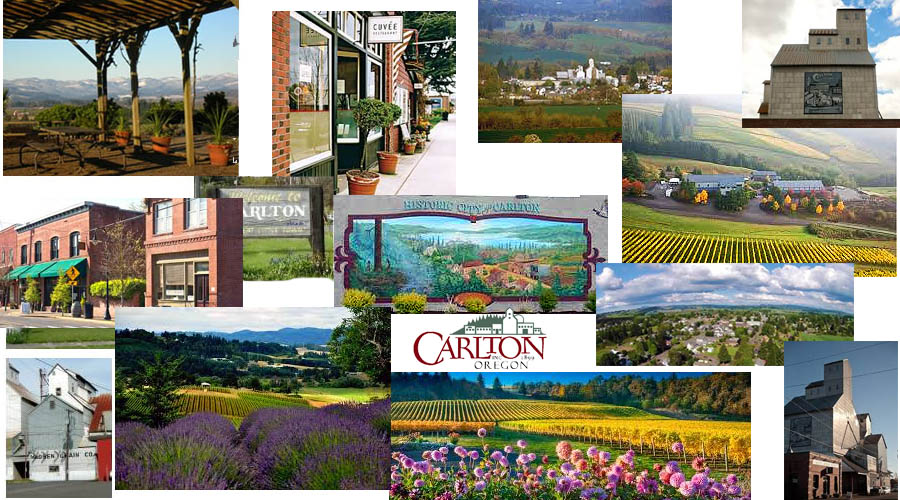 Just north of McMinnville in the middle of beautiful farmland is the city of Carlton and they call it the Wine Capital of Oregon! Carlton Oregon is a really small little town, just three blocks in length, but because of the dozens of wineries nearby, it has become a cute little artsy town, as the city says on it's website, manages to pack in more gastronomy, wineology and hospitality than most cities ten times its size. Organic cheeses, fresh meats, piquant preserves, creative desserts, and artisan chocolates are all available right on Main. Once a rough-and-tumble logging town, Carlton Oregon is now the small but significant epicenter of the North Willamette Valley's farm and wine scene. You can explore its dozens of small wineries, picturesque vine-covered hills or charming historic downtown, in a downtown that has nearly two dozen wine tasting rooms! Carlton is also the home base for the globally respected Yamhill-Carlton American Viticultural Area.
Carlton is on Hwy 47, not too far off 99w, but far enough so it doesn't get the noise and traffic from it. It is only 6 miles to McMinnville, which is a huge town/city, charming, quaint, with lots to do! It is only 10 minutes from Newberg too, which is a wonderful town with a university, a large historic downtown area that is pretty cool, it's on the Willamette River, and it has lots of parks!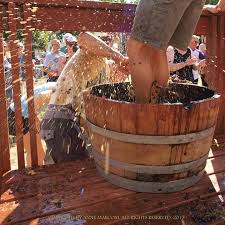 Carlton has some festivals that are fun. The Carlton Crush Harvest Festival is a celebration of the grape harvest, usually in September. It is in it's 7th year, is a full-day celebration features a Team Grape Stomp competition, a Kids' Watermelon Eating Contest, a Kids' Grape Stomp Competition, lots of live music, and an Artists Market, with many unique craft merchants. There is lots of Festival food from a variety of providers, and (of course!) sample a large selection of fine wines and craft beer from wineries and breweries throughout the area. And it's free!
Carlton also has lots of unique and fun places to stay, cottages, bed and breakfasts, and restored inns. I'll put a few of the most interesting ones below under things to do and see.
See and Do, and schools
Here is a walking map of Carlton showing the wine tasting places you can visit, the restaurants and other things. It packs a lot into just a tiny area!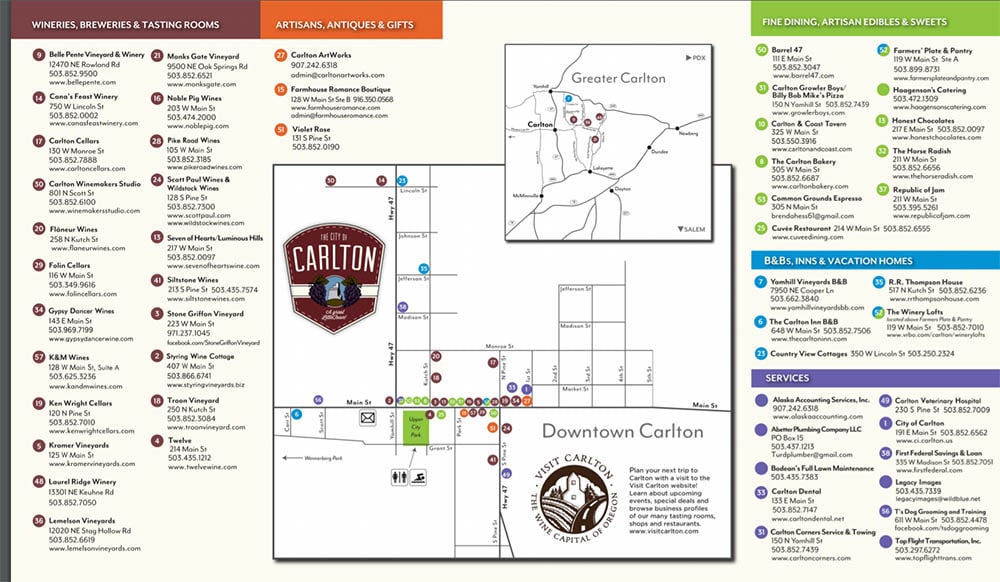 The city of Carlton has a list of events that is ongoing, with all kinds of classes, special celebrations, and wine tasting events. You can check their calendar and see what is coming up.
Abbey Rd Farm Silo Suites Three converted grain silos make up the unique Abbey Road Farm "Silo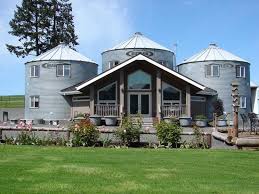 Suites" Bed & Breakfast. Set among the rolling hills of Yamhill County, the B&B lies in the very heart of Oregon's Wine Country. Luxurious and physically situated to capture the natural beauty of the valley, all of the rooms have similar amenities with slightly different visual perspectives.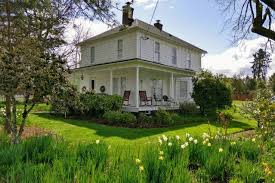 Carlton Cottage is right in the heart of wine country and within walking distance to downtown Carlton, two city parks and numerous wineries. It is like going back into time, to stay in a little quaint town with lots of yummy food and wineries! The Cottage is loaded with the character and charm of the past, it has been restored, and it has beautiful lush gardens overflowing with vegetables, flowers and herbs; with gas BBQ, a fire pit and outdoor seating.
The Lake House Vacation Rental is right on it's own private lake on 3.5 acres…right in downtown.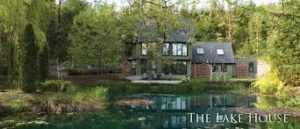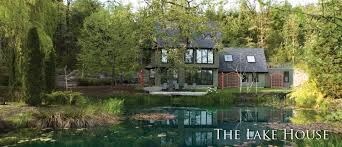 Schools:
Wineries in Carlton Oregon
What is special about Willamette Valley and wines? I always wondered, even though I live at the edge of the Willamette Valley and just 10 minutes from the Wine Country! There is an interesting article about it that I found on Willamettewines.com Here is what it says about the area, which is actually divided into 6 different growing areas, each quite different. The wine that grows best here is the Pinot noir. It demands a cool climate to thrive and why small distance differences in the valley often yield wines of distinctively different character. General attributes that make the Willamette Valley suitable for cool climate grape growing include the protection afforded by the Cascade Mountains to the east, Coast Range mountains to the west and a series of lower hill chains to the extreme north of the valley. Almost all grape growing is done on lower hillsides, avoiding deeply fertile alluvial soils and cooler hilltop mesoclimates. And much of this area is in the shadow of the coast range, so gets a little less rain than other areas around Portland.
It is on these hillsides that Pinot noir uniqueness is found and where apparent families of wines urge distinctive American Viticultural Area identification. In 2002, a collaborative action of vineyards and wineries delineated and submitted to the TTB petitions to divide much of the northern part of the large Willamette Valley AVA into six more specific AVAs:
Chehalem Mountains are just out of Sherwood above Newberg. Here is what is so special about this area: is a single uplifted landmass southwest of Portland in the northern Willamette Valley, extending 20 miles in length and 5 miles in breadth, stretching from southeast to northwest. It includes several discrete spurs, mountains and ridges, such as Ribbon Ridge and Parrett Mountain. The highest point within the Willamette Valley is the Chehalem Mountains' Bald Peak (at 1,633 feet) which affects weather for the AVA and for adjoining grape growing hillsides. It is the geography and climate that differentiate this AVA from others. All three important hillside soil types are represented: basaltic, ocean sedimentary and loess (blown lake bed sediment), the predominant soil on the northern face of the Chehalem Mountains. Within the almost 70,000 acres of this AVA are over 1,600 acres of grapes, grown in over 100 vineyards, and 31 wineries.
Dundee Hills, which is just outside of Newberg, so only 30 miles SW of Portland. The first grapes in the Willamette Valley were planted in the Dundee Hills, and it is the most densely planted locale in the valley and state. Within the 12,500 acres of this almost exclusively basaltic landmass that runs north-south and overlooks the Willamette River to the south and the Chehalem Valley to the north, more than 1,700 acres of grapes are planted in approximately 50 vineyards.
Eola-Amity Hills, is in Amity, so a little farther from Portland, to the west. Next to the Willamette River, these hills are composed of the Eola Hills, straddling the 45th parallel on the southern end and the Amity Hills on the northern spur, constituting almost 40,000 acres on which more than 1,300 acres of grapes are planted. Two of the predominant influences are the shallow soils and the Van Duzer corridor. The soils contain predominantly volcanic basalt from ancient lava flows, combined with marine sedimentary rocks and/or alluvial deposits, making a generally much shallow and rockier set of well-drained soils which produce small grapes with great concentration. The Van Duzer corridor provides a break in the Coast Range that allows cool ocean winds to flow, dropping temperatures dramatically (especially during late summer afternoons), which helps to keep acids firm.
McMinnville is past Carlton Oregon and Lafayette, along hyw 18. It has nearly 40,500 acres and extends approximately 20 miles south-southwest toward the mouth of the Van Duzer corridor, Oregon's lowest coast range pass to the Pacific Ocean. The soils are primarily uplifted marine sedimentary loams and silts, with alluvial overlays and a base of uplifting basalt. The soils are uniquely shallow for wine growing. The planted slopes sit in the protecting weather shadow of the Coast Range mountains, and rainfall is lower than on sites to the east. The primarily east- and south-facing sites take advantage of the drying winds from the Van Duzer corridor. Approximately 600 acres are currently planted here.
Ribbon Ridge is a spur of ocean sediment uplift off the northwest end of the Chehalem Mountains, with 500 acres planted on the ridge, within 20 vineyards. It has uniform, unique ocean sedimentary soils and a geography that is protected climatically by the larger landmasses surrounding it.
Willamette Valley was initially planted in 1966 and ongoing vineyard growth in the intervening forty years adding over 10,000 acres, largely because of the benign but challenging cool climate and the protection of mountains on eastern and western boundaries—and, also largely because of one grape variety, Pinot noir. Most of the Willamette Valley has rich alluvial soils on the valley floor, that are great for agriculture but inappropriate for high quality grape growing. There is an area of volcanic, loess and sedimentary soils on hillsides of varying mesoclimates. The best places to plant grapes in this area is the northern valley, which contain sixty per-cent of the currently planted vineyard acreage of the Willamette Valley and are between 200 and 1000 feet in elevation.
Yamhill-Carlton is one of the best areas for growing grapes, and centers around Carlton Oregon and Yamhill. Low ridges surround the two communities in a horseshoe shape, with the North Yamhill River coursing through nurseries, grain fields, orchards and more than 1,200 acres of vineyard. This pastoral northwest corner of Oregon's Willamette Valley provides a unique set of growing conditions. The Coast Range to the west soars to nearly 3,500 feet (1,200m) establishing a rain shadow over the entire district. Additional protection is afforded by the Chehalem Mountains to the north and the Dundee Hills to the east. Importantly, the coarse-grained, ancient marine sediments native to the area are some of the oldest soils in the valley. These soils drain quickly, establishing a natural deficit-irrigation effect.
~Wineries~ Here is a link to all the tasting rooms just in Carlton Oregon alone! And below are links to some of the wineries in the area.
Belle Pente Vineyard and Winery
History of Carlton Oregon
In 1872 a railroad was built from Portland to St Joe, but the train did not stop between the two stations. There was nothing but farm land where Carlton is now. Some of the farmers talked it over and as a result Mr. Wilson Carl went to Portland and talked to the Railroad Company officials to see if they would make a stop closer to them so they would not have to take their produce so far to the railroad. As a result first a flag stop was tried then a regular stop was made at what is now Carlton. The story is that the railroad employees when they talked of this unnamed stop started calling it Carl's town, which was soon shortened to Carlton. The City of Carlton Oregon was incorporated in 1899.