Rainier Oregon is a river town. It is almost completely oriented to the Columbia River, along which it sits.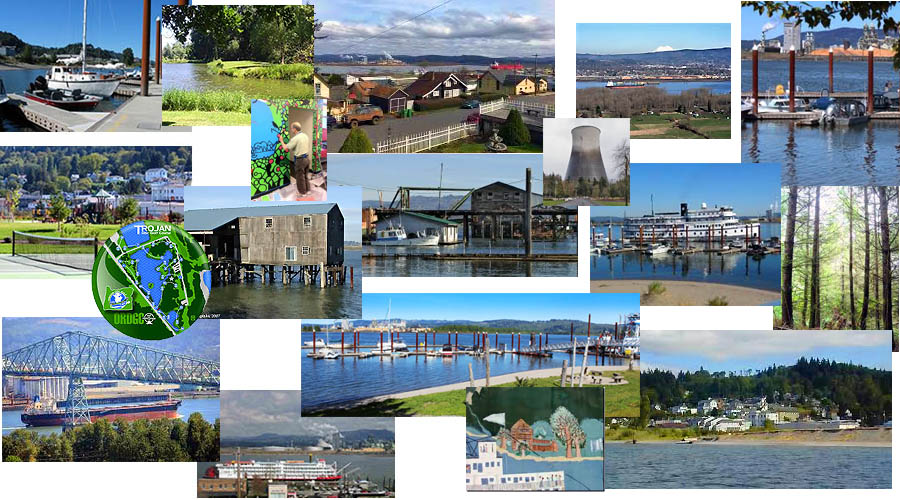 Rainier Oregon stretches narrowly along the water, straddling the bridge that goes from Oregon to Washington, Longview being right across the river. When you drive from Portland, north over the Vancouver Bridge and into Washington State, you have to go quite a long ways before you get to Longview. Longview is 50 miles north of Portland. When you go out along Highway 30, west from Portland along the Columbia River, it doesn't feel like you are actually going north. It feels like you are heading to the ocean, west. But the Columbia River veers sharply to the north once you get out of Portland, and you don't head west again until you are long past Raineer! Raineer is a small lazy town on the south side of the Columbia River, but right across the bridge, Longview is a huge town, with lots of industrial and commercial enterprises. Raineer is more the river playground of the area without much industry or jobs, Longview is the working city! The bridge that goes across the Columbia River here is called the Lewis and Clark Bridge, and this area was at one time a small trading post known as Eminence. That was in 1836. Fifteen years later, it became known as Rainier. Rainier was incorporated in 1885. You can learn more about the history of Rainier in the history section below.
The current population of Rainier Oregon is only about 1,750, the city has had it's ups and downs, between floods, fires and the demise of the Trojan Nuclear Plant, Rainier has survived and even blossomed. Their city park offers scenic views of the waterfront, handy space for walkers and children, and a place for the seasonal Saturday Market-in-the-Park and the town's annual festival, Rainier Days in the Park. Right near the new boat launching ramp is an impressive array of new apartments and condos overlooking the Columbia River; with more coming, and the downtown area is dotted with family-operated stores and various spots for visitors to sit and enjoy a good meal or a cold drink.
Rainier Days in the Park: Rainier's Annual Festival that has festival and event in July featuring a carnival, live entertainment, fireworks, beer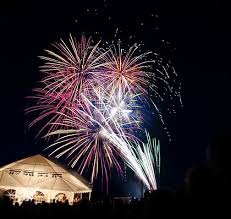 garden, and market vendors.
Saturday Market-in-the-Park: Completed its second season in 2006. There was musical entertainment, a Parade Your Pooch competition, and new and creative vendors, along with veterans from the previous year, offering fresh fruits and produce, custom made jewelry, purses, arts and crafts, and more. Most importantly, the Saturday Market has become a "happening" that helps unite the community, meet with old friends, and find new friends.
Disc Golf There are 2 disc golf courses. Trojan course is along the river, with lots of water. It is not very crowded, and has 18 holes. Here is one review: Lots of hazards to lose discs in which makes it challenging. Good scenery with lots of water and trees. 18 good holes. Free. Well kept. Concrete tees. There is also a course at Riverfront Park with 9 holes, built in 2012, reviews say: Introductory/family course in a multi-use park. Holes on the course range between 150-430 feet
Like most Oregon towns that face river or ocean, Rainier Oregon tumbles down a hill to the water. This makes for lots of residences with spectacular views, and lots of steep hills. The path of U.S. 30, right through the heart of the city, means most people whiz by without stopping.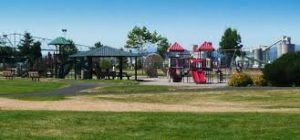 But Rainier is optimistic and pressing forward. Riverfront Park has been redeveloped, with a skate park, beach, ball fields playground equipment, and just a short walk to restaurants, boat launch and marina, and a mile-long river walk is under construction. The town has kind of a rough and tumble feel, with working class people populating the different taverns to drink beer and congregate. It has always been kind of boom and bust. First there was logging and fishing, and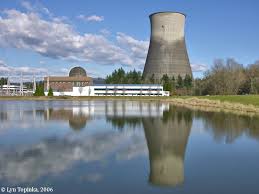 the lumber industry were the industries here. Then logging slowed down, so did fishing, but the Trojan Nuclear Plant began construction in 1968 and opened up in 1976, providing lots of good jobs for years. It shut down in 1993. U.S. Gypsum Co. put some back to work when it built a plant nearby, and people here can go across to Longview and find work there.
Rainier Oregon is more of an industrial kind of place, not a boutique town by the river. Not only are there huge industrial plants and the Port of Longview across the river, but you can see and smell belching smoke, mountains of wood chips, tugboats tugging and pushing things up and down the river, and it seems like most of the things made here are either sawed, welded or hammered together. Foss Maritime's Rainier Oregon shipyard builds 2 Tugboats a year, which is kind of a cool thing to watch. That doesn't happen everywhere! There are 2 disc golf courses along the river, and just enjoying the river keeps people happy. The forest rises up to the southwest, and there are farms and agriculture in the gentle hills directly to the south as you can see in the map photo below. It is an interesting town.
Parks and Trails in Rainier Oregon
Hudson-Parcher Park: Popular with family groups, sports groups and others looking for peaceful Forest and field campsites. This park offers easy access to fishing, boating and windsurfing in the nearby Columbia River.
Laurel Beach: A day use facility with access to one of the Columbia Rivers many fishing spots and outstanding bird viewing.
Prescott Beach: Hosts one of the Columbia Rivers finest fishing and windsurfing site. The Park includes a covered picnic shelter, playground, gazebo,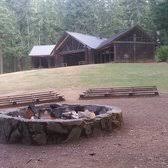 horseshoe pit and sand volleyball courts.
Camp Wilkerson: 280 acres of secluded forest. It's easy to "get back to nature" at the beautiful park, which has been featured in a made-for-television movie. It includes cabins, Adirondacks, tent sites and a rust day lodge complete with cooking facilities.
History of Rainier Oregon
Lewis and Clark passed right through Rainier Oregon at Prescott Beach. So it has a long history of being being discovered, but wasn't settled until 1851, when Charles Fox settled the area. It was originally called Eminence, then was changed to Fox's Landing, and then to Rainier in 1852. The name Rainier was taken from Mount Rainier in Washington, which can be seen from hills above the city.
In 1854 F. M. Warren erected a large steam sawmill and began producing lumber for the homes and other buildings of the settlers. Rainier was incorporated in 1885. It had alot of ups and downs over the years, from fires in 1904 and 1924 that gutted the business district, to massive layoffs that occurred after the closure of the Crown Zellerbach sawmill at Wauna and through the subsequent powering down of the Trojan Nuclear Power Plant.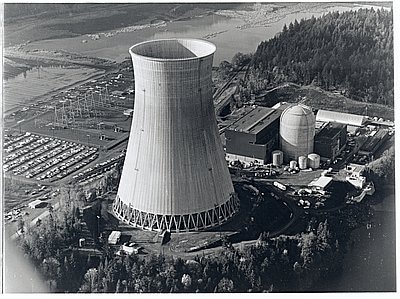 For much of the last quarter of the twentieth century, Rainier was known to the rest of Oregon as home to Trojan Nuclear Power Plant, the only commercial nuclear reactor in the state, which supplied electricity to Portland and its suburbs starting in March of 1976. This reactor was closed periodically due to structural problems, and in January 1993, it was decommissioned after cracks developed in the steam tubes. This was 20 years before it's useful life should have been up. I remember driving by it on I 5 on our way from Seattle to Portland, which we did quite frequently to visit grandma and grandpa in Hood River. The blinking lights and huge cloud of steam used to really freak me out, because of both the Chernobyl accident in 1986, and the 1979 Three Mile Island accident. I was really glad when they decommissioned it. On May 21, 2006, the cooling tower was demolished. We all still wonder, though, if the spent fuel rods that are stored on site, 800 of them, are still safely contained, or if they will start leaking the way the Hamford plant has leaked.
The closing of the Trojan plant set off a decline in the number of businesses in the city. While some retail and services are available in the city, there is currently, for example, no supermarket remaining in the city. Services are available in neighboring Clatskanie, St. Helens, and in Longview, Washington.