Sheridan Oregon is a little farming town between Portland and the Oregon Coast. It is 50 miles from Portland but it's 13 miles to McMinnville– which is a pretty big city for being so far out in the country!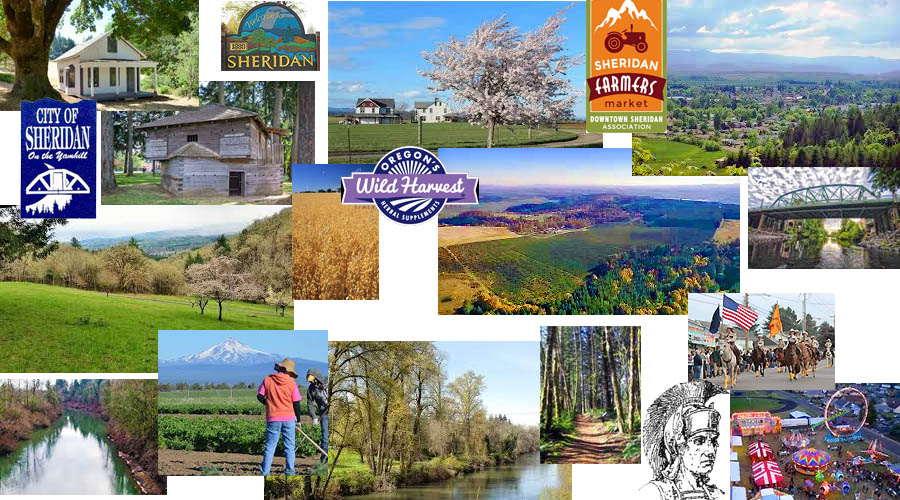 There are two main roads that go by Sheridan- Oregon 18 and Business 18. The business route runs through downtown on the north side of the Yamhill River and connects to Willamina . The bridge on Bridge Street connects the two sides of the city across the Yamhill River . Oregon 18 connects Sheridan to McMinnville , which is the county seat. It also goes on to connect to 99W which goes to Newberg, Tigard and beyond to the Portland metropolitan area. My daughter used to live out in Willamina, which is really close to Sheridan. She bought 5 acres on a hill overlooking the valley, and built a house! Going through the process of looking at land, checking out wells, making sure the land perks, figuring out how to get power in and a road in…it's a lot to learn and think about. I became pretty familiar with the area! You are getting up into the beginning of the coast range foothills, where land has more timber, and not as much open fertile Willamette Valley soil as you get closer to the mountains.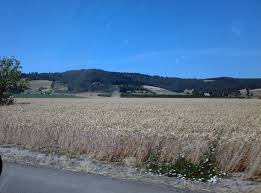 There isn't a lot to do in Sheridan. It is a small town, part way between McMinnville and Salem. It is a farming, agricultural town. Oregon's Wild Harvest has a farm in Sheridan, started in 2014 that is 103 acres. They grow organic herbs and are certified organic through Oregon Tilth, which is an accomplishment, and they are also a certified Demeter® Certified Biodynamic® farm, which means they take care of the soil by adding organic matter that puts the nutrients back into the soil and doesn't use anything that can harm the soil or people…like GMO, pesticides, even chemical fertilizers. Oregon is going this way more and more in it's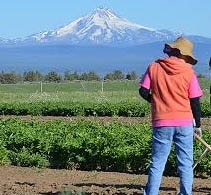 agriculture and it's vineyards and wine! Sheridan is a good place to still find a little bit of land to start an organic farm- at a more reasonable price because it is so far out! I've had a huge garden with chickens for as long as I can remember, and believe in organics and taking care of the soil. That is one reason I love Oregon so much! Bloomingdale Farms is a 64 acre working farm that has with views of the Cascade peaks, they raise rare Dales Ponies, have wooded trails and ponds to fish in. They are also an Inn that you can stay at while you visit the farms and wineries around Sheridan. The accommodations are thoroughly modern but with the warm and cozy feel of simple 19th century farm styling. There are also several other farms, like Crowes Berry Farm, Cruickshank Brothers Farms, Grauer Brothers, Hurst's Berry Farm, N and E farms, Timberhill Farms, and two wineries.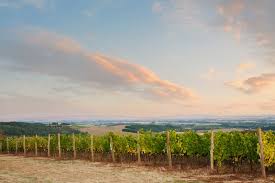 The wineries that are in Sheridan Oregon are outside of town, and they are in the McMinnville AVA area of climate and soil, which you can read about under my McMinnville page. J Wrigley Vineyards has 200 acres, makes Pinot Noir, Riesling, Pinot Gris and Charonnay. Ransom Wines is an artisan producer of small bath wines and spirits from Oregon grapes, so they don't grow their own grapes. This area isn't really very good for vineyards, it is a little too close to the foothills.
Sheridan Days is a festival celebrating Sheridan with carnival rides, a parade, lots of food and vendor booths. They also have a Farmers Market in town from May to October, and a small downtown area with shops.
See video to learn about Sheridan & wine country

Sheriden Federal Correctional Institution is classified as medium security federal prison. This medium security Federal Correctional Institution (FCI) has double-fenced perimeters but no guard towers. Medium security have strengthened perimeters (often double fences with electronic detection systems), mostly cell-type housing, a wide variety of work and treatment programs, an even higher staff-to-inmate ratio than low security. The medium classification means that the inmates are supervised 24/7 with controlled movements. Medium and security prisons house more serious offenders, but inmates can also be sent to serve time in lower security facilities for things like good behavior at the end of a sentence.
History of Sheridan Oregon
Fort Yamhill State Heritage Area is in Sheridan Oregon, and it tells the story of what happened to the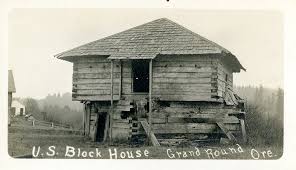 Native Americans that used to live in the area. It is a sad story. Settlers began to come into the Willamette Valley in the 1840s, wanting land that the government offered through the Donation Land Act of 1850. To be able to give away the land, the government had to move the Native Americans off the land, and they were shipped off to reservations. Then the settlers could take over the land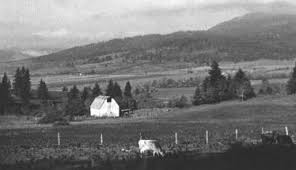 for themselves. 27 tribes signed treaties with the US government, and basically traded their land for education, materials, a new life on a reservation and promises that were never fulfilled. Some Indians had gotten angry and fought back, and a War of Extermination was begun…to exterminate them. This is why Fort Yamhill was built in 1856. It was held down by the Military, and it basically set up a line between the Grande Ronde Reservation and the settlers. It was manned until 1861, and then closed in 1866. So it is very old. The land around it was farmed until 1971 when it was turned into a heritage site.
Sheridan Oregon had it's first settler, Ab Faulconer, come in 1847, and he settled on the Yamhill River, the Graves, settled on the north side. A can was nailed to a fence post to collect messages and mail, and Sheridan was born. The early settlers benefited from the Donation Land Act, which allowed each person to settle and take 160 acres of land, if a couple, they could take 320 acres. By 1852 Ab's brother had opened a store, a livery stable, and Ab's house became a hotel. Finally in 1865 a bridge was built across the river in 1865, and the town was named after General Sheridan, who fought in the Civil War. In the 1870s, Yamhill County farmers got together and decided to incorporate their own RR, which would go through Dayton, Sheridan and Grand Ronde. In 1878 a line was also built, using a turntable to let the trains change tracks, and it connected Willamina to Broadmead. There is an in-depth article about the different RR companies and tracks that were built in the area. The RR did much to help the Willamette Valley grow and prosper, because they could get their crops out quickly.
In 1923, the Mennonite Church came to the area, with branches in other towns nearby. Sheridan has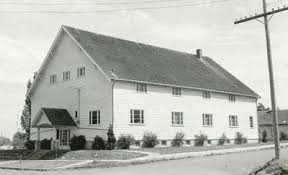 survived 4 major fires, but has always come back. People come here for the rich soil, and the industries have always been agriculture, dairies and timber. In the late 1980s the Federal Prison was built, which offers jobs, but turns a lot of people away.
Sheridan Oregon, the town, is located in the southwestern part of Yamhill County, near the foothills of the Coast Range. Sheridan Oregon is divided in two by the South Yamhill River. It was incorporated in 1880 and has been virtually destroyed by floods and a major fire in its early history. Its major industry is agriculture and it is surrounded by a variety of crops including the vineyards which comprise Oregon's booming wine industry. In 1989, the federal government opened a minimum and medium security correctional institution which I talk more about in the main section of this article.