Cornelius Oregon, is just outside of Hillsboro heading west along Baseline, part way between Hillsboro and Forest Grove.  It's been growing like crazy the last couple of years with new housing developments going in all over. The houses are built mostly close together, and many of them are cheaply made tract houses, but there are some neighborhoods that have some really pretty houses and tree lined streets.
The urban part of Cornelius feels alot like a thoroughfare to go through on your way to Forest Grove or other places.  It doesn't really have a cute little downtown area or much charm, most of the stores are right along the main drag, Baseline, and they are mostly chain stores.  But you can get into downtown Hillsboro pretty quickly, and either do your shopping there, or catch the Max Train into Beaverton or Portland.  What makes this area special to me, is the gorgeous farmland surrounding it, and alot of people live up in the hills on the acreage. The views can be spectacular!
When people think of Cornelius, they think mostly of this urban area  that isn't very nice, between Forest Grove and Hillsboro. But all around Cornelius you have  some of the most beautiful views I have ever seen, with the country roads going up into the hills, through acres and acres of farmland, and if you look back, you are breathless with the spectacular views. I remember the first time I saw it. We were taking our boat up into the hills to go to Hagg Lake.  It was really pretty, but when I turned around and looked back at the valley below, I was swept with an emotion I have rarely felt, the peace and spectacular beauty that had been hidden until we had ascended into the hills….From then on I would take the kids and just go, berry picking, cherry picking, or just to have a picnic!   The seasons change the colors.  In spring there is the  red clover patchwork, in summer it turns yellow and green, sometimes there is fog, sometimes the sun is makes it so bright you are in awe.  Every season is different. There are also more and more wineries moving in all the time, that settle on the south facing hills.  They say our weather is alot like parts in Italy where they have always grown fine wines!
Cornelius is  still somewhat affordable. It takes about 45 minutes to an hour to get to Portland. You are close to beautiful countryside, and if you have to get anywhere, you can take these country roads instead of freeways, which is a much better way to commute. Instead of fighting traffic the whole way, you can enjoy at least part of your trip soaking up the countryside.
As Hillsboro spreads out, maybe Cornelius will come to it's own, and create some charming neighborhoods that will draw more builders and people to develop the area.  But it still has a ways to go!
History of Cornelius Oregon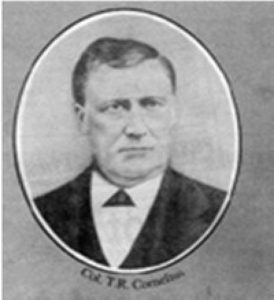 Cornelius Oregon was first settled by TR Cornelius.  He had come over the Oregon Trail, and first settled in the Tualatin Valley. After the Whitman massacre, he enlisted in the militia to fight the Indians, and then went to California for the gold rush.  In 1871 he returned to his 1300 acre farm in Cornelius, built a grain warehouse, creamery, 2 sawmills, a grocery store and several barns and houses. During the same period of time, another man, Ben Holladay, built a railroad depot for the post office and a telegraph office in Free Orchards. Cornelius' warehouse was well loved by the farmers in the area and it wasn't long before lines of wagons formed, farmers sometimes waiting all day to unload grain to the warehouse so they could ship it out. Later through common consent of the townsfolk, the city was named after Cornelius.
Wineries in Cornelius Oregon
Wineries
A blooming Hill winery



There is a wine tour of Cornelius wineries