Gaston is what I consider way out in the country!   There are no real towns by it, just a tiny little country town with a few businesses in it.  It is a little old farming town way up in the hills- off by itself. The land around it is really pretty- fields and woods and rolling hills. It is about an hour from Portland- and you can go south to the Newberg or McMinnville area too pretty easily, so if you work in McMinnville, it is a good commute. In the 1860s, the census recorded only about 70 people in the Gaston area. Nonetheless, in 1866, the first Gaston School was founded! So Gaston is historic, and it goes way back!
There are lots of farmers, and lots of wineries, in fact when I printed up a list, there were 9 or 10 wineries just in Gaston, some I have included below under wineries.  The countryside is absolutely gorgeous, with rolling hills and sweeping views of the valleys. I love the beauty of the countryside. It is some of the most gorgeous, breath taking scenery I have ever seen.  When you drive up into the hills, especially in the spring, you are met with a patchwork quilt of reds and greens and yellows and browns.  I had never seen anything like it.  I don't think you could find anything prettier in Tuscany or anywhere else!  Hagg Lake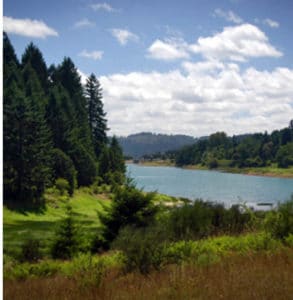 is also in Gaston., maybe that is why the little town sprang up. We used to have a boat, and 5 kids, so we went up there quite a bit. It is really pretty, but doesn't have alot of access to the lake.  There are lots of shallow areas with mud, but once you get out into the lake, it is awesome!  It is actually a huge man-made lake that is really a reservoir.  Most people go there to fish, but we pulled the kids in inner tubes and even did a bit of water skiing! It is  located just 25 miles southwest of Portland near Forest Grove, rests in the foothills of Oregon's Coast Range and offers a wide variety of recreational activities. Maintained and operated by Washington County, the park features numerous picnic areas, two boat ramps, a fully-stocked lake for fishing, more than 15 miles of hiking and biking trails and observation decks for wildlife and bird watching.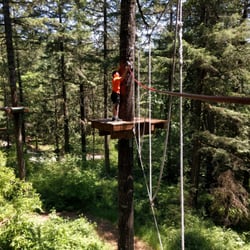 There is a kind of cool thing to do in Gaston.  It is called Tree to Tree Adventure Park. You can climb up into the canopy of the huge trees, and walk, climb or cable between them.  It sounds pretty unique!
Here is the little bit of history I could find.  Gaston was named for Joseph Gaston, who immigrated to Oregon from Ohio in 1862 and actively promoted the west-side railroad southwest of Portland, which was later built by Holladay and Villard. He built the narrow-gauge line from Dayton to Sheridan in 1878 and subsequently wrote and published histories of Portland and of Oregon. Gaston died July 20, 1913, aged 79 years. The Gaston post office was established on June 5, 1873. d
There really isn't too much to say about it except the beautiful farmland, the wineries and Hagg Lake!
Wineries
There are wineries all around Gaston.  Here are some of the ones you can find there: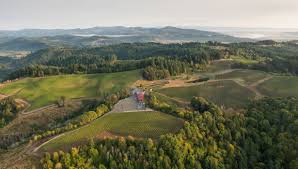 Patton Valley Vineyards, Elven Glade Vineyard, ADEA Wine Co, Cancilla Cellars, Elk Grove Winery, Thistle Wines,  Elk Cove Vineyard, Kramer Vineyards, Plum Hill Vineyards,  and Big Table Farm