Sherwood Oregon was actually first settled in 1853 – and its little downtown area is really cute, and does have some really old historic homes.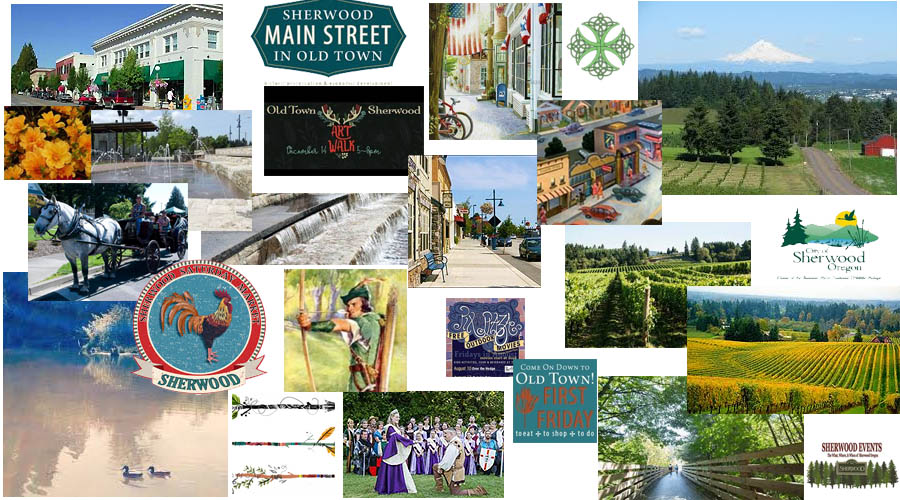 Sherwood Oregon was actually first settled in 1853 – and its little downtown area is really cute, and does have some really old historic homes. Sherwood Oregon lies just SW of Tigard along highway 99W. It is in the Chehalem Mountain Area, and has become one of the fastest growing wine destinations in the Willamette Valley.  It has grown like crazy the past few years – with housing developments springing up everywhere. There are lots of farm stands here in the summer, a real feed store, and it runs right into farmland as you head west.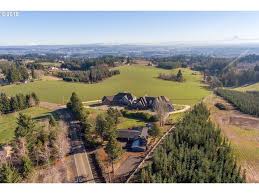 Sherwood Oregon has many different areas, from the main part of Sherwood that people see as they drive to the beach along 99W, to the farmland that surrounds it, where farmers grow crops that they sell at farmstands and at farmers market. To the hills around Sherwood, like Chehalem Mountain, where you drive up through winding roads through the trees, with peek a boo views of the valley. When you get to the top, there are gorgeous views of the valley below.  It is so beautiful.  We live in the next town east from Sherwood, so we go berry picking here in the summer, and hit the farm stands!
There are lots of new neighborhoods built mostly from the 90's till now. It was voted one of the top 10 places for families a couple years ago – there are a lot of newer houses and neighborhoods with lots of kids! The schools are rated 9's and 10's,   it's still kind of a small town on the edge of the country! Amazingly enough, all the growth has not squelched the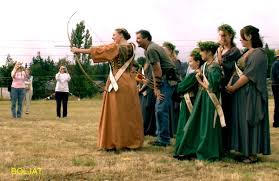 small-town atmosphere of the historic Old Town, and the camaraderie that is evident at community gatherings such as the city's annual Robin Hood Festival.
Sherwood Oregon is a medley of juxtapositions – the old and the new creating a unique harmony. The protected wetlands of the Tualatin River National Wildlife Refuge and the rolling hills of fertile farmland surround Sherwood's bustling roads and city center.  I've always loved Old Town Sherwood. When I first started in real estate, it was so quaint, historic, almost like stepping back into time.  Now it has been modernized, they have added so many shops, a water park, restaurants, bakeries, antique stores and tea shops, but they have kept the historic buildings and have combined them to be a place that the neighborhoods surrounding it can enjoy.
There is so much to do in Sherwood Oregon.  The neighborhoods are quiet and peaceful with children safely playing outside, neighbors walking and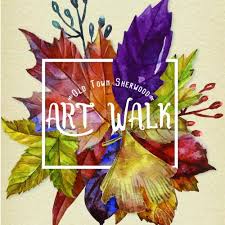 interacting together. There are neighborhood trails that connect the neighborhoods to each other, and lots of neighborhood parks. Sherwood Oregon is community oriented, which is why so many young families have moved here and are still coming! The schools in Sherwood Oregon are rated almost as high as Lake Oswego, which most people don't realize. Sherwood Oregon has community festivals, like the Robinhood Festival, Saturday Market,  Art  There are plenty of horse stables if you love horses as much as Eden and Oliver, my
grandchildren, do! Eden took riding lessons at a stable up on the hill above Sherwood when she was only 7!  It was a wonderful experience, the instructor patient, and allowed her to quickly learn to ride on her own! You can learn more about parks and other things that Sherwood offers in the Park section below.
grandchildren, do!  Eden took riding lessons at a stable up on the hill above Sherwood when she was only 7!  It was a wonderful experience!
This vitality of oppositions makes Sherwood one of Oregon's most livable cities, providing attractions for all. It is a family-oriented community not far from the commercial bustle of Portland. The city is located on Highway 99W, between Tigard and Newberg, an important transportation triangle in south Washington County. The location also makes it ideal for professionals who commute to work in Portland and return to live in the quiet of the Sherwood community. The Wes Commuter Train stops in Tualatin and Tigard, which is really close for you to catch if you live in Sherwood,  And the Max Light Rail will be coming to Tigard and beyond, beginning work in 2020. This will help commuters get to Portland faster.
Parks in Sherwood Oregon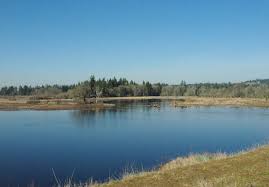 Tualatin River National Wildlife Refuge. It is pretty amazing to have a National Wildlife Refuge within your town!  It is a beautiful peaceful area, with wetlands that flood and form a huge lake during the winter, and then partly dry up in the summer. There are trails that go all through there, we have seen all kinds of wildlife, including beaver…and the gnawed off ends of trees that they used to build their dams. There are herons, egrets, ducks, and all kinds of birds.  You feel like you are way out away from everything, but you are right between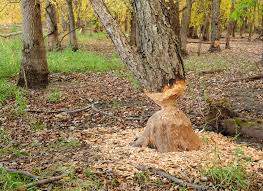 Sherwood and Tigard in the valley along 99W  Most people don't even notice it as they drive by.  When we lived up on Bull Mt in Tigard, with a view of the whole valley below, we would watch the lake form in the fall, and dry up in the summer.  It wasn't a wild life refuge then, and I thought about the farmers and how they must feel with their land being flooded for so long.  Then it became a designated wildlife refuge, which is what it should be!
Cinnamon Hills Park ~ A collaborative effort of the residents and the City of Sherwood, this mini-park/play lot includes a swing, play structure, and benches along with ample green space. Due to terrain and location, future development is limited.
Langer Park ~ Maintained by the Sherwood Village Homeowners Association, Langer Park is an open park setting with ample space for passive and active recreational pursuits. A walking/bicycle path meanders through the park and greenway connecting with the playground in the middle of the park.
Murdock Park ~ This Park has had extensive landscaping, including an open play area and a picnic shelter. A playground structure has been added to the open play area.
Veterans Park ~ Veteran's Park is the central focus for Sherwood's Festivals – Saturday Farmer's Market, Arts and Crafts Fairs, Cruisin' Sherwood, and the Robin Hood Festival. It is surrounded by large trees. Benches and picnic tables allow for small group activities.
Oregon Trail Park ~ A peaceful setting located between Santa Fe Terrace and Settlement Drive in the Oregon Trail subdivision. The play structure and open lawn area provide a safe and enjoyable area for the neighborhood children to play.
Pioneer Park ~ The Park currently has 2 acres of forest land, lush open lawn, a shelter for rainy days, and bathroom facilities (port-a-potty). A basketball court has been included in the play area.
Stella Olsen Memorial Park ~ Stella Olsen has a children's playground, a shelter and a pavilion. There is a multi-used path through the wetlands area, providing a connection from West Villa Road to the park. Used by wildlife, as well as humans, it provides a restful, wooded setting for all activities. A port-a-potty is available for use. This park is home to Music on the Green and Movies in the Park during the summer months.
Snyder Park ~ This Park consists of a walking path, baseball fields, and an artificial turf soccer field.
Woodhaven Park ~ this Park consists of a playground area.
Here are some other nearby parks that are not too far from Sherwood.
Champoeg State Heritage Area ~ Champoeg features a unique combination of history, nature, and recreation. This is the site where Oregon's first provisional government was formed by a historical vote in 1843. Tour the park's visitor center, Newell House, and Pioneer Mothers Log Cabin museums to discover pioneer life at Champoeg. Take a guided walk to learn what happened to the bustling pioneer town of Champoeg, and how the Donald Manson Barn was built. Also includes the Historic Butteville Store founded in 1863. It is considered the oldest operating store in Oregon.
Willamette Mission ~ One of the most significant and beautiful historic sites in the Willamette Valley. The park occupies land where the first mission for American Indians was founded in 1834 by the Reverend Jason Lee. Members of the Methodist Mission were later active in the formation of Oregon government. A monument is located in the park providing information on this settlement. The original mission buildings are represented by framed outlines called ghost structures. A landing for the Wheatland Ferry — the first to carry the covered wagon across the Willamette River in 1844 — is in the park. The park offers many daytime opportunities for boaters, anglers and other users. Some of Willamette Mission's 1,680 acres hold filbert and walnut orchards. The nation's largest black cottonwood is in the park (it's older than the U.S. — it's been around for over 250 years). There are grassy meadows surrounded by an array of flowers, plants, and trees. For those that enjoy water, there's Mission Lake and the Willamette River.
Willamette Mission State Park ~ is perfect for your next picnic! The excellent picnic facilities are reservable for large groups. There are picnic shelters, electricity, restrooms, water faucets, picnic tables, fire rings, sunny areas, and trees for shade, plus ample room for parking. You can even rent a large, 4′ x 3′ charcoal briquette barbecue at the park.
Williamson State Recreation Site ~ Maud Williamson occupies a flat edge of cultivated Willamette Valley farm land on the west side of the Salem-Dayton highway. It's covered by a fine stand of second-growth Douglas fir. The park also includes a historic farm house once occupied by the person who donated the property as a park.
History of Sherwood Oregon
Here is the history of Sherwood taken from the Sherwood City website.  It was settled really early, the first settlers arriving in 1853.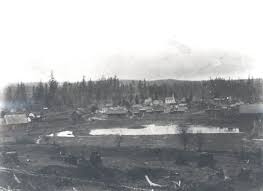 The first people to live in Sherwood Oregon were the Tualatin Indians, who lived here for centuries. Many of them died from disease; it is the same sad story all over our country, and by the time the first settlers arrived in Sherwood Oregon, there were not very many of the native people left.  The first white settlers arrived in Sherwood in 1851, and using the Donation Land Act, were able to claim land to farm.  James Smock came to Oregon by wagon train when he was only 4, and his family ended up moving to Sherwood and buying land, including a logging mill, where Stella Olsen Park is.  They built a grain mill and store, and in 1871 signed a contract with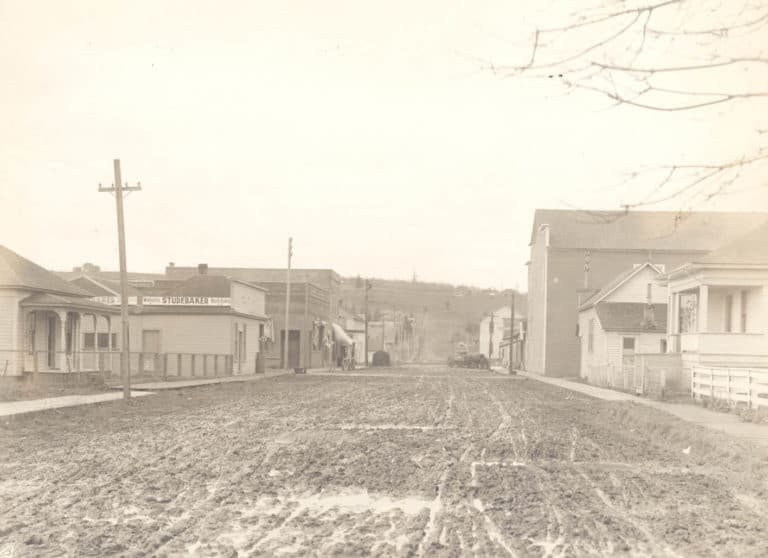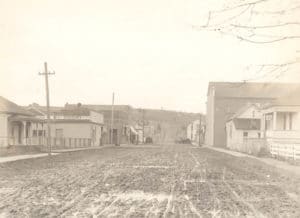 Willamette Valley Railway to  allow the RR a right of way through his land.  Thousands of Chinese people came to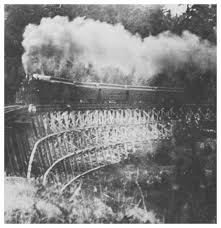 build the RR through the Sherwood area.   By 1890, the little town of Sherwood was platted into 9 square blocks, RR street was the center of town, and it changed everything.  When I first started selling real estate in Sherwood, in 2004, it was still alot like it used to be back then, with the train running right through town, historic shops and buildings on little quaint street, it almost felt like going back into time.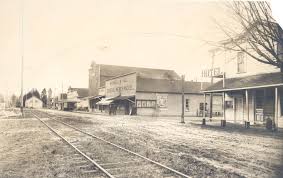 In 1890, clay was discovered, and a brick factory was built, which made brick for much of downtown Portland. I always wondered where all the brick had come from, and why they used so much of it.  It is a big problem now, because of earthquake fears, but back then it seemed like a sturdy way to build, so that fire wouldn't be as apt to ravage the city.
By early 1900, orchards were planted with apples, pears, Italian plums and berries, a cannery was built to process fruits and the vegetables that were being grown in the surrounding farmland, and in 1919 Highway 99 was opened, making it much easier to get produce into Portland.  Onions became a huge crop too, and Sherwood produced more than any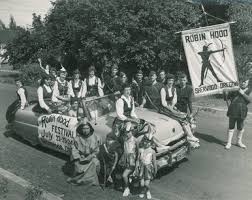 other town in the Pacific NW!  Sherwood continued as a farming town until recently.  There is still lots of farmland all around it, though, which is one reason I love the area so much!
Right after WW2, a group of men started the Robin Hood Festival, becoming a Band of Merry Men. This festival still happens every year in Sherwood Oregon!
Festivals and Fun things to do in Sherwood Oregon

Sherwood Robin Hood Festival is in it's 65th year!  It happens every year in July, and here is what it's website says about it, for summer of 2018…but you can click on link above to learn about each subsequent year. I have never gone, but hope to this year.  It sounds amazing and unique!
"One of the oldest and most unique community events in Oregon (est. 1954), our wondrous Festival and international archery tournament attract nearly 20,000 revelers of all ages each year in the summer.  We also hold a Winter Festival the first Saturday of December every year, with a holiday parade. With many fun activities both  modern and medieval, next year's Summer Festival fills the streets of Old Town Sherwood Friday-Saturday, July 20-21, 2018, with the International Archery Tournament with Nottingham, England Saturday-Sunday, July 21-22, 2018.  Our old-fashioned Community Parade winds its way through Sherwood Saturday, July 21, 2018 at 10 AM, featuring Maid Marian and her Court, Robin Hood and his Merry Men and 70+ imaginative entries from far and wide, some competing for high honors.
There will be dancing in the streets (and many enjoying the beer & wine garden nearby), as well-known bands from the Pacific Northwest and featured entertainers take to our popular Main Stage.  The Family Stage in the Renaissance Village specializes in wonderfully creative, interactive performers to delight young and old, a traditional Knighting Ceremony, medieval re-enactments, stunts, swordplay, clowns, magicians, alchemists, comedians, improvisation, music & dance, and appearances by Maid Marian and her Court, Robin Hood and his Merry Men.  Special surprises throughout the grounds of the Festival, occupying the streets of Sherwood Old Town and an enchanting historical park, make your Festival experience one people of all ages have enjoyed for multiple generations.
Thousands of Summer Festival visitors wander every year through the extensive Vendor Village consisting of more than 100 booths, with a wide variety of shopping and activities to explore.  Everyone will enjoy performances of a children's play by Sherwood's Voices for the Performing Arts Friday and Saturday nights at 7:30 PM in Cannery Square Park.  Multiple contestants demonstrate their creativity every year in the annual Castle Building Contest.  Festivities also include a teen dance, kids crafts and play areas, plus plenty of delicious food, with a beer/wine/cider garden featuring selections from local wineries and breweries. Festival admission is FREE, including all entertainment on the Main and Family Stages (excludes Voices for the Performing Arts performance, for which tickets must be purchased – vendors also charge fees for various activities).
Art Walk is put on by the Sherwood Center for the Arts.   The center has all kinds of classes for


young people, including music, writing, drawing and painting, ceramics, performing arts, and photography.   This seems like an amazing thing to have as part of your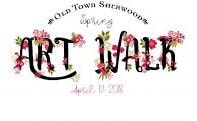 community!   They also have a Summer Art Walk and a Winter Art Walk in Old Town Sherwood Oregon. They have music, food and spirits, and lots of different kinds of art, some demonstrations of painting etc.  In winter it is tied into Christmas, Here is what the website says about it: At each of the Art Walk stops throughout six Old Town Sherwood blocks, participants will get to view local art, chat with artists, participate in interactive activities, listen to live music, enjoy food and beverages from Old Town locations and even choose to purchase a piece of art. Pick up a map of the route at any participating business, and visit each stop. Prizes from many local Sherwood businesses will be up for grabs. Don't miss a single stop!
There are lots of farms and U pick areas around  Sherwood Oregon.  Here is a map that shows some of them and where they are located.  Below I will tell a little bit about some of them.  I live right in this area, and have loved the farms that area so close to me!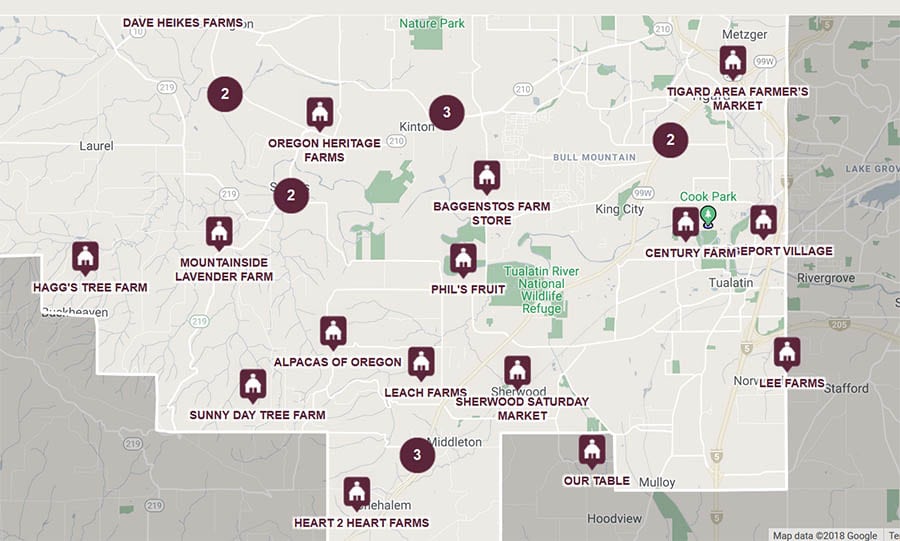 Alpacas of Oregon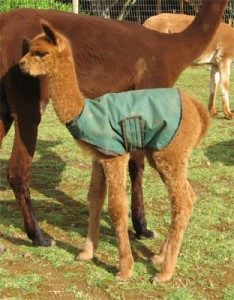 Alpacas of Oregon has been around for 20 years, and specialize in breeding selling, boarding Alpacas.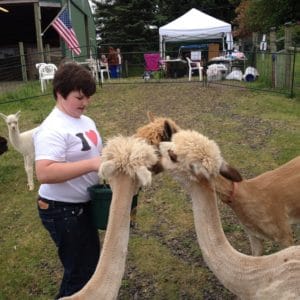 They also sell yarn and fiber. It is in the wine country, the Alpacas are so cute! They have a Harvest Festival and open barn in October, where you can come and see the baby alpacas and learn about raising your own herd. Hand spinners and knitters come pick out fleeces, roving and yarn for your winter projects. This is a really unique opportunity to see a working alpaca farm. They will have fun crafts for the kids and adults can learn to make a one-of-a-kind felted scarf. They also have a felting class.
Heart To Heart Farms is a really unique place.  They wanted to learn about growing things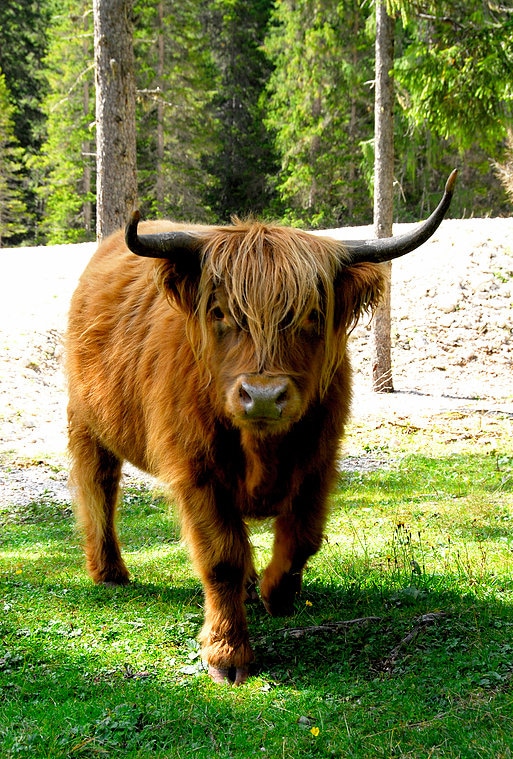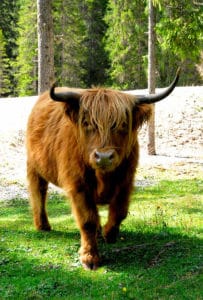 naturally without hormones, pesticides …here is their story:  Tyler and Liz Boggs were concerned about the hormones, pesticides, and other chemicals in the foods their daughters were eating.  It only took a little research to realize they wanted to make some major changes.  Soon their family noticed an increase in their energy, vitality, and overall health as they eliminated the chemicals and processed foods from their diets.  It wasn't long before the extended family wanted to buy from the farm, but it didn't stop there.  Tyler and Liz began receiving calls from friends, then friends of friends, all of whom wanted to make the shift to buying local, chemical free, nutrient dense meats and produce.  And thus, Heart2Heart Farms was born. They grow food naturally, teach others about eating and growing things, they sell meat and produce, and even offer a work trade barter if you can't afford the healthy food.
This is a working, rustic farm that grows lots of different kinds of lavendar, offer photo shoots, and U pick Lavender, have animals, and they also give classes.  Here is what their website says about their farm:  We are a small family operated farm in Sherwood, Oregon. We love all things lavender and our mission is to bring a touch of lavender-filled relaxation to Sherwood, Oregon. Once you have strolled through fields of lavender in bloom, you understand why it has been grown and used for centuries for cosmetic, household, and medicinal uses. Lavender is an ideal choice for small agriculture – it requires little water once established, is not susceptible to many diseases or pests, looks and smells beautiful while growing, and has a wide range of uses once harvested. Plus, gophers and moles don't like it and kids and bees love it! We love the idea of enhancing the agricultural landscape with our lavender fields. Surrounded by vineyards, our farm has sunshine and a gentle slope to ensure good drainage; we are lucky to have a perfect lavender location.