Tigard Oregon is just south of Portland, the first suburb you come to if you take Barbur Blvd up out of the city.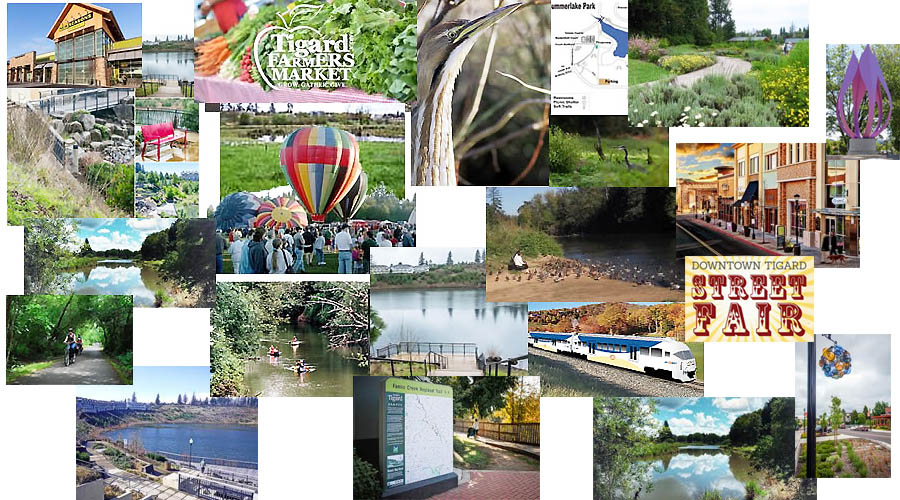 Parts of Tigard Oregon are only 10 minutes to get to downtown Portland, other sections can take a half hour or more. Tigard Oregon is extremely diverse, with many unique neighborhoods, natural areas, walkable shopping districts, and the Fanno Creek Trail runs right through the middle of it! Tigard Oregon is where I live, and I love it. I can get to downtown quickly on I 5 or if there is traffic, I take Barbur. Tigard is known for 99W and the traffic jams, but there are many ways around it, and I rarely get stuck in the traffic. Let me tell you why I love Tigard, and would choose it again to live in!
First of all, Tigard Oregon is very close to Portland, and since I sell real estate mostly in the inner cities of Portland, I love being so close! In fact, Tigard starts at SW 67th St, and comes up as Portland when you put the zip code in. If you are on the east side of Portland, Portland actually goes all the way out to 160th street! Tigard is both urban, rural and in between! Much of Tigard Valley area is walkable to shops, cafes and restaurants, the Fanno Creek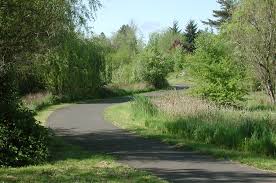 Trail and all of it's subtrails are centered around and in Tigard, mostly flat so easy and safe to ride your bike on without worrying about traffic. Our whole family lives within a couple of blocks of the Fanno Creek Trail, my grandchildren have ridden on it since they were born, and learn to ride their bikes on it! It is an amazing resource! There are outlets all along the trail, which is beautiful wetlands, creek, ponds, trees, birds and other wildlife. These side trails take you into neighborhoods and business areas that have restaurants, cafes, and any store you might want to go to! There are parks all along the trail, a disc golf course, big lawn areas and trees. You feel like you must be out somewhere in the wilderness as you ride along Fanno Creek. One of my favorite things to do is to ride with my grandchildren and daughters along the trail, stopping for coffee, or lunch, ride to the library, which is right on the trail, or let the kids play at one of the parks. I'll say more about the Fanno Creek Trail under parks below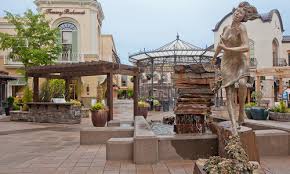 Tigard Oregon has many varied neighborhoods. It goes all the way from the outdoor Bridgeport Mall on the south side, to New Seasons and Whole Foods on the North side. There are older neighborhoods with big yards, mid century houses with charm and character, close town, and high end neighborhoods, mostly up on Bull Mountain…..and everything between! I did a whole section on the different areas in Tigard, under "Neighborhoods", below. Tigard is at a crossroads, that make it easy and quick to get anywhere, (except during rush hour traffic~). I 5 runs along the edge of Tigard, 217 runs right through it, and 99W, which goes all the way from downtown Portland to the ocean, runs through the middle of it! There are 2 Farmer's Markets, some amazing parks, which I discuss below under the Park section, 3 small lakes, the Tualatin River, and Fanno Creek! The west side of Tigard is all beautiful gorgeous farmland, some of the prettiest I have seen. There is every kind of store you can ever want, right in Tigard,but there is also an artsy downtown Tigard with some amazing local restaurants and pubs, if you want a picturesque little town. The Max Wes Commuter Train stops in Tigard on it's way from Wilsonville to Beaverton, and there are plans to bring in the Max light rail beginning in 2020.
To the north of Tigard Oregonis Beaverton, Portland to the NE, Tualatin to the south, Sherwood to the SW and farmland is to the west. You can take SW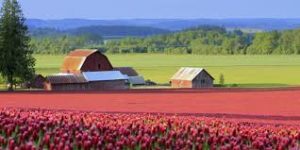 Scholls Ferry Rd to the west – all the way to Hillsboro, through some of the most beautiful farmland I've ever seen… Rolling hills and fields with a patchwork of reds, blues, yellows, tans and greens- depending on what season of the year it is – that go up into bigger and bigger hills until they run into forests. Then as you get closer to Hillsboro, there are flat fields and wetlands that go on and on. Tigard seems to have the best of both worlds – it is close to the city and close to the farmland!
What I love the best about Tigard is the Fanno Creek Trail System. You can ride for miles and miles on it – all the way from the Tualatin River at Cook Park in SW Tigard, through the city of Tigard by the transit station and soon to be Max Station, under Scholls Ferry Rd, across Hall Blvd, across Denny Rd, and all the way to Allen Blvd.
FannoCreekRegionalTrail map for the city of Tigard
The downtown area of Tigard has finished a huge remodel – with lots of art, glass, and cobblestones! Some of the restaurants have seating outside, reminding me of some of the European towns I have been to. The Wes Commuter Train came into downtown Tigard Oregon a few years ago, there are trails everywhere for walking and biking, and more being built all the time. And there are plans to put in a real MAX light rail train that will connect Tigard to Portland. There are so many really good restaurants in Tigard, right on Main St – There is a Chinese, Japanese, Thai, Italian and even an outdoor Pub – all of them have awesome food! There is also a glass blowing shop that creates art for sale, but also gives classes and even kids can learn to blow glass and make things. Tigard's goal is to be the most walkable, bikable city in Portland, and because of all the trails and parks it already has, it is well on it's way! It has been named Tree City USA for the last 16 years by the National Arbor Day Foundation
Parks in Tigard Oregon
There are several absolutely awesome Parks in Tigard
Cook Park It is huge – right along the Tualatin River – with trails all through it, and trails connecting it to parts of Tualatin and the Fanno Creek Trail System.
We had my daughter's wedding reception there – right on the river. You can kayak up the river – or inner tube down the river – which snakes through farmland for miles and miles and miles.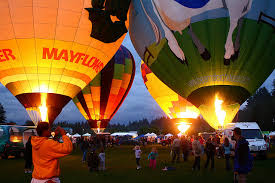 There are baseball fields, picnic areas, a big playground area and a wetland area – plus woods and trails along the river. Also, there is a really fun Festival of Balloons here every June- for several days hot air balloons float out from Cook Park up towards the farmland. I used to watch them float towards us and over us when we lived high up on Bull Mt. There are rides, food and other things to do!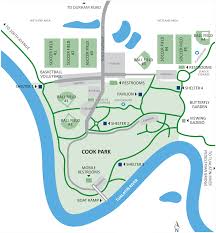 There is also a trail that goes all the way from Cook park to downtown Tualatin, across the Tualatin River, and lots of trails in between.
There is also Summer Lake Park– another huge park built around a big lake formed by damming up Fanno Creek.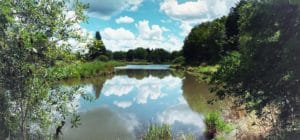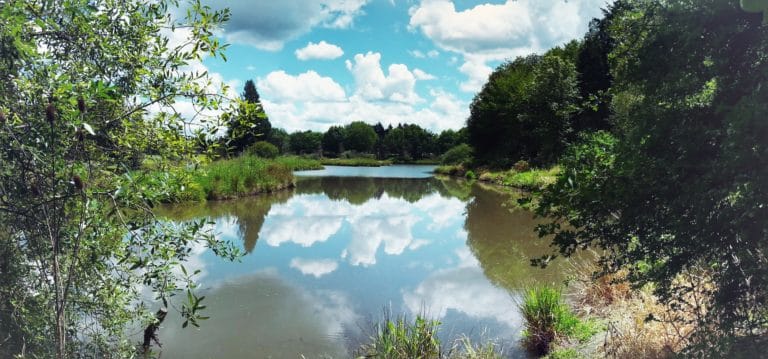 There are miles of walking trails that go around it and through the woods around it. There is also a big picnic area, and fields for baseball etc. It isn't too far from Fanno Creek Trail – but you have to take some side streets to go between them. There's all kinds of wild life along Fanno Creek and at Summer Lake – and it's so peaceful and beautiful!
There is a newer park off of Scholls Ferry just past Murray near Barrows Rd called Progress Lake Park, adjacent to Progress Ridge Townsquare featuring a New Seasons, movie theater, and a lot of other new shops and restaurants. It has a big man-made lake that has fishing, restaurants and walking trails.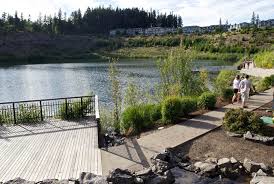 There are miles and miles of trails that go up Murray under the power lines that these trails can hook up with. It is an amazing area! There are playgrounds, fitness areas, and picnic areas along this trail – which starts on Bull Mountain, goes down across Scholls and out towards Beaverton.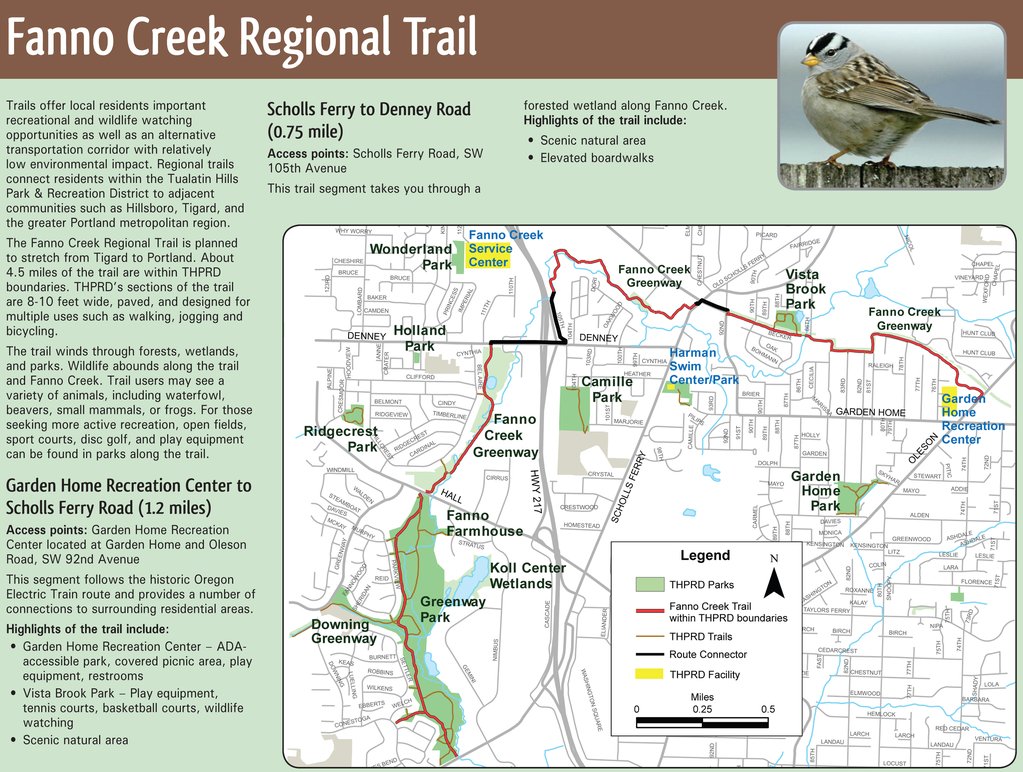 See videos below to learn more about Tigard

The next video shows the Progress Ridge area, which borders SW Beaverton

The next video shows the Metzger Garden Home area which borders on Portland, and some consider Portland

Neighborhoods of Tigard Oregon
Here is a map showing the different neighborhoods of Tigard. I 5 is the east border, which is where it bumps up against Portland, King City is a unique retirement community built around a golf course, which is basically part of Tigard and I will include below, Bull Mt is a 700 foot high extinct volcano butte right above King City, Scholls and Englewood are bordering Beaverton, and Cook Park borders Tualatin.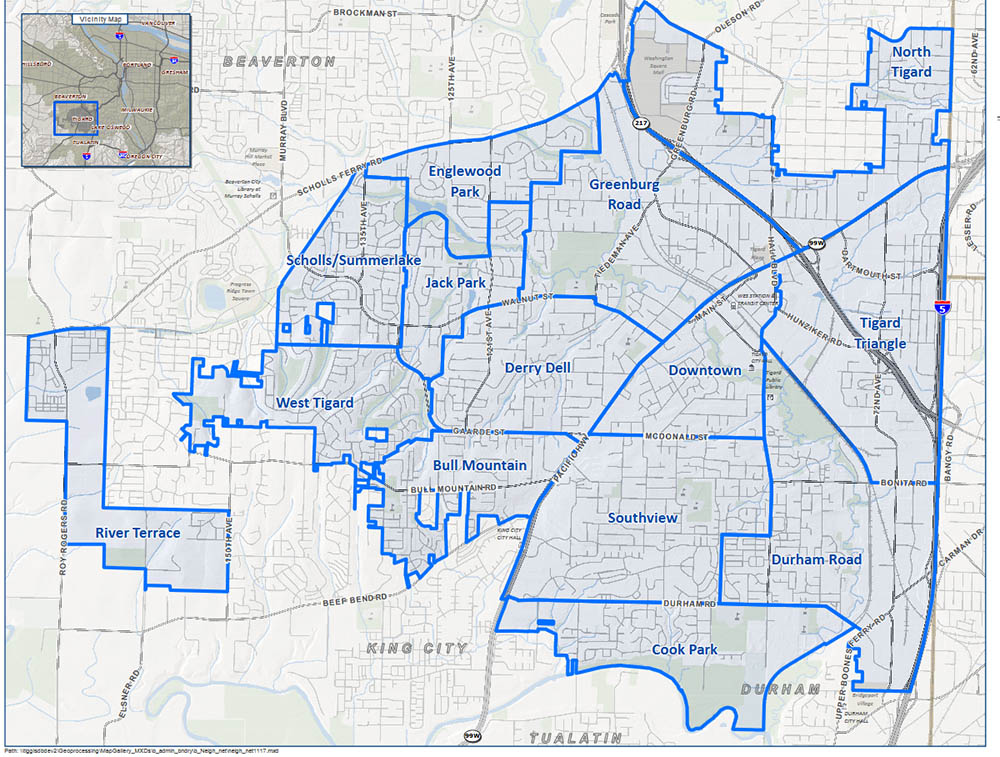 Bull Mountain Neighborhood is the most expensive. From the top of Bull Mountain, which is over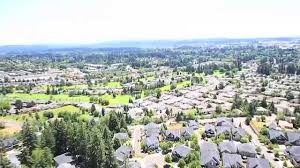 700 feet high, you can see Mt Hood, Mt Adams, Mt St Helens, Mt Jefferson, and even Mt Rainier from parts of it! Some of the older homes have awesome sweeping views of either the West Coast Range, the valleys, the city lights or the mountains. We used to live on Bull Mt and had a sweeping view of the whole SW valley, including Mt Jefferson – it was like you were on top of the world – up with the hawks and eagles! We had almost an acre. Other parts of Bull Mountain are new, with beautiful new housing developments being put in wherever they can find room, or if the Urban Growth Boundary moves out. Bull Mountain is unique because it is a big round butte, with roads going down in several directions. You can go down to 99W and head south to the beach or north to Portland. You can go down the back side of Bull Mt, on Barrows to Scholls Ferry and be out in Hillsboro in 20 minutes. If you go down towards Murray, you end up in the gorgeous new Progress Ridge shopping area with New Seasons, and Murray Hill.
The downside of Bull Mountain is that it is being ruined by too many houses being put too close together with no real yards, and views….but the views are over other people's houses. Some people don't mind this, in fact they are happy not to have a yard to take care of – and if you don't mind being right on top of your neighbor, you may like these newer than 2000 neighborhoods. I, for one, like the older neighborhoods with big yards and 70's houses that can be remodeled and made beautiful – many of them with awesome views! Another interesting thing about Bull Mountain – it is one solid rock all the way down! So the soil isn't too good for growing. But it is big and steady as far as being earthquake-proof! And one last little note, when we lived on Bull Mountain, we had snow every year…and the kids loved it. Down in the valley there was next to none!
Cook Park Neighborhood
Cook Park is a 79 acre park on the Tualatin River that has trails, play structures, wetlands, and more.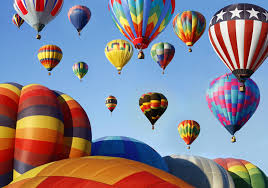 You can read more about it under parks. My daughter had her wedding reception there because we love it so much! They also have the yearly Hot Air Balloon Festival here. The neighborhood around it is oriented to the park with trail outlets from the neighborhood that lead into the park and to the Tualatin River. It is next to Tigard High School. From Cook Park you have access to trails that go into Tualatin, and the neighborhood is walkable or bikable to the whole flat urban area of Tigard with cafes, restaurants and lots of other stores. You could walk or bike to King City, or even to Bridgeport Mall! The houses are built from teh 1970s to the early 2000s. Many of the yards are just woodsy. A few houses have views of the Tualatin River through the trees. This is one of my favorite neighborhoods in Tigard.
North Tigard neighborhood is the closest to Portland. My daughter lived in a 1940s house around 68th St, and restored it. This is a good neighborhood if you want to be almost in Portland and find some older homes. There are even some early 1900's homes in this area. From here you can be in Portland in under 10 minutes!
Greenburg Rd neighborhood includes part of the downtown Old Town Tigard Oregon, with access to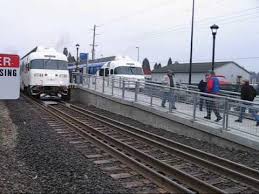 trails, both Fanno Creek and along the tracks. It has always been a lower priced neighborhood, with mixed low income apartments and houses, so might be a good place to find a more affordable home, yet have the perks of walking to downtown and being on the trail. The west part of the neighborhood butts up against 217, some of the street have really pretty homes with big yards and quiet streets, other parts of the neighborhood are kind of run down, especially as you get close to 217.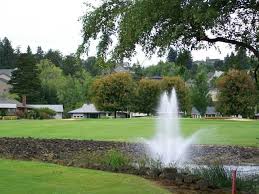 King City is an over 55 neighborhood built around a golf course! When I first moved here, you could see senior citizens driving their golf carts all over town, it was kind of cool. But they stopped that because it was causing problems with traffic. King City is it's own little town surrounded by Tigard. It has it's own police force, community center etc. If you are retired it is nice to be close to King City because of all the perks for senior citizens, including medical facilities etc. People who live here can walk to grocery stores, restaurants, cafes, salons and really, anything they might need. The golf course is pretty cool. I have never seen another urban golf course like this. I used to ride my bike through it long ago when I worked at Home Depot- I'd come down Bull Mt, through King City, and along the pretty sidewalks lined with trees, with ponds and fountains as you go through it! Very pretty and peaceful! There are many houses that back right to the golf course, they are modest size, but not too expensive. Lots of condos too.

Scholls Summerlake Neighborhood
This is another one of my favorite neighborhoods. Summer Lake is a small lake/pond that was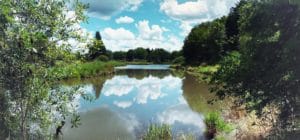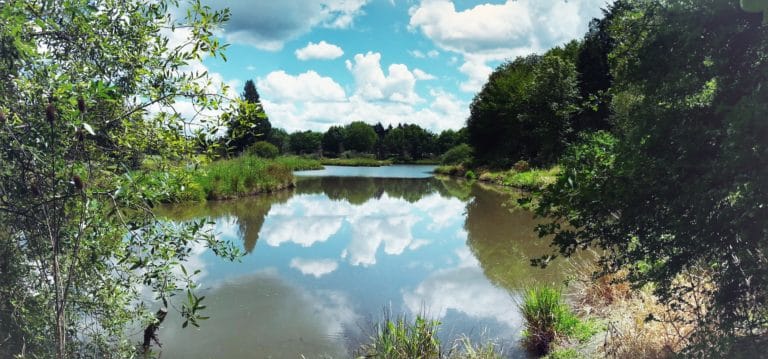 created out of Fanno Creek. It is beautiful, with ducks, egrets, herons, beaver and all kinds of wildlife all around, pathways that meander through the park and neighborhood, and winding streets. Some houses are right on Summer Lake, which is cool but hard to find! You can walk to Whole Foods from here and lots of restaurants and other shops that are along Scholls Ferry Rd. So it has lots of nature, but is also urban and offers trails and all the perks of the close in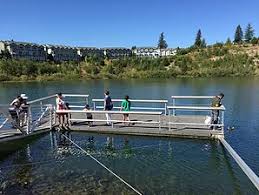 neighborhoods of inner SE Portland, just not so trendy! The other part of the neighborhood is right next to the new Progress Ridge area, which is amazing. It has a New Seasons and lots of other cool shops, plus restaurants, cafes, Cinetopia, La Provence- 11 restaurants in all, a bike shops, massage, a Big Als, a nice man made lake stocked for fishing with waterfall, and fountains. There are trails connecting to it from all around, one goes along the high voltage electric lines for miles and miles. We used to take the kids on that trail when they were really young. It comes down from Bull Mountain and then up Murray Hill out to Beaverton. The Murray hill shopping area is just across Scholls Ferry Rd from this neighborhood, and they have so many different business and restaurants plus a 24 hour fitness.
Jack Park is very close to Summerlake, but it actually has it's own small lake that is private, with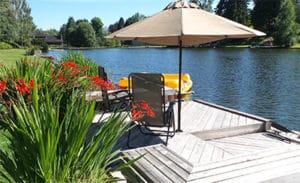 house built around it! It is hidden, and you would never know it was there if no one told you. The Tigard Oregon is close to the Fanno Creek Trail, pretty urban also, and pretty walkable to Whole Foods etc on Scholls Ferry.
Derry Dell is a neighborhood of mostly mid century homes from the 1950s through the 1970s. Trails go all through the Tigard Oregon, and creeks, yards are mostly large, and soil is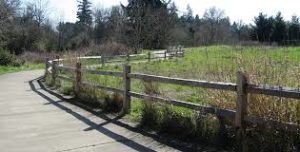 amazing for growing gardens! It is one of the older established neighborhoods. Genesis Loop is an interesting neighborhood located in the forest backing to a trail that goes from 121st out to Walnut. When you are on it, you feel like you are out in the forest somewhere, but there are houses perched above through the trees that have access to trail. This area is close to downtown Tigard Oregon, walkable to restaurants, shops etc, and the Fanno Creek Trail and it's tributaries are right there!
Southview neighborhood is a mixture of all ages of home. Some from the 1970s and even earlier, but then as lots were divided, acreage sold off, new subdivisions came in. The older homes have big, or sometimes huge yards, on quiet streets, that are close enough to walk to businesses. Part of this neighborhood has the golf course running through it, and there are newer parts mostly built in the 1990s.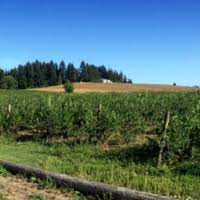 River Terrace neighborhood is mostly open farmland still, although since it has been annexed into Tigard Oregon, it is growing quickly with new subdivisions popping up constantly! Between it and the rest of Tigard Oregon, there is the area along Beef Bend Rd. I don't know why this isn't included in the Tigard Oregon neighborhoods. We actually used to live in this area, and it is still unincorporated Washington County. It includes a lot of Bull Mt and the farmland below it. The area has always been out of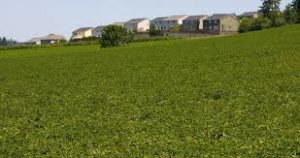 the urban growth boundary, but recently was brought in, so it is quickly changing from beautiful countryside and farms into houses built really close together on top of each other. The houses are all different sizes and quality, from attached house to beautiful expensive homes. It is sad, for me, to see the farmland going. But Tigard and the whole of Portland need more houses. There just aren't enough! And moving the urban growth boundary is the only way to do it. I am glad Oregon protects it's farmland and green spaces!
There are several absolutely awesome Parks in Tigard
Stores, restaurants and more in Tigard
Tigard Oregon is the home of Washington Square Mall – which has just been redone and is now twice the size that it was before – with a Cheese Cake Factory and other cool restaurants. Not only is the mall here but every kind of store you can imagine is nearby, plus restaurants, cafes, donut and snack places, some local, but also alot of chains. These are set away from the residential areas, but close by all around. Trails go through the wetlands and neighborhoods with access to many of the shopping areas. You don't know you are in a commercial district until you come out of the trail head!
The new Bridgeport village mall is also in Tigard- it is the coolest shopping center I've ever seen, gorgeous and huge -outside with fountains, and flowers and patios for outdoor eating – it looks like a resort town. There is a Whole Foods, a Barnes & Noble, all kinds of fancy and casual restaurants, a big movie theater, coffee shops, clothing stores, furniture stores etc It is a fun place to ride your bike to for an outing! We have done it many times!
There is also a Costco, Trader Joes, 2 Whole Foods, New Seasons, H Mart and every grocery store you can imagine. Everything is so close, it doesn't take time to do your errands, yet far enough away from the neighborhoods that you don't see them or notice them unless you need them.!
Videos of Different Tigard Neighborhoods