Tualatin Oregon is named after the Tualatin Indian Tribe that lived here a long time ago. In fact many of the names in this area are derived from Native American Tribes.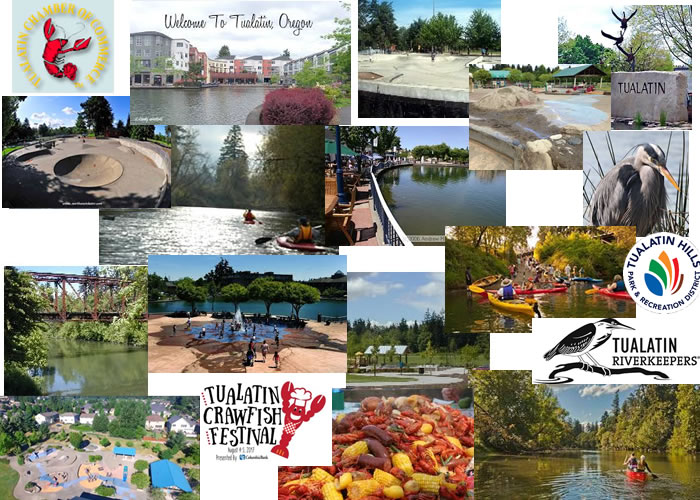 The city of "Tualatin" was established in 1869, and the spelling changed to "Tualatin" in 1915. In the 1880s, the settlement was sometimes called Bridgeport, probably because of the nearby bridge, one of the first built over the Tualatin River. The Population of Tualatin Oregon is 27,545 as of 2016.
Tualatin Oregon is just south of Tigard on I-5- where 5 and I-205 intersect. The Tualatin River meanders through it- giving rise to river based parks and houses on the river. The core of the town has a lot of 70's and 80's homes – and newer, but as you get out away from the middle of Tualatin Oregon, there are some gorgeous country homes – some right on the river. Tualatin is a sister city to Tigard – the school system is called Tigard-Tualatin, and a lot of the kids who live in Tigard end up going to Tualatin High. Sitting south of Tigard, southwest of Lake Oswego, northeast of Sherwood, and west of West Linn, it takes about 15 minutes to get into downtown if you are near the freeway.
The downtown area was revamped a few years ago, around a little lake and fountain. There are restaurants on the lake, paddle boats you can rent, and the fountain is like a miniature of the big fountain on Front street in Portland. The kids, and young at heart, run through it all summer long to cool off – it's like getting away to a little resort! Tualatin is serviced by the Wes Commuter Rail connecting it to Wilsonville, Tigard, and Beaverton with easy connection to the Max which makes it great for commuting to Portland.
Tualatin Oregon is one of the fastest growing communities in the state . It's a really good place to raise a family. When school lets out for the summer, Tualatin offers lots of creative and fun activities to keep children and young people busy: kickflipping at the skateboard park, scrambling around on the play equipment at Ibach Park, participating in the library's summer reading program, attending a city and school district-sponsored summer camp for middle schoolers, or paddling a kayak or canoe rented at Brown's Ferry Park.
Offering more than 260 acres of high quality parks, natural areas, and greenways – with trails, river access, wetlands, wildlife areas, Tualatin is doing a lot to preserve the wildlife and natural areas around it. Opening in February 2016, the Tualatin River Greenway Trail has received state and national awards for excellence, design, and stability.
There is a lot of open land – forests, meadows, woods, and farmland that surround Tualatin. And as they build houses, they keep green spaces a big part of the neighborhoods. There are a lot of little parks dotted all over Tualatin- with trails that sometimes connect, sometimes don't.
Every year in the summer, the city has a Crawfish Festival right in a park near the downtown area at Community Park– a 28 acre park on Tualatin Rd – The Crawfish Festival is a fun, family-oriented, festival of live music, food, games, crafts, and the famous crawfish eating contest. They taste like little lobsters or shrimp – and they are all under the rocks in the Tualatin River!
Parks in Tualatin Oregon
Tualatin Greenway Trail:  An average of 10,000 walkers, joggers and bikers a month are using the new Tualatin River Greenway Trail since it opened in February 2016 and the city  has received state and national awards for excellence, design, and sustainability for the innovative trail project. It goes along the Tualatin River through neighborhoods and business areas, so that people can walk or ride their bikes.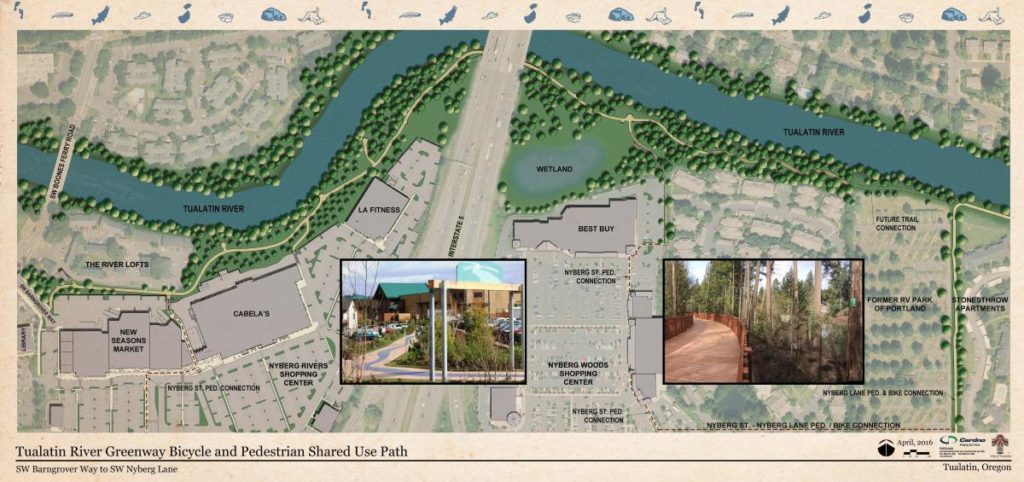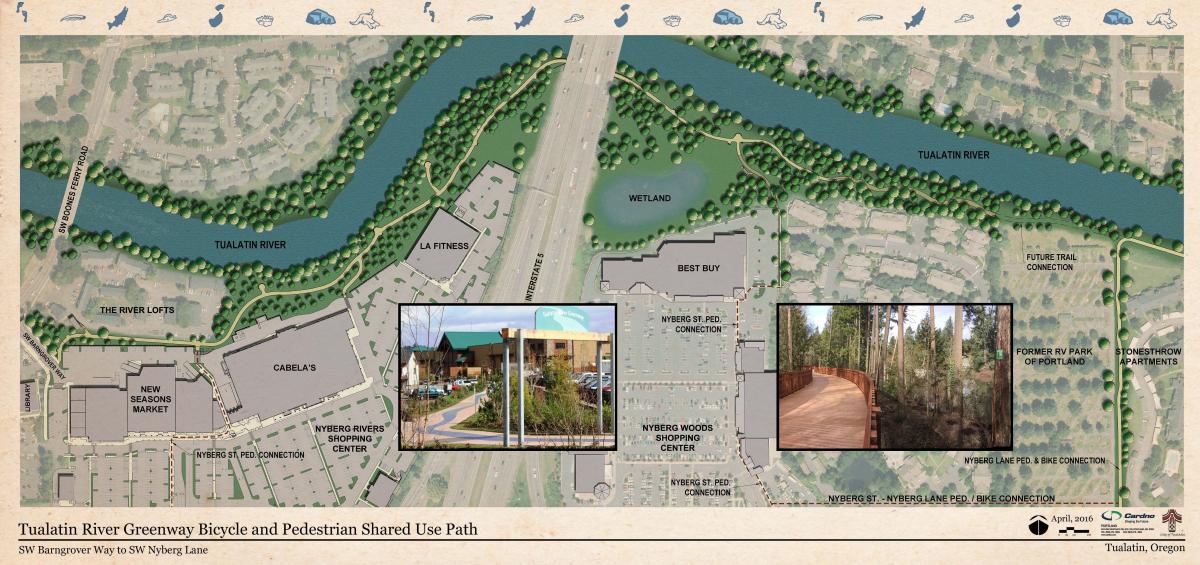 Ibach Park is amazing, and has so many unique things for kids to do, like build dams with sand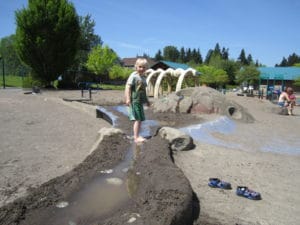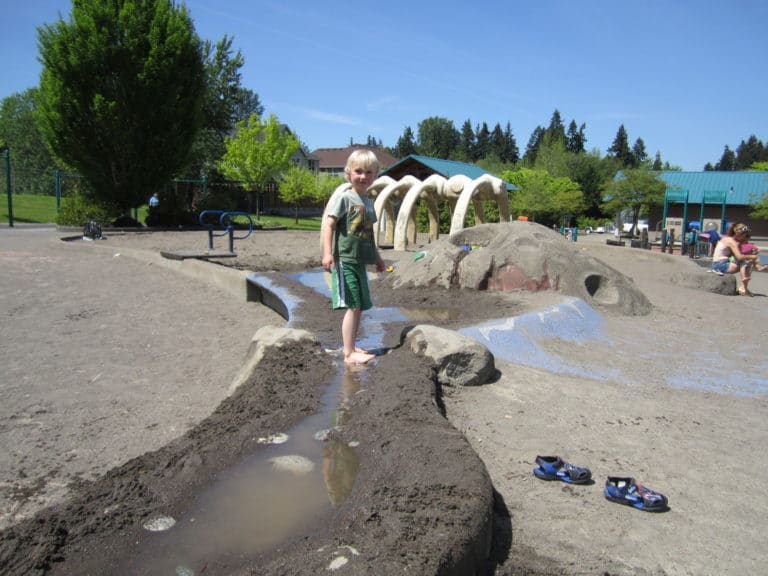 Brown's Ferry Park , east of Interstate 5, complements the similar-sized Tualatin Community Park on the other side of the freeway. While Tualatin Community Park is developed for recreation, including a skate park, Brown's Ferry Park is more nature-oriented.
Browns Ferry Park originally was the place a ferry crossed the Tualatin River from Oregon City to Tualatin, so people could get to their land claims – the ferry ran form 1850 to 1856, there were no bridges back then! Now it is a 28 acre park with boat launch for canoes and kayacks, hiking trails, ponds, wetlands, and fields for play.
A map of the Tualatin River National Wildlife Refuge shows public access points, mileage, hazards, and points of interest from the mouth of the Tualatin upstream through Washington County can be found on the Tualatin Riverkeepers Web site, which also has more interesting information about the river that runs through the City of Tualatin . The Tualatin River meanders through Tigard and Tualatin and into Lake Oswego, with lots of places for you to go swimming and kayaking!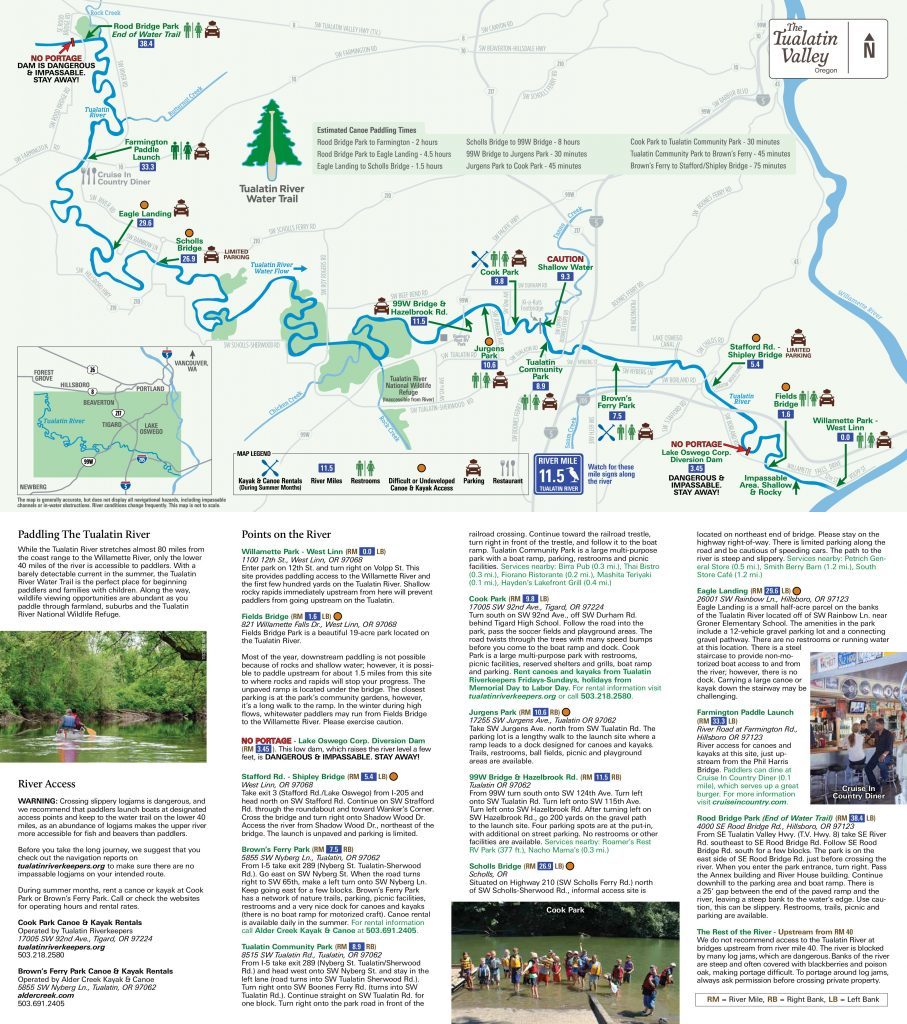 Schools