West Linn Oregon is located between the Willamette and Tualatin rivers with hills rising, sometimes steeply, from the river banks – so there are a lot of breath-taking views! The area near the two rivers was settled first, with later development climbing the hills. It is a family oriented neighborhood, having some of the best schools in the Portland area. There are lots of parks and green spaces, and a cute little downtown area. It is about 8 miles to the SE of Portland, so not too bad a commute. It has the nickname of City of Hills, Trees and Flowers, and has 17 parks. Many of the parks have access to the Willamette River, or have views of the mountains, Hood, St Helens, and Adams.
West Linn Oregon is very river oriented. Back in 1860, the Willamette falls were beautiful, cascading 40 feet over a horseshoe shaped basalt ridge. Willamette Locks was built 130 years ago so boats could get past the Willamette Falls area in Oregon City. Before that, they had to carry their boats around on ground. It is fun to go through the falls. We used to take our boat out on the Willamette, and the first time we encountered the falls, we didn't know which side the locks were on! Above the falls it is pretty calm and wide, and shallow, so when our boat hit bottom and died, we saw the falls ahead of us! It was pretty scary, although I don't think we could have gone over it – the locks were way over to the side. Because of these locks, pleasure boats, government vessels, passenger boats, freight, towboats, log rafts, and even jet skis can go up and down the Willamette river, for free, both north and south of the falls. The locks are on the National Register of Historic Places.
West Linn Oregon has lots of diversity as far as types of neighborhoods. Barrington Heights is an inland area of expansive mansions whereas the Willamette District, near the spot where the Tualatin river flows into the Willamette river, features older homes and commercial buildings, some of which are historic. The 2 rivers provide 9 miles of river front in West Linn – and the hills rise to over 500 foot bluffs above the rivers.
There are 11 official neighborhoods, with 12 blocks of historic and residential properties, some from as far back as 1885. There are also 28 other houses not located in these areas, that are designated Historic. Most of the older homes are down in the valley, on the small streets that come off Willamette Falls Drive. There is a library, parks and some restaurants and grocery stores along there, mostly in strip malls.
Higher up on the hill there are alot of newer houses built from the 1970s on up. The historic old town West Linn, in the Willamette neighborhood, though, does have older historic homes and a really cute downtown area with shops, restaurants, cafes etc, and the little streets around it are walkable!
History of West Linn Oregon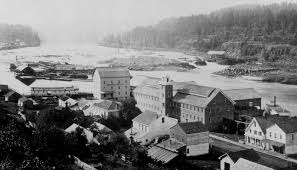 The history of West Linn Oregon is interesting. In 1839, Robert Moore arrived in the Willamette Valley – he finally bought 1000 acres right across the river from Oregon City – which is now West Linn! He actually bought it from a Native American Chief, called Wanax-ha. He platted a town in 1843 and named it Robbins Nest – which was later named Linn City in 1845. It included included a gristmill, sawmill, warehouse, wharves and a breakwater to create a basin for boats to tie up in for loading and unloading cargo. It became a rival for Oregon City!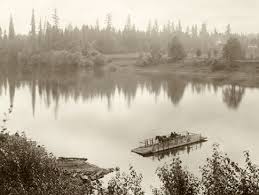 But not long after his death it was all destroyed in a huge fire, then rebuilt, and was destroyed again in the flood of 1861. In 1873 Willamette Falls locks opened and changed everything.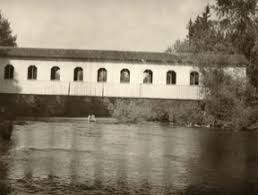 The current West Linn Oregon was incorporated in 1913 and it merged with the adjacent town of Willamette in 1916, and took over the former townsites of Bolton, Multnomah City, Sunset City, and West Oregon City. So this area was one of the first areas to be settled when the pioneers came west! And it had the same problems as Oregon City – flooding of the Willamette River!
Cedar Island Park is right in the middle of the Willamette River! Cedar Island Park is a 14 acre island in the Willamette River. Boat accessible from the river and Cedar Oak Boat ramp. Pedestrian access from Mary S. Young   Park, by floating bridge, during spring, summer, and fall.  Activities include fishing from platforms, hiking trails, and wildlife viewing. We go swimming and rafting there sometimes. It is very peaceful and pretty on the north side, because the island protects the beach from waves caused by boats in the summer. You can also hang out on the beach right there on the mainland, where there are lots of trees for shade and picnics.
There is also the little town of Willamette that was annexed into West Linn Oregon in about 1913. West Linn has a historic walking tour that goes through the little town of Willamette's historic homes and buildings. The Willamette and Tualatin rivers come together near here, which is why the town was built here way back in 1893!
Parks in West Linn Oregon
West Linn Music in the Park at Tanner Park in the summers. It also has a Skate Park. There are play structures, a shelter, water feature play area, basketball court, tennis court, two restrooms, picnic tables, and a beautiful open grass area.
Mary S Young park is a huge 128 acre park along the Willamette River, that is peaceful, quiet, in the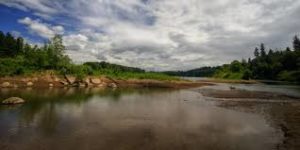 forest, and yet when you walk through the forest on the trail, you come out to brightness at the Willamette River!   The park goes all the way from Willamette Dr down to the Willamette River, has miles and miles of trails in it, and you can swim or kayak once you are down at the river. It is really pretty!  We used to go down to the river quite a bit when the kids were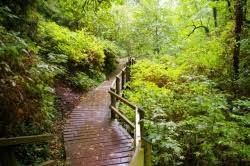 little, and paddle, wade and splash in the water, float on rafts or kayaks, and just enjoy the sun and peace.  There is an area here that is protected from the main part of the river by an Island, so the waves of the motor boats don't reach the beach.  You can either walk along the trail to the island or just swim out!
Willamette Park and Bernert Landing Boat Ramp are a combined 22.5 acres  located where the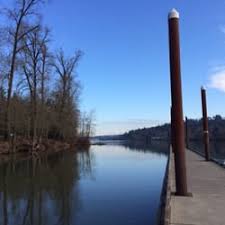 Tualatin River meets the Willamette River. This is a good place to put in your boat in the summer, we used to use it when the kids were small and we had a motor boat.  It is less crowded than some of the other boat ramps on the Willamette.  It has 2 large picnic shelters and a smaller gazebo all with water and power, stage area with concrete pad in front, baseball field, 2 softball fields, 1 grass volleyball court, and 1 sand volleyball court, 5 horseshoe pits, river access including boat ramp at Bernert Landing and dock system, playground, wading pool, and wildlife viewing.  It also has an off leash dog park.
Within the City of West Linn Oregon, there are over 600 acres of park land, ranging from active-orientated parks with with ball fields, sports, picnicking, and playing on play structures or in spray parks, to peaceful forested or river oriented parks more for walking, biking and watching wildlife.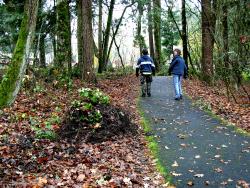 There are 17 parks – 5 of them have spray fountains for kids!
There are also 25.6 miles of trails throughout the City. The existing trails system consists of 18.2 miles of trails through parks or opens paces and 7.4 miles of trails along easements, etc. To learn more about the parks, go to the city park website